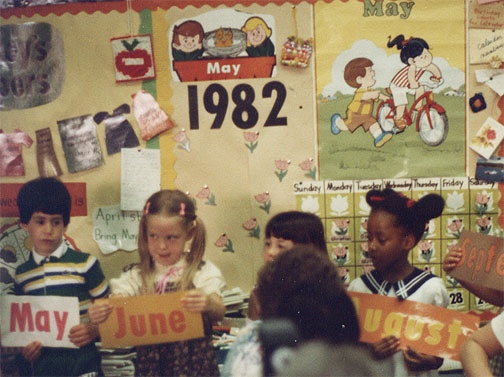 I'm a little late posting this week because I've been away from my computer working on Jax's kitchen all weekend. In fact, I'm trying to write this on the iPad from bed with a toddler asleep on my arm!
In honor of everyone heading back to school, this is a photo of me in kindergarten, presenting the month of June. Yes, I'm old. Let's just not do the math to figure out just how old! I loved my kindergarten teacher, Mrs Jackson! I remember being confused as to where to go my first day of 1st grade and she helped me and gave me a Snoopy folder, which I still have.
In middle school, I took a class that let me do a "job" for the last period of the day. I got permission to walk all the way to my old elementary school to be a teachers aide for Mrs Jackson. It was so rewarding and the kids would rush over to hug me hello in one huge bear hug.

Leave a comment if you'd like to be added!