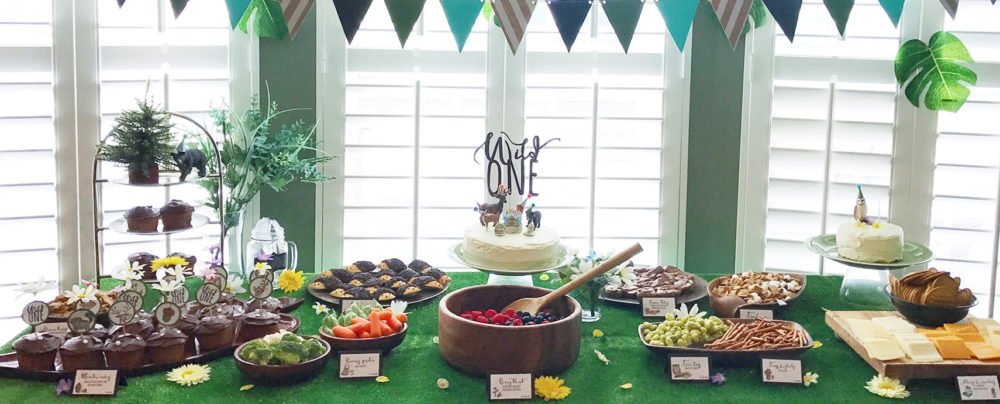 My baby is 1! Oh, it's so bittersweet… My sweet final baby is now a year old, walking, and beginning to talk. I refuse to switch to saying "toddler" until 2 – what about you?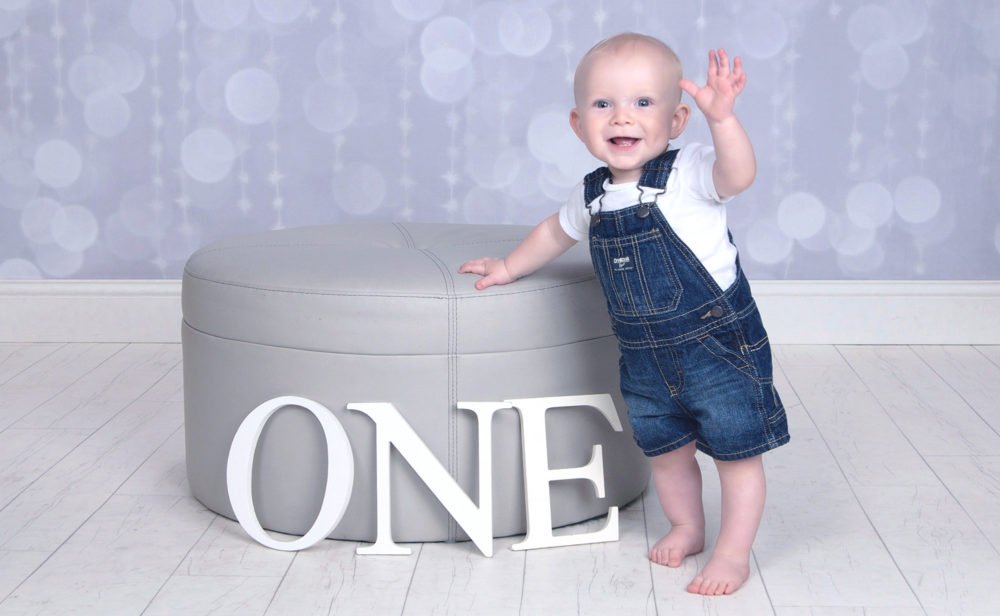 While it's sad that time is going so fast, I'm also excited for the things to come. Like soon I'll have a new little one old enough to design quietbooks for!
We hosted a party for Sebastian and I chose a woodland theme because he loves owls and I loved the idea of "Wild One".
I mainly focus on decorating one portion of our kitchen at parties now, due to limited time. I start a week or two in advance and pick away after baby goes to bed.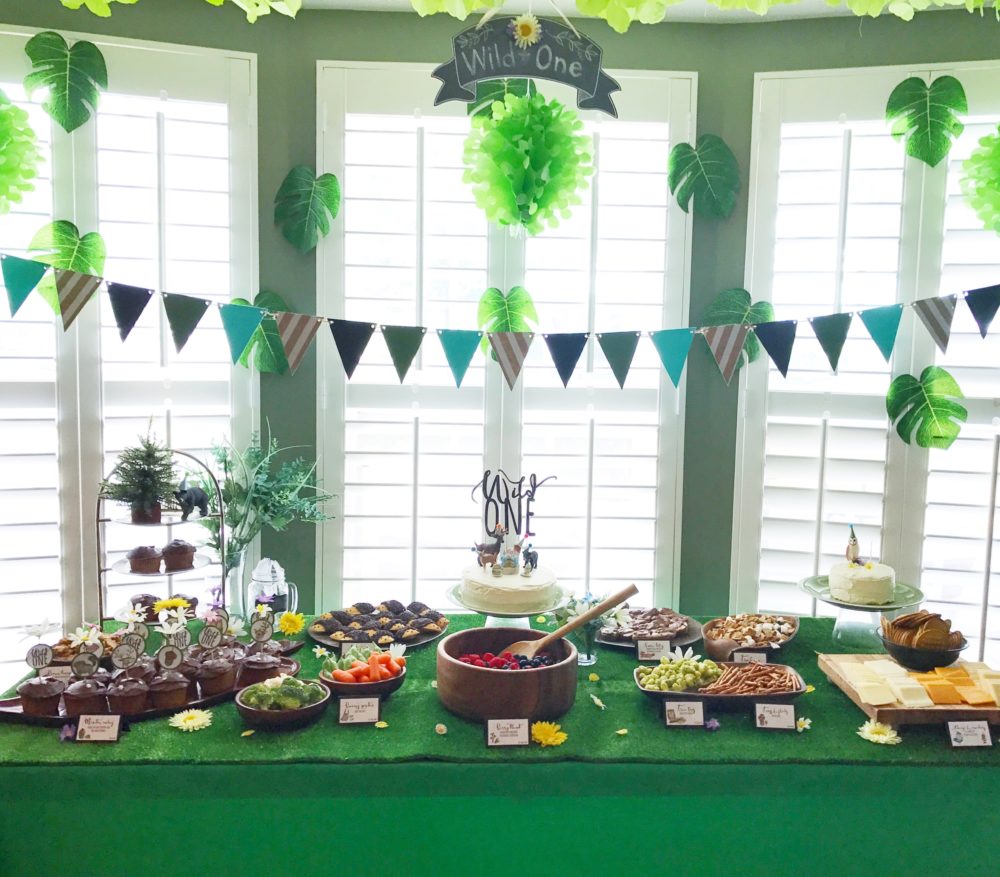 The food table has two cheap green tablecloths (they were fairly see-through) and an artificial grass runner from Amazon.I got the 8′ runner for $13. I pulled flowers off of dollar store bunches and spread them around.
The three tissue balls were $2 each from Walmart, and the fabric leaves and dollar store cake stands were leftover from Jax's bug party.The chalkboard sign was from AC Moore, I think. I was bummed because the chalk wouldn't write on it at the center top, but I ended up gluing fake flowers there. All of the wooden trays and bowls were thrifted, with the exception of two faux wood chargers from Walmart for $1 each. I hand cut the bunting and cake topper. The tiny tree was from Amazon, but no longer available.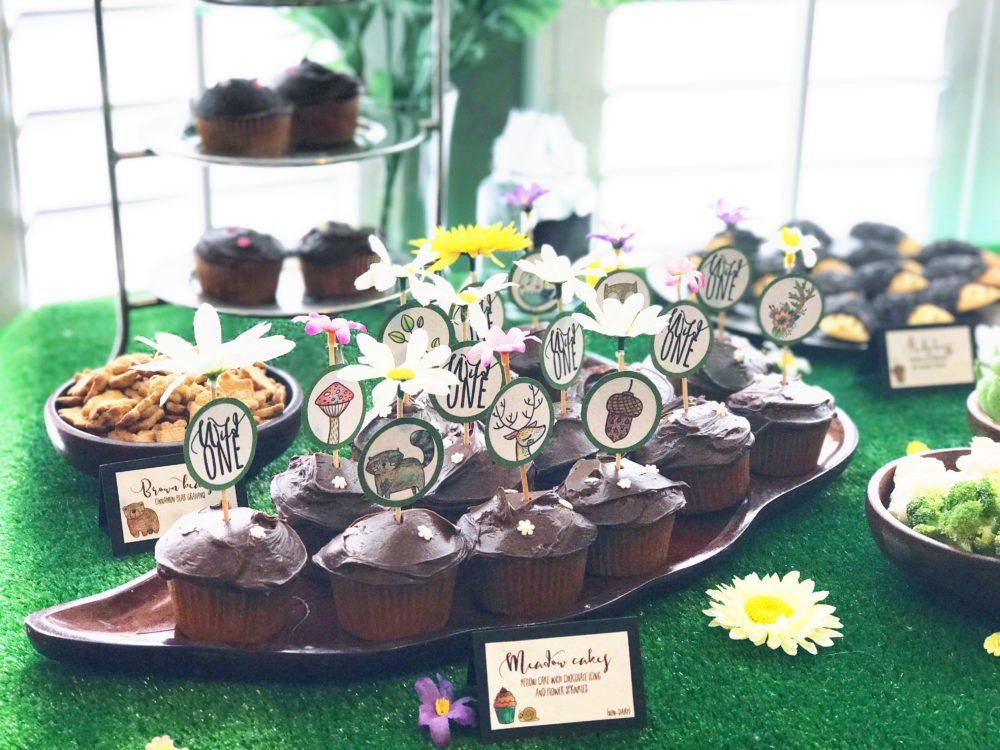 Because I had very little party planning time (busy baby is busy!), I purchased illustrations this time from Etsy. The woodland and bakery clip art was from Le Petite Market's store. The two fonts I used were from Creative Qube Design's store (90% off sale!) I designed the tent cards and cupcake toppers in Indesign, cut them (I used a circle punch for the picks) and mounted them on card stock. I hand-colored the cupcake picks with colored pencils, and they got mini kabob sticks (point cut off) and fake flowers as well.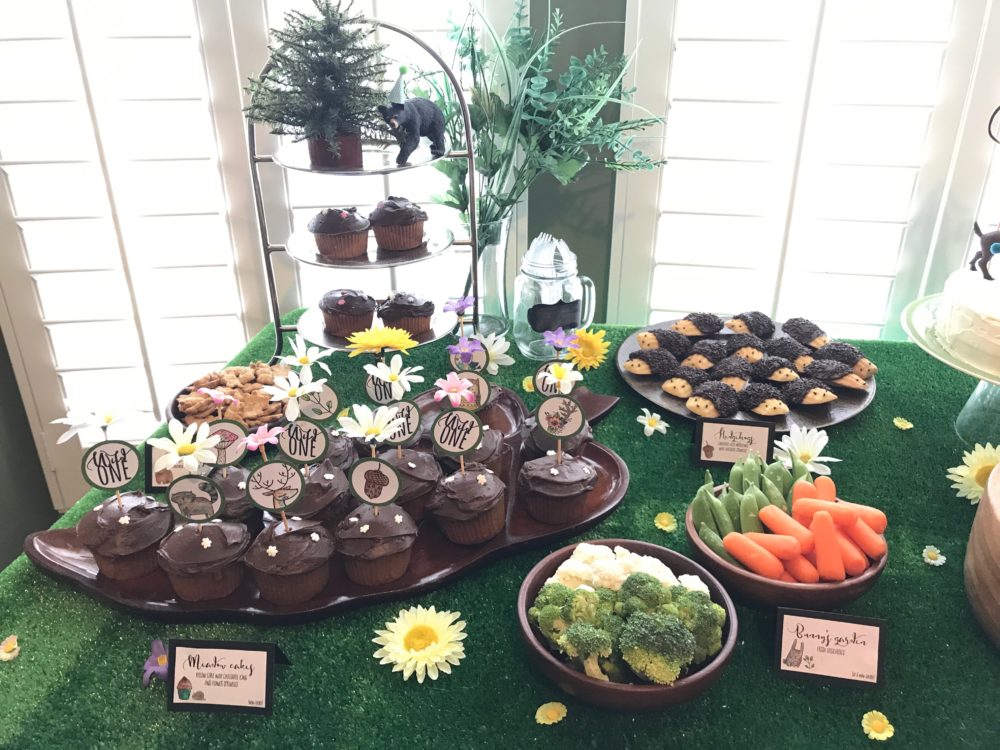 Some of the food pictured here: Meadow cakes (yellow cupcakes with chocolate icing and flower sprinkles), Brown bears (cinnamon Teddy Grahams), Bunny's Garden (fresh veggies) and Hedgehogs (chocolate iced madeleines with sprinkles.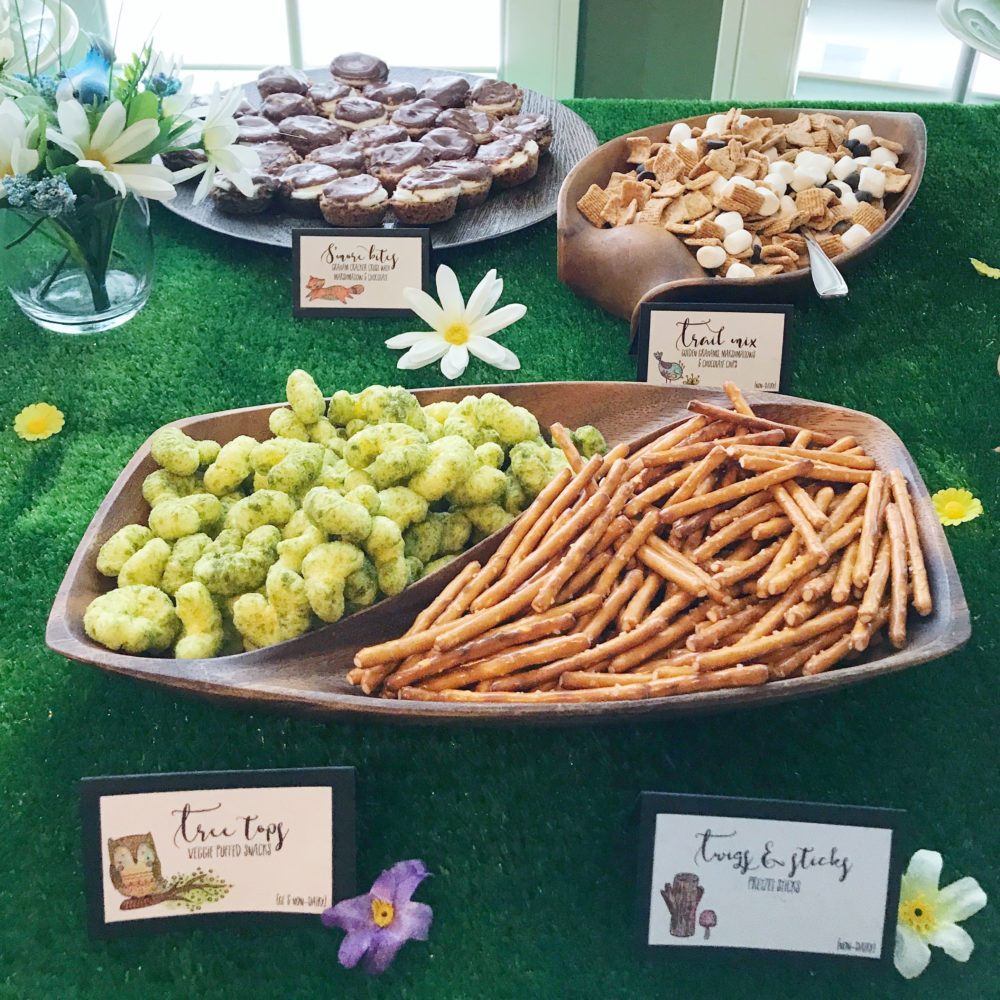 More food pictured here: S'more bites (baked by my friend), Trail mix (Golden Grahams, mini marshmallows and chocolate chips), Tree tops (Pirate Booty) and Twigs & Sticks (pretzel sticks).
Even more food pictured here: Berry blend (Sebastian's favorite fruits) and Cheese and Crackers (yep).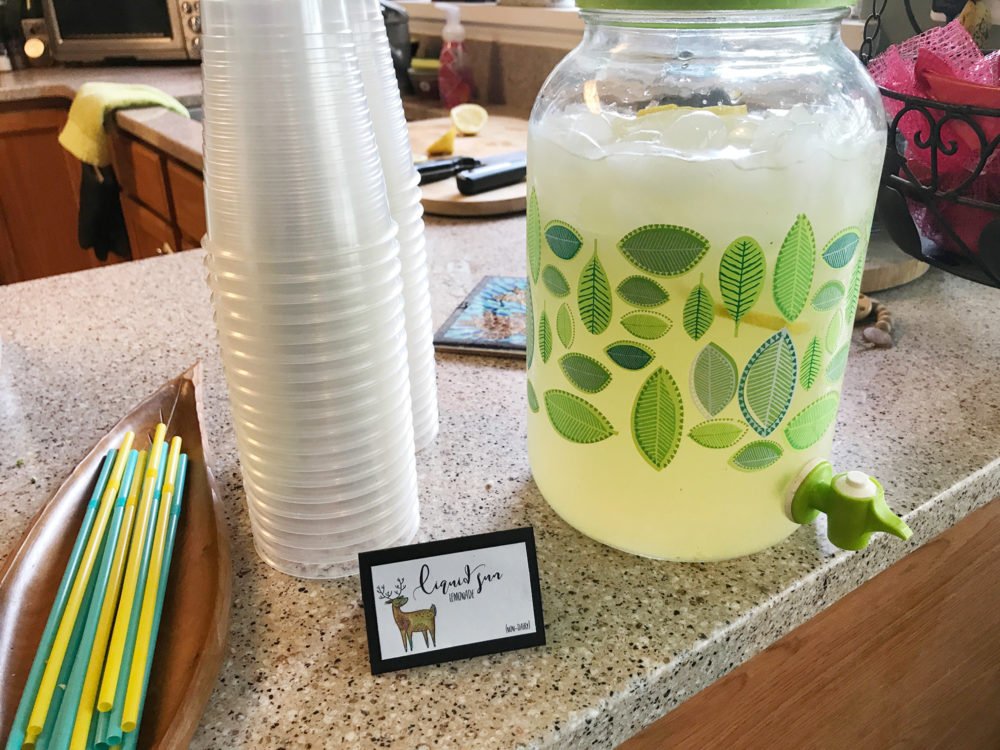 We had water bottles and Liquid sun (lemonade served in a sun tea server I thrifted for that bug party years ago.)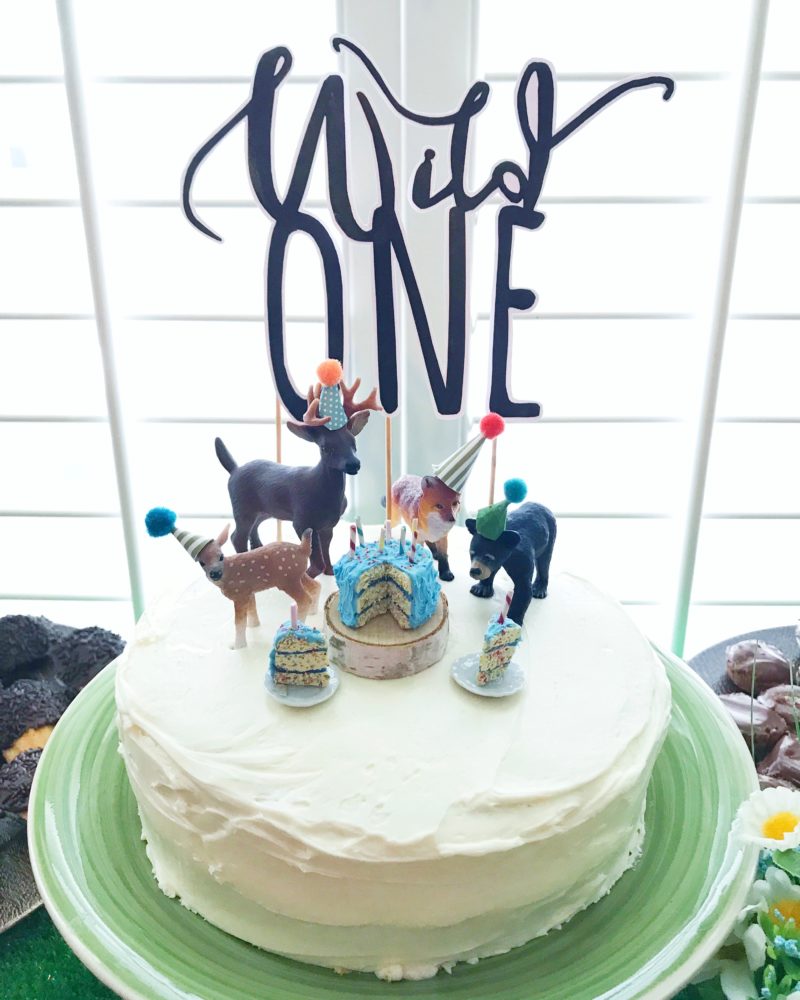 The cake was a lemon strawberry swirl cake with vanilla icing and fresh strawberries between the layers. I just swirled two cake mixes. I level the layers and did a crumb coat, but that was the extent of my fancy decorating! I bought toy animals and made tiny party hats for them out of paper and mini pompoms (from my stash, so some I dyed with sharpies). I purchased a miniature cake from Etsy to put on top with them.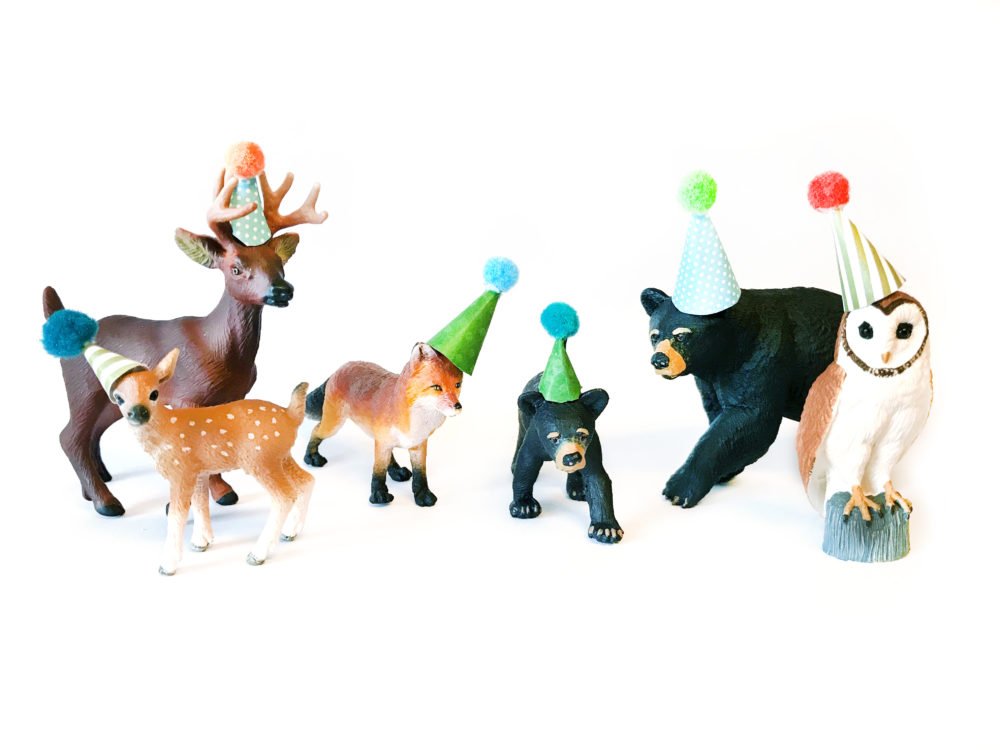 Seen here: deer, fawn, fox, cub, bear and barn owl. (The fawn I bought on Amazon, the others were from the craft store with coupons. Please note I use affiliate links that don't affect your purchase but help me buy supplies.)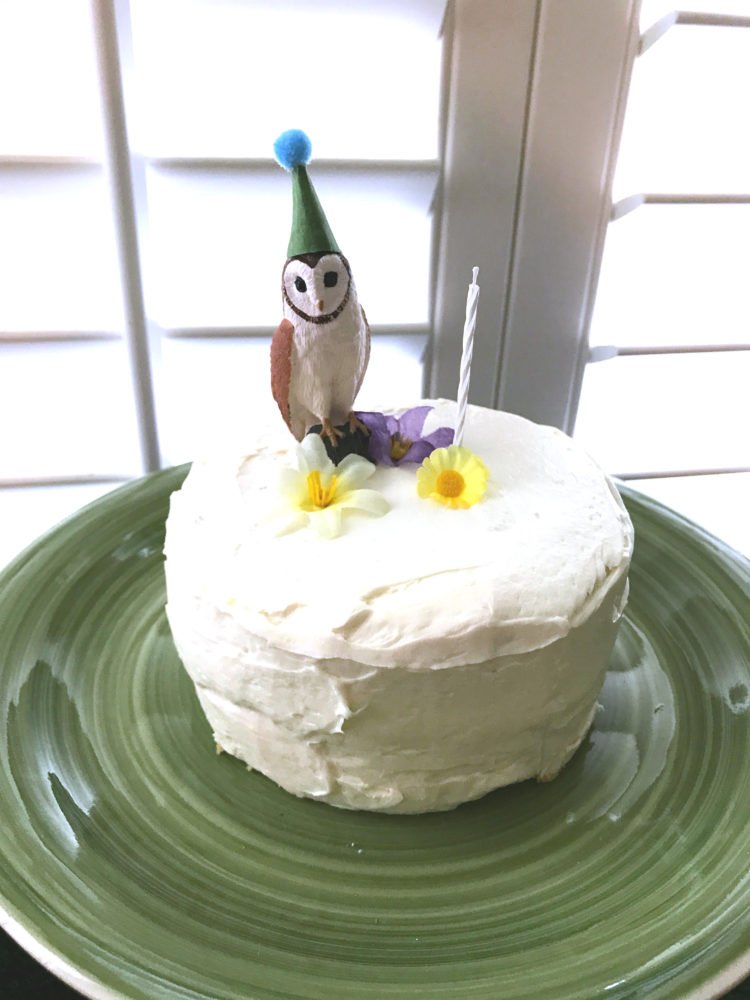 I made a smash cake for Sebastian (who didn't really eat it, but oh well!) that was the same flavor. I put the owl on top, as well as a candle (we didn't light) and some flowers.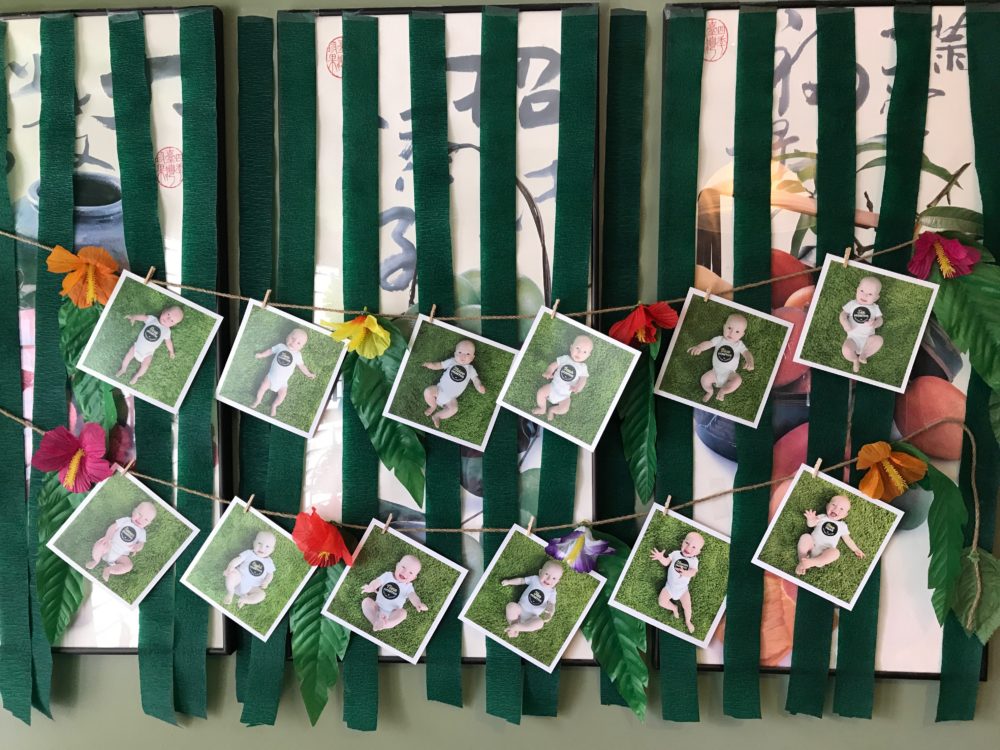 My year-long project of photographing Sebastian was a feature wall. I covered the art we have hanging with green streamers (funny story…) and hung flower garlands from Jax's 3rd birthday party. I used mini clothespins my husband found on Amazon to hang my prints. I bought two poster prints that had all of the monthly photos laid out in a grid from Vista Print, then cut them out.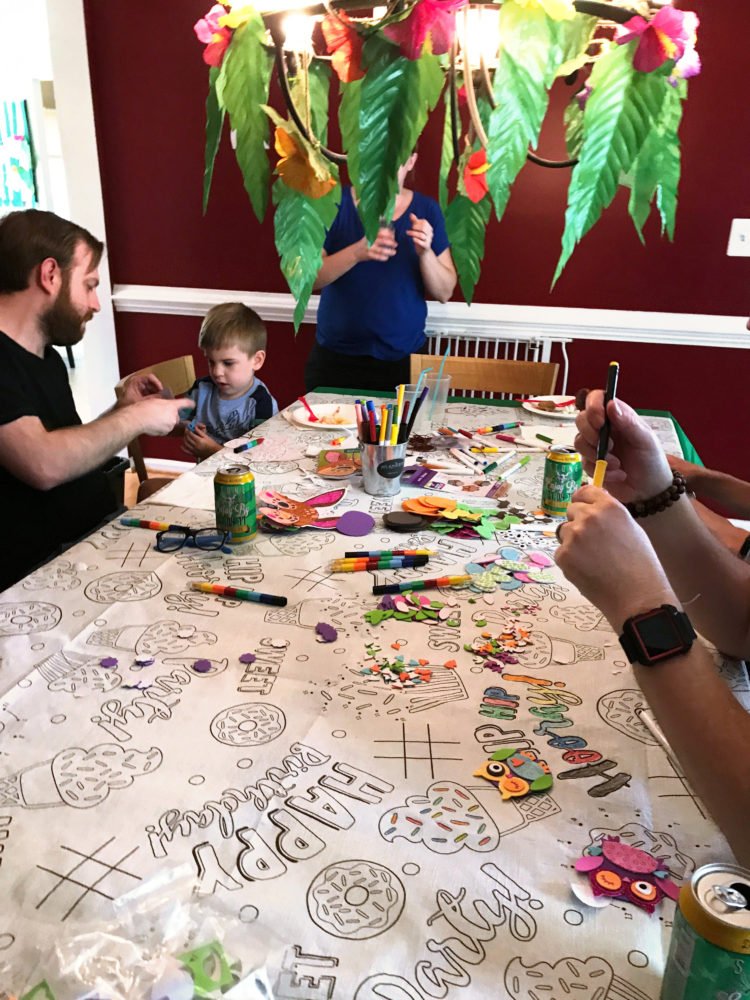 I always do a craft table and this one was a bit last minute. I ordered foam owl sticker sets and color your own woodland masks. Both worked great at the party!
The party favors were fairly simple, as I'm not a fan of getting lots of plastic junk in favor bags. Kids over 3 got rainbow stacker crayons from Target, a pack of gummy bears and an owl water squirter. Babies and toddlers got baby bath toys and a pack of Teensy Fruits.
Some behind the scenes photos:
I know that first birthday parties are more for the parents, but I hope Sebastian felt how loved he is! We had a great time celebrating our littlest man. We love him so!
Here is Sebastian's wishlist for those who have asked. A little late, sorry… You are sweet to think of us!