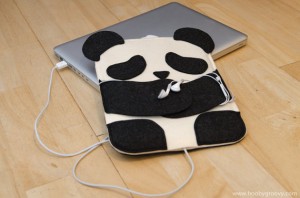 I have a hand-me-down iPad 1st gen that I love! I named it "Stephanie & Jax's iPad" because half of its purpose it to have games and ebooks for Jax during car rides and trips. The other reason I have it is because it's great to use while I'm nursing Jax. Beats playing solitaire on my phone (I put in many hours of this when he was newborn!)
I just have a plain Apple case on mine, but one day I'd love something more unique. I'd also like something that stands up better on its own. I've been having fun browsing Etsy lately. So many fun cases!
This case is made out of a real book. I love the Beatles, so of course I love this amazing Beatles album case! Here's a case that looks like a giant 80's cassette tape. Panda! And he hugs your ear buds! This one is really pretty and has a strap like a purse.
And some non-Etsy cases… This one has a bluetooth keyboard. I like the different angles you can have with this green one. This one has great pockets inside. Gorgeous bamboo case!
Do you have an iPad? If so, what case do you recommend?