When I decided to reach out to friends to help with Imagine Our Life while I am on vacation, I knew right away I wanted to ask Lyndall of Royal Milk Tea. We've been online friends for a while, despite her living on the opposite side of the globe. She has such a beautiful aesthetic and I just love her drawings, photos and personal style. Lyndall is expecting her first little one and has offered to share some of the handmade baby items that have recently caught her eye.
Hello! My name is Lyndall, and I live in Adelaide, South Australia. I'm a librarian, an artist, a daydreamer and a collector of pretty pictures. I blog over at http://royalmilktea.nu.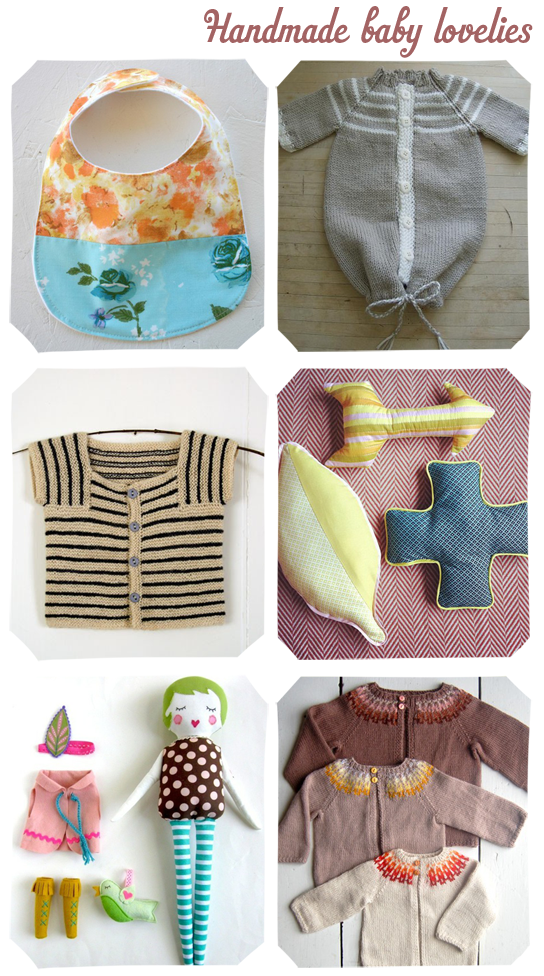 Vintage fabric bib, Knitted baby cocoon, Little Baby sweater, Shaped Rattles, Handmade 'Bathing Beauty' doll, Baby Fair Isle cardigan.
Thank you, Lyndall! Everyone go visit her right now! I mean it!