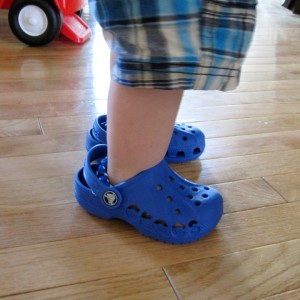 Jax was given some adorable blue Crocs when my Aunt and her best friend visited in April. He LOVES them. Unfortunately, he wears a size 4.5 toddler and the Crocs are 6/7. It doesn't stop him from begging me to put them on his feet (and trying to do it himself when they pop right off!) It makes him so happy to wear those giant Crocs around the house, I decided to see if I could get them to stay on.
I recently read a post on Make It and Love It about adding elastic straps to flip flops. I decided to try something similar. I had some elastic (thicker might work better, but this is what I had on hand) and some blue polka dot scrap fabric in my sewing stash. I sewed some quick casings (I didn't even have time to change the green thread in the sewing machine. I was on toddler-duty!) for the elastic and sewed them onto the Crocs by wrapping the elastic around where the Croc strap attaches with a needle and thread.
When I slipped those bad boys back on his feet he immediately launched into his favorite Riverdance then went running around the room. And they stayed on!