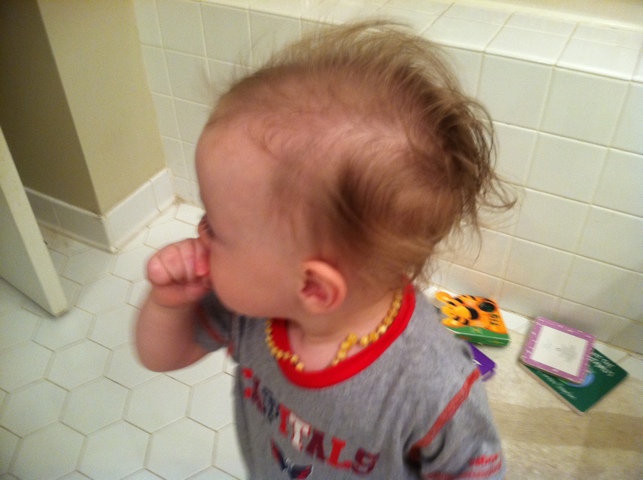 When did you first cut your baby's hair?
I've had my heart set on growing out Jax's hair a bit. He's my nature-loving hippie boy and drum-loving rocker boy. But his hair has other plans.
He was born with a thick head of dark brown hair. At 3 months old, he started losing it – but only on the top of his head! We called him Costanza. We had a lot of hats. By 7 months, the ring of hair he had left was really patchy and looked like he had mange, so I shaved it off. Blond peach fuzz was growing in where the hair had fallen out of top.
Today, he has dark blond hair that is long at the neckline and a strip like a mohawk down the middle. The sides have short patches. His temples still haven't filled in, though there is a bit of fuzz at the edges. It's finally thickening up a bit – I can see short hairs sticking through when I comb back the longer parts. But, it's a hot mess. There's nothing I can do to make it look good at so many different lengths.
So I think my dreams of his hair being long will be out on hold, and we'll get his hair cut this week when his daddy goes. I'll be sad, but hair grows back!
When did you take your baby for their first haircut? How did it go?