To celebrate my birthday week, I am going to feature some fun party ideas I've tried in the past. I love planning parties and always do it on a small budget. I hope you enjoy these projects! Let me know if you try them!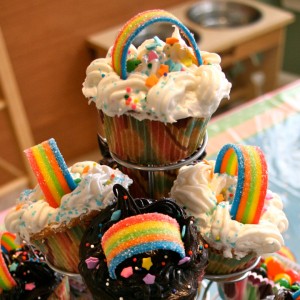 A couple years ago I had a party for my birthday with no real theme other than cutesy, girly things. Being a summer baby growing up with just a dad, my birthday parties usually failed miserably (like two guests would show up, but my rocket scientist dad would let us play maze games on the Apple II. Ah, the '80's!)
This party would indulge all the childish whims I missed out on… Crafts! Twister! Balloons! Pink and blue puppy plates! And cupcakes…
Rainbow cupcakes, to be exact! And, these adorable cupcakes couldn't be easier.
Here's what I did:

I baked two kinds of cupcake for variety so guests could choose chocolate or yellow (both vegan to accommodate a guest). If you want to go all the way rainbow, try this recipe for a colorful surprise when your guests take a bite! Because my favorite cake is yellow with chocolate frosting, I used both chocolate and white frosting. Obviously your rainbows will look more realistic on white clouds, but chocolate clouds are oh so tasty!
To ice my cupcakes, I put the frosting in a icing gun (mine is a cheap dollar store version) with a star tip. I swirled and swooshed till my hand ached to make fluffy clouds. Then I used plenty of sprinkles: blue sanding sugar, rainbow nonpareils and little stars!
And now the fun part… Buy a few packs of Airheads Extreme Rainbow Belts, cut them to size and stick them in the frosting to create your rainbow!
Because I had a vegan guest, I also make a few cupcakes without the sprinkles and candy (which tends not to be vegan). I also filled some cupcake papers with jellybeans and stuck them in my cupcake stand for pops of color.
Let me know if you try this out!