When we started planning a road trip from the DC area up to Long Island, I realized I'd need to think up ways to keep Jax amused on the 6 hour trip. He loves to color, but I didn't want to have crayons thrown around the car. But we found a great replacement: a MagnaDoodle Pocket
!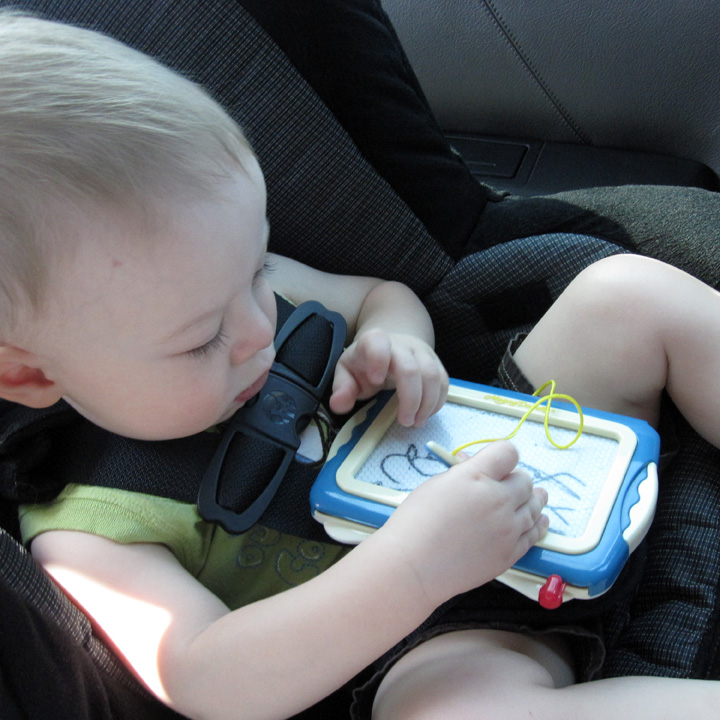 I ordered ours from Amazon
because we have Prime
free 2-day shipping and the trip was coming up fast. I hid it until we hit the road.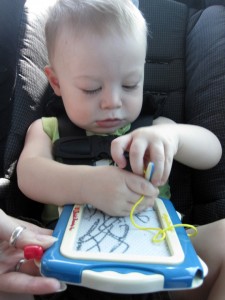 Jax figured out right away how to draw on it. It writes very smoothly and erases in one sweep unless you've colored really dark. He loves sliding the stylus back into it's hole in the side, and he can't drop it because it is attached. The lever for erasing is too stiff for him to use just yet (it takes me two hands), but he learned to hand it to me whenever he wanted it erased. The size was perfect for his 17-month-old hands and fit easily into my purse or our small day-trip diaper bag.
The MagnaDoodle was a huge hit, both in the car and on our train ride to Manhattan. I'll definitely consider buying a bigger one with more features as Jax grows. I like the stamps this one
comes with.