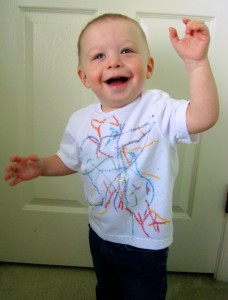 When I saw this craft idea on Alphamom, I had to try it out with Jax! All you need is sandpaper, crayons, a t-shirt and access to an iron and dryer. I bought my t-shirt for a few dollars and got a 24 pack of Crayola crayons for 40 cents (the 8 pack was 79 cents!)
Check out Alphamom for all the details on how to make your own!
I love how Jax's drawing came out looking like a subway map shirt. I still need to throw his shirt into the dryer to set it, but we had to try it out!