Jax is currently napping off our morning adventures… His daddy worked the overnight shift and Jax had trouble sleeping. That lead to him being crazy and loud right when my husband was going to sleep in the morning, so I got him out of the house.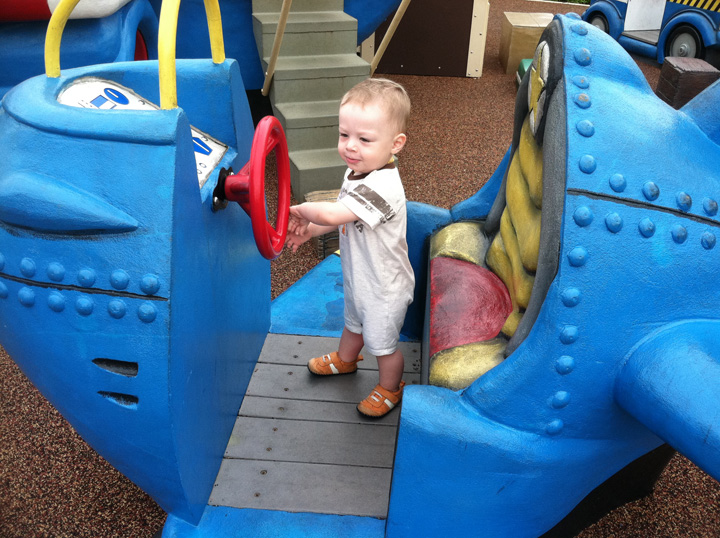 I drove out to one of Jax's favorite playgrounds that has an airplane theme. He likes that there are objects of all sizes to climb and play on – like this blue plane – and I like the the rubber ground. After playing for a while, we sat in the breeze and shared a mango smoothie. We walked hand-in-hand to the pet store and he pulled my hand to his mouth and gave me a loud kiss: "Mwah!!" So sweet.
To read more about our morning (we rescued a lost dog from a busy road!) visit my
personal blog
.
So back to the playground… There was a little girl around 2-year-old who had woken up on the wrong side of the bed. He mom was outside of the playground enclosure reading a book. Jax was steering the plane and she came up and edged him out of the way. "Okay, let's give her a turn now!" I said and helped him step down. She followed us, reached out and shoved him by his head!
What would you do?
Luckily, Jax had no clue he was being bullied. I decided to speak up, and in the same calm voice I'd use for Jax, I said to the little girl, "No pushing, please!" before we headed off to another section of the playground. I heard her mom look up from her book and tell her to stop pushing a few minutes later, so I guess she found another victim.
I'm not looking forward to run-ins with bigger bullies later on. Have you had to deal with this situation?