I have a new obsession! Quiet books! Quiet books are fabric books full of fun surprises and activities to keep toddlers and young children *quietly* entertained. With a 5+ hour plane flight coming up in November, this might be a great project! Any sewing fans want to create some pages for me? I have too many ideas and too little time for them all!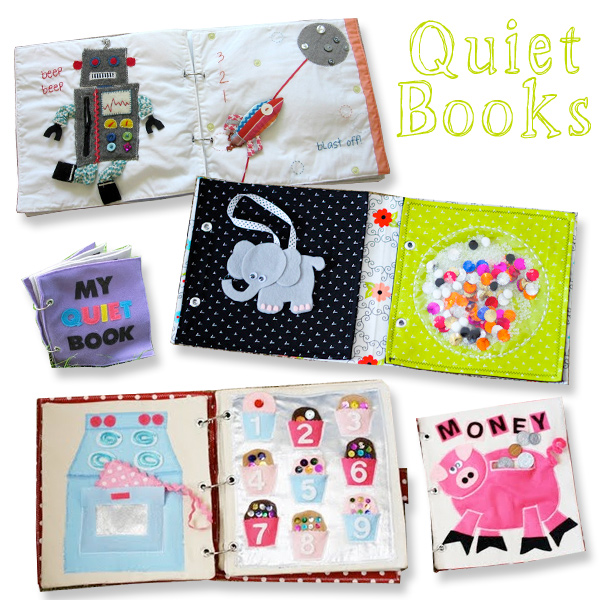 I am 100% doing a robot and space ship thanks to ideas by Handmade by Jill. I love the glitter pouch here, and the idea of attaching an animal with a ribbon that baby can velcro on and off. Cupcakes and an oven! Simple and sweet, bound with grommets. Check out my Pinterest board for more inspiration.
I think I'll make one with 9″ x 9″ pages (felt comes in 9″ x 12″ sheets.) Felt pages can be exactly that, fabric pages will need a .5″ seam allowance all around. Button holes for binder rings once I sew two pages together. Then a fabric cover with handles and a closure strap.
If you'd like to create a page for Jax, let me know! This is going to be a fun project that can use sheets of felt and fat quarters of fabric.
Have you made a quiet book before? I'd love to see!
Edited to add: I've been busy! Check out all my Quiet Book pages with free patterns here!