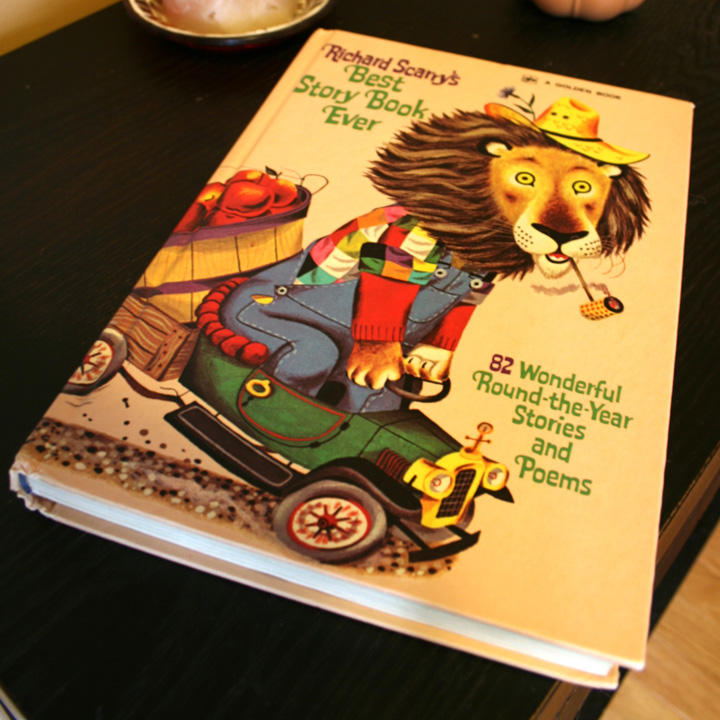 When I visited my dad's house over the summer, I grabbed some of my childhood books from the basement. One of my favorites as a child was Richard Scarry's Best Storybook Ever!
I have a lot of memories about looking through this book again and again.
After opening it again so many years later, I found it hilarious that it wasn't really my book: I'd crossed out my brother's name and written my own in crayon! Hah!
Many of the stories and scenes I remembered, but others I didn't. A notable one I don't recall shocked me a bit. It was about a bear who was good at hunting and because of that earned himself a happy family. I couldn't figure out any other morals to that story. It ends with them wearing coats they made out of a seal he killed. Yikes!
I loved any scene that showed the inside of a house/building/nest. I also liked the pages that would label all kinds of foods, clothes, or toys.
Do you have any books from your childhood? Are you sharing them with your children?

Leave a comment if write a Sunday Souvenir and you'd like your link to be added!
Check out Ronalyn's post at The Adventures of Esa and Zed