We've been thrifting a lot, as usual. It just works out so well to get books and toys used and then pass them on when Jax outgrows them. We've also been getting a great deal of wall frames and decor items for Jax's big boy room makeover. I'll be featuring a lot of projects from that room as I get closer to completion.
I'm really bummer that our beloved children's thrift store is now closed. They moved some of the things they were selling in to two tiny rooms of the regular thrift store. It won't be the same, though. There just isn't room to have the same stock.
Today was the first day of the official change, so we swung by the store to check it out. The main room was SO STUFFED with clothes racks now that Jax freaked out and needed me to carry him. I found a pair of 3T Children's Place jeans for him to grow into. In the two kids rooms there was mostly books at this point. I let Jax pick out a $0.50 train toy while I went through them.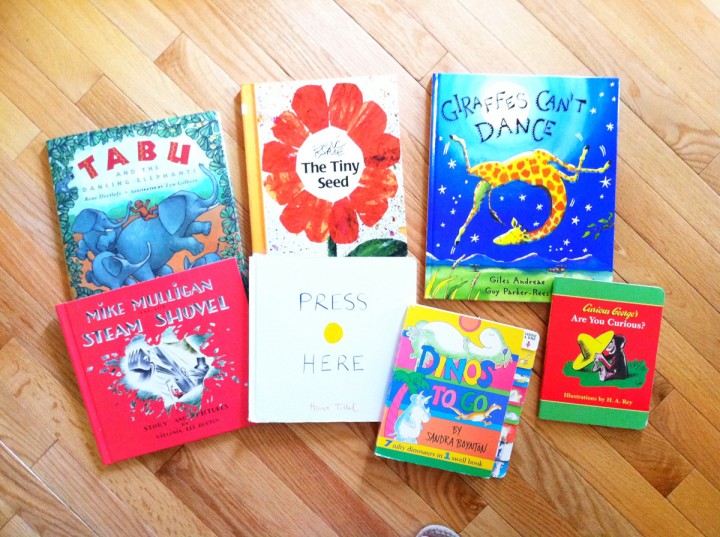 I'm in the process of switching Jax's library over from baby board books to hardback story books. He finally understands not to rip the paper pages and will hold still and listen while I read to him.
Here is what I got today: Tabu and the Dancing Elephants
, The Tiny Seed (World of Eric Carle)
, Giraffes Can't Dance
, Mike Mulligan and His Steam Shovel
, Press Here
and two board books he was interested in, Dinos To Go : 7 Nifty Dinosaurs in 1 Swell Book
and Curious George's Are You Curious?
.
Looking forward to all the new stories to read together!
Here are some more recent thrift store finds…