Sometimes it seems like I get an idea in my head for Jax and decide to keep an eye out at the thrift store for what I'd need to accomplish it, only to find it on my very next visit! It happened with the play kitchen and now with a dollhouse.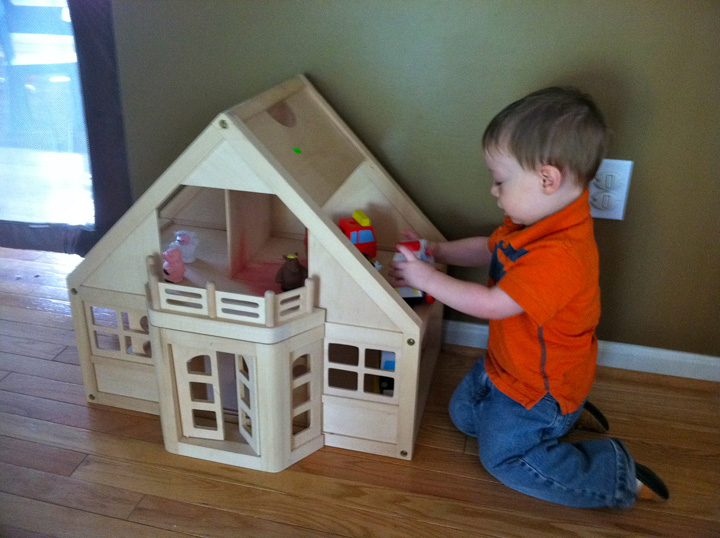 A dollhouse for boys, you ask?? Why not! My crafty mom was huge into dollhouses and miniatures, making both from scratch. I may have a boy, but I think there are ways to incorporate a dollhouse into his imaginative play time.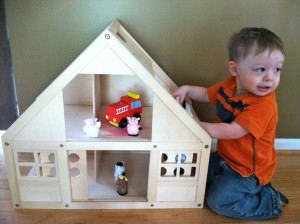 We pulled up to the thrift store and I spotted this unfinished wood beauty from the window. I was sold when I saw the $9.25 price tag! This is a $80 Melissa & Doug wooden dollhouse
, though it is sold with furniture! I'd originally planned to make him a fire station dollhouse, but the shape of this one lends itself well to becoming a barn. The front door and balcony come off to reveal sliding barn doors. It may not even need those pieces in the end if I do a barn.
Jax keeps saying "House! House!" I really think this would look cute as a red and white barn with faux straw floors and wood beam walls inside. It's in perfect condition, minus a red paint stain. What do you think?
I think I may hide this away and make it all special and barn-like to put under the Christmas tree for Jax. Maybe with this animal set
. There are a lot of cute wooden farm toys that I can add to Jax's Wish List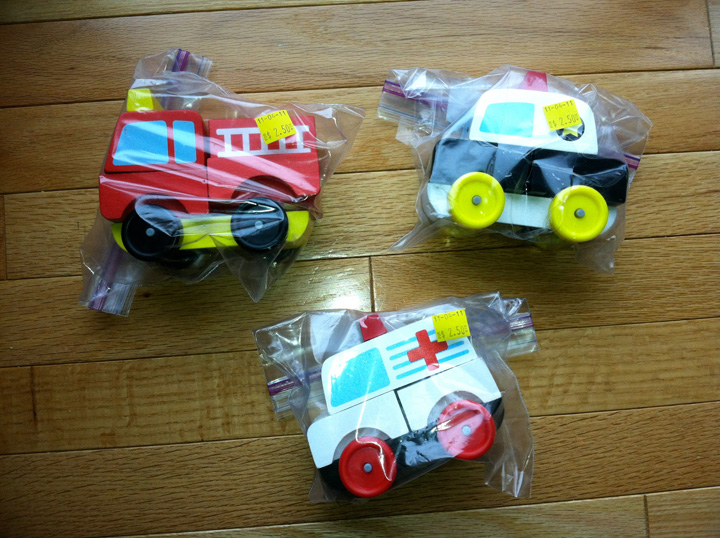 These Melissa & Doug Stacking Emergency Vehicles
were being sold for $2.50 each, though they were originally a set. I like that they are all wood (except the wheels). Jax is getting into vehicles now, so these stacking puzzles will be fun. So far he is calling them all "Choo choos". The only other vehicle name he says is "Bus".
We also got the scooter at the top of the post. He has had a Mickey Mouse car since his first birthday but it is SO LOUD it is driving me a little crazy. There is no volume switch! At the time we got it, all the buttons and lights were more interesting than the actual car to him. Now he is more interested in go, go, going! So this one is perfect both for Jax and mama's poor ears. And it rolls great outside, which the other one didn't.
I didn't look at the books this time. We will be going through ours to see if there are any Jax has grown out of that we can to donate to the library soon.