After a couple weeks of the kids thrift store being closed, we finally were able to get back into our Monday routine and pay a visit after Starbucks!
Jax loves going because he is allowed to be down on his own two feet exploring instead of strapped into the baby carrier or held back. The shopkeeper doesn't mind him playing wit the toys and nothing is breakable. (Everything is cheap even if he did break or tear something.) I use the thrift store as a place to practice shopping with Jax. He is getting very good at putting things back if I ask. I've even started letting him help at the grocery store after all the practice!
There weren't many clothes in his size today, but we found toys and books. Because I got some toys, I put together a big box of too-young toys for Jax to give away as soon as we got home. When something "new" comes in, something old goes out!
Here's what we got for $14: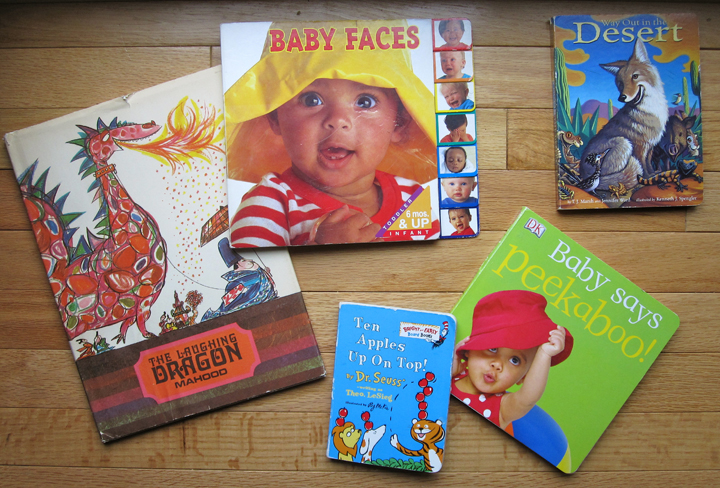 Books: The Laughing Dragon
(This book is gorgeous and out of print. A great find!), Baby Faces
(Also out of print, this gets great reviews. It shows different emotions.), Way Out in the Desert
(I'm putting this one in our bedtime book basket.), Baby Says Peekaboo!
(Jax loves books with peekaboo flaps!) and Ten Apples Up on Top!
(I handed this to Jax to look at on the drive home and he said "App-Pull! App-Pull!").
Toys: Little Tikes Wee Waffle Blocks 'N Bucket
(I hadn't seen this before. I normally avoid sets of plastic blocks, but I like that these are advanced for Jax and will help with his motor skills. For $3.75 they are worth a try! We have a Circo (Target) train like this  Melissa & Doug Stacking Train set with 2 cars that Jax loves. It is his bedroom toy for while I am showering. He has mastered his little train, so I put the one other bedroom toy (a shape sorter he has outgrown) in the donate box and added this train set to his basket.
Clothes: Just a button down I will layer over a thermal. Anything green to match his shoes is good!