So I originally made a stand-alone iSpy game and Velcroed it to a Quiet Book page, but the next day I decided the 2″ thick bag was just too much for the book. I also wanted a larger window so Jax could find the items easier. So, I cut the bag open and started over!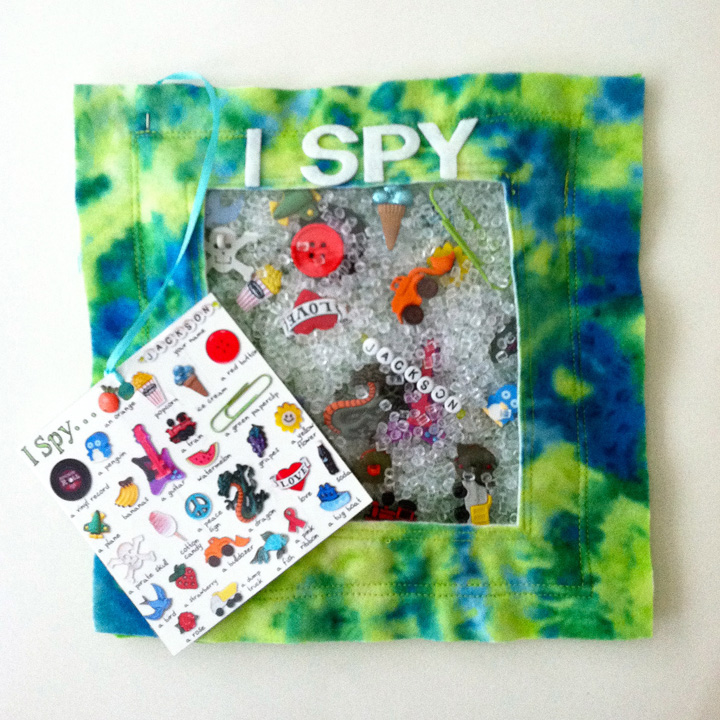 Here is what I did to make a large, flat iSpy game that will be zigzag-stitched to my white flannel quiet book page. (You can see an example of a finished page here.) My materials were: two squares of felt that are slightly smaller than my book pages (mine are 9″ in tie dye and lime green), a square of clear vinyl that is slightly smaller than your felt, poly pellets, buttons and trinkets, ribbon, stick-on felt letters and a key card. For more details on the key card and supplies, see my iSpy bag tutorial.
I took my top felt piece cut out a square in the middle for the window. You can cut out any shape and any size. I went for a large window to make it easier for Jax. I don't want him to have to squish the page a lot like you would an iSpy bag. A couple shakes moves everything around. I sewed the square of clear vinyl to the back of the window, going around twice for security. Then I trimmed the extra vinyl and rounded the corners so they didn't poke through.
I layered the front and back felt pieces together and sewed them together on 3 sides, again going around twice. You don't want to leak pellets! I didn't sew all the way at the edge of my felt because I didn't want a lot of the bag contents to be hidden. The more you have hidden, the harder the game will be. I filled the bag with pellets and trinkets then sewed the top shut with my key card ribbon in the seams.
To finish it up, I added "I SPY" to the top of the page. Easy!