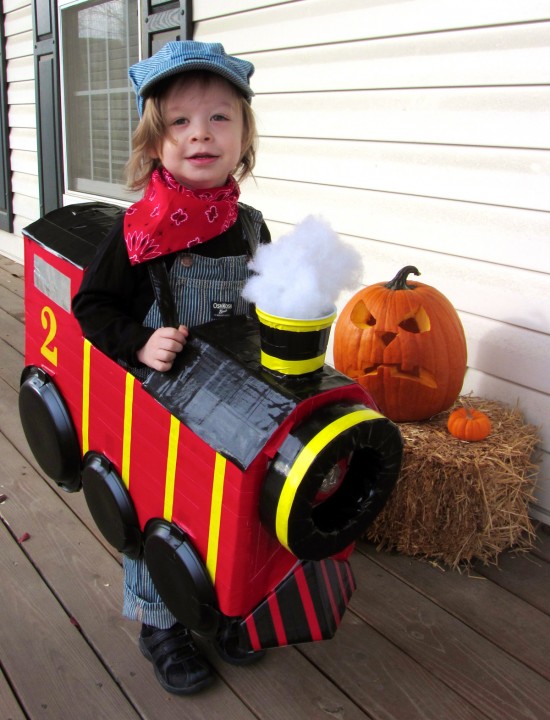 Happy Halloween from Jax & I! My little man decided he wanted to be a "choo choo" this year. He has since learned that he is actually an "engineer". I love how his costume came together! And it was very cheap to do.
His clothes were: Osh Kosh overall bought when they went on sale for $10, an H&M tee for $5, thrift store Stride Rite shoes for $2, thrift store Osh Kosh hat for $1, and a craft store bandanna for $2.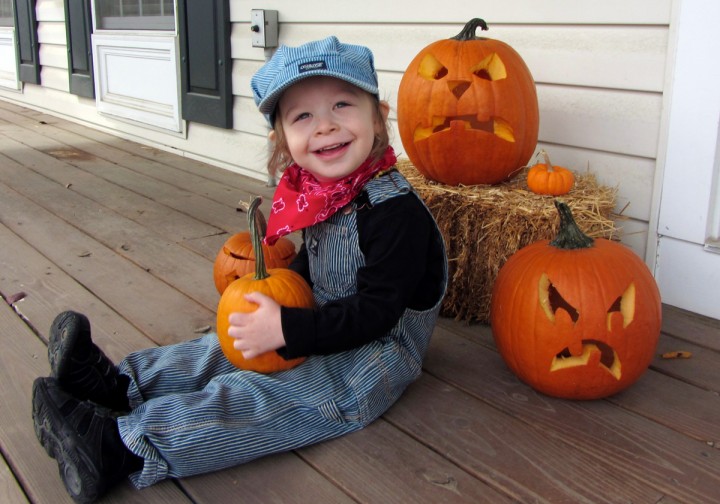 To make the train, I used: a cardboard diaper box and other bits of cardboard, red and black duct tape, a sheet of yellow duct tape, yellow thin plastic tape, leftover black party plates, a dollar store floral foam ring, dollar store red LED push light, aluminum foil (windows), leftover black party cup, the straps off a black dollar store reusable shopping tote and some polyfill stuffing.
I took a few photos as I worked on the train. If you want to make one of your own and have any questions, just ask!
And now for the winners of the SparkFun $50 Gift Certificate Giveaway!
Lisa who said "I have to admit I just stumbled upon your blog while searching for quiet book page ideas and I am so impressed! I find myself excited to get up in the morning and play with my kids and these fun books, instead of staying in bed and just letting them watch T.V.
I have a great network of crafty moms who will be so excited about this too! I can't wait to show them how fun and easy it is. The gift certificate is such a great idea! Thank you for all the inspiration."
Sarah J. who said "Love this page! I really want to do a page like this for my son."
Hazel who said "wow.. such creative touch with the LEDs.. the possibilities are endless in a quiet book – christmas trees, dollhouse.. candles on birthday cakes.."
Congratulations to our randomly chosen winners! Thank you to all who entered! Lisa, Sarah and Hazel, you can email me to claim you prize, or wait from an email from me with the gift code sometime tomorrow.
Have a safe and happy Halloween!