It's hard to believe that December is almost a week old! Have you finished your holiday cards? Me neither! Minted to the rescue!
Throughout the years I've gone in many directions with our holiday cards: inexpensive photo cards, handmade cards and even a holiday email. It is so rare to get real, physical mail nowadays. December becomes extra special as your mailbox fills with cards, photos and letters. So when deciding what to send out this year, I thought about what I like to receive. Photos top my list, as do the special handmade ornaments that often decorate the cards sent by my aunt. My plan is to decorate simple felt Christmas tree ornaments to send along with a photo card. (I will be sharing my template with you in an upcoming post!)

Minted Holiday Cards
I've used an number of online photo services and paperies over the years. Minted is an "online stationery store powered by a global community of designers." It falls in a higher price point than I'm used to, but the quality certainly shows. Last year I splurged on high-quality ornament photo cards, and it's hard to imagine going back to the shiny drug store style cards.
Minted's website is beautiful, and the biggest problem (aside from price) is there are too many lovely designs to choose from!
I love all things chalkboard, so this design caught my eye right away. I also like how the photo is separate from the design, so family could cut it off and frame it later.
I haven't taken our family picture yet – I need to get on that a.s.a.p.! If you have a really great photograph, why not make it the star of your card? This design adds a watercolor wash that gives a dreamy feel.
Do you love Instagram as much as I do? I'm considering featuring a look back at my year of photos. This design would be perfect for that! (Want to go all out? Try the Insta-Book!)
Have you recently moved? I love this design! Choose from the east coast, midwest, or west coast, then mark your hometown with a star!
Last year I went with an ornament photo card. These are great because they can be saved and hung on the tree year after year. This snowflake is gorgeous!
All of Minted's cards are highly customizable. Change the text color and font. Move elements around. Crop and style your photos. For added fees you can add on card backers, convert your flat card to a folded greeting, or included fancy envelopes and address labels.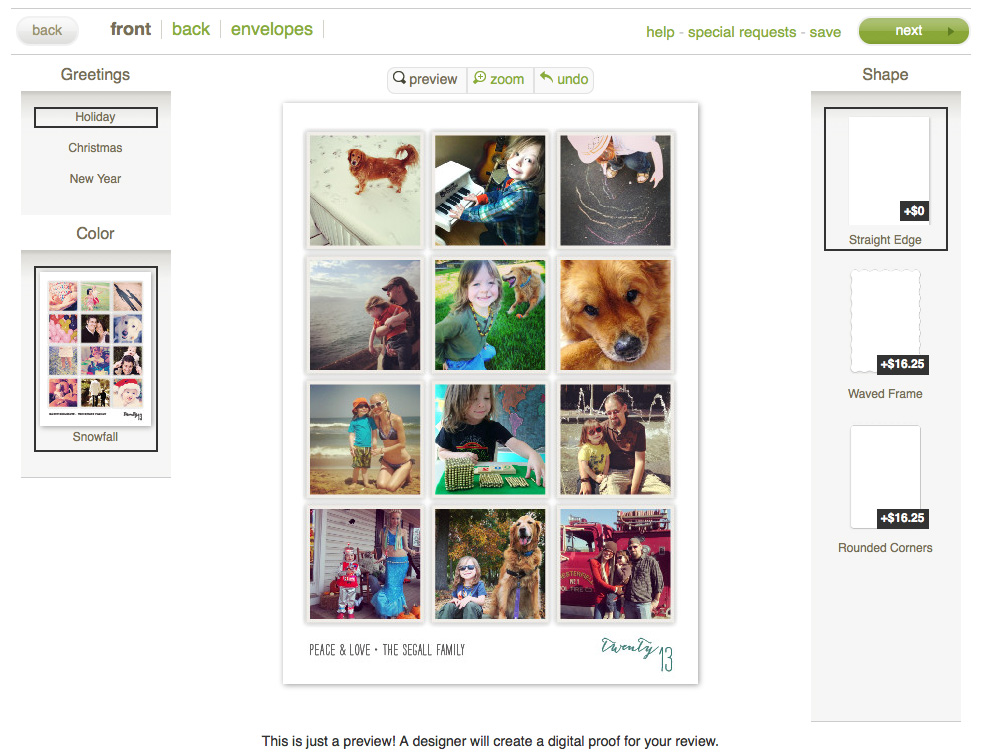 Which design would you choose?
This is a sponsored post. Minted invited me to try their service in exchange for store credit. I only post my honest opinions in my reviews, and I'd love to hear yours. Want more Minted? Visit them on Facebook, Pinterest or Twitter.