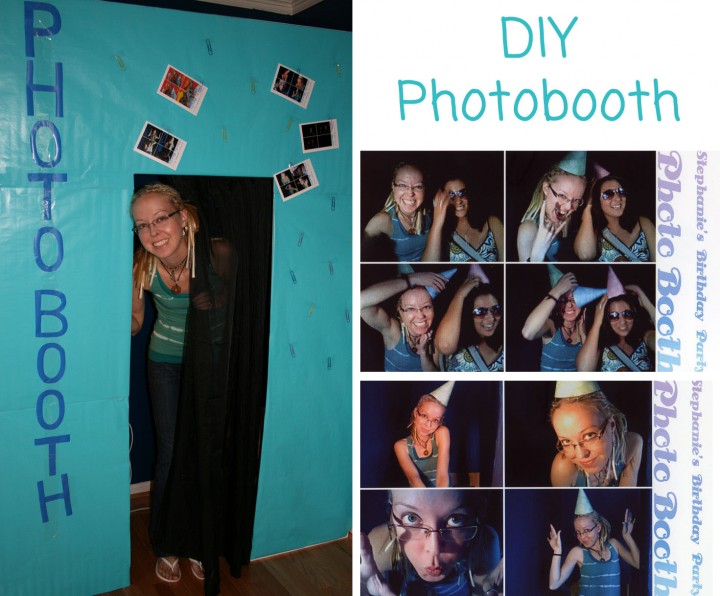 I fell in love with the photo booth at my brother-in-law's wedding. It was so much fun! I knew I had to figure out how to do my own. This post goes over how I've made mine for several parties. Hopefully you can get some useful ideas should you try this too!
The most important part of my photo booths has been my MacBook Pro with a built-in camera. For software, I installed Mugshot Machine and turned on kiosk mode when it was time for the party (this hides the rest of your computer and sends the photos to the printer without your guest having to deal with print options.) It isn't the prettiest program, but it's free and lets you use a custom logo on the printouts. The biggest disadvantage to it is that you can't save a digital copy and print a photo at the same time. Most guests were happy to let me scan their photos and give them back the next day. There are pay software options out there as well.
You need a way to print the photos, unless you are only saving them to disk. I have an HP photo printer I've had for years. It uses 4×6 paper that I stock up on at dollar stores and clearance aisles.
To build my booth, I start with a sturdy tv tray, and cover it with an upside-down box to make the surface area larger. I placed it in a corner so that I only had to make the walls on two sides. To build the walls, I used foam core board I got on sale that just happened to be the same blue as my walls. I think I used about 6 sheets (I didn't bother with the ceiling.) I left a space for the door in the side of the booth. Behind the laptop, I left a ledge of the box and a cutout for the printer (so your photo comes out when it's done printing.) It's dark in there, so I always put a desk lamp in for better lighting.
For the door, I use a sheer black curtain hung on a string that is taped up inside the booth. I decorate the whole booth with wrapping paper. It's inexpensive and I can change it based on the theme of the party. For my friend's money themed party I used gold and taped play money all over it. I also got a party "scene setter" backdrop that time and decorated the inside. At my birthday party, I taped large paper clips to the outside of the booth so everyone could display their photos during the party.
You don't even really need a booth… When I was pregnant and hosting a Halloween party, I decided to just set up the corner with a backdrop. Everyone still loved it!
I save all the main pieces of the booth in sections down in the basement and I've been able to reuse them again and again. So much fun!