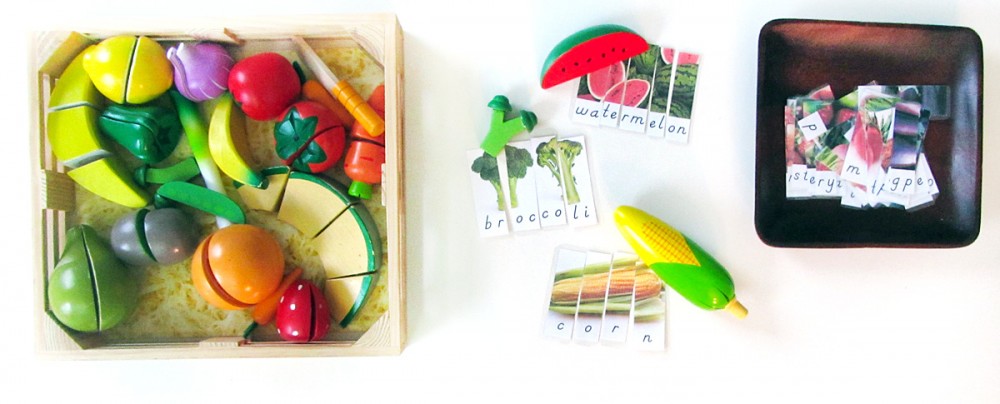 I love making homeschool materials for Jax with bright, colorful photos. I normally make Montessori-style 3-part cards: One card with a photo and a label, one card with just a photo and one with just the label.
Lately Jax hasn't been quite as drawn to them, so I decided to change things up. I'm starting a mini fruits and vegetables unit, so I put together these beautiful photo and word puzzles.

Fruit & Veggie Word Puzzles
To create the puzzles, I printed them on normal paper. You could use card stock for added strength. I cut out each puzzle, but left the pieces together before running them through the laminator. (I have this one
, and I love it!)
Here's a quick tip for when you have a lot of little pieces to laminate: a little dot of glue stick on the back of each item will keep everything straight as you run them through the machine. This has saved me a lot of reprints! It's just the worst when things slide around and overlap.
Once laminated, I cut each puzzle into individual pieces. I normally cut things prior to laminating in order to have a clear edge around all sides. But I wanted the puzzles to fit together without gaps.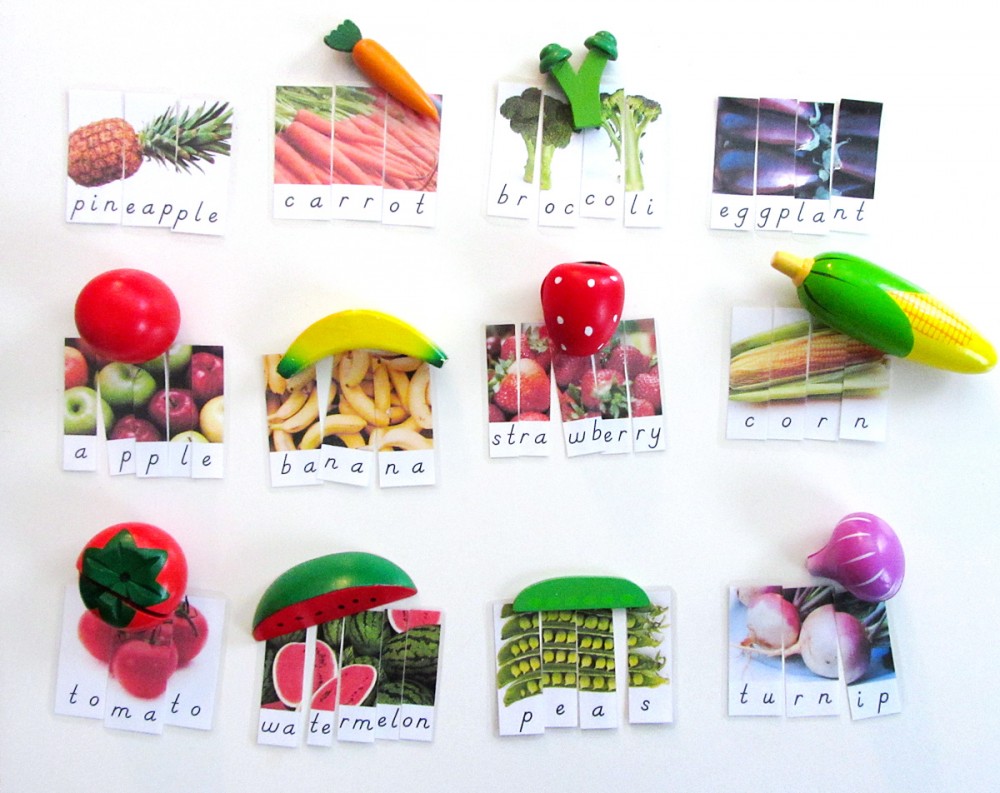 I am presenting three puzzles at a time, starting with them separated. Later on I can change them out or even mix a couple puzzles together for him to sort.
I've included some control versions of each puzzle without the cut lines and extra letter spacing.
Do you want to make your own? You can get the fruit and veggie word puzzle printable here.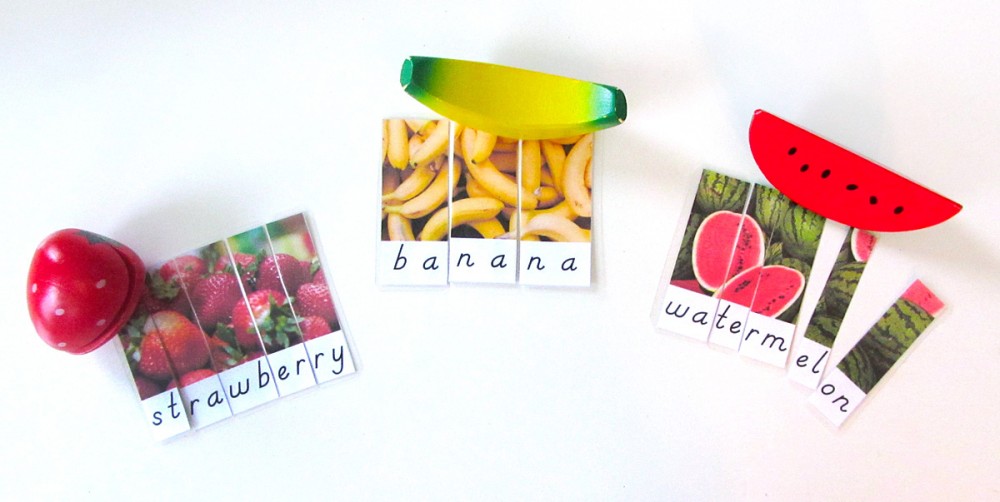 Farmer's Market Matching
This farmer's market matching activity is a quiet book page I made for Jax about a year ago. I love pulling quiet book pages out of the school closet when they match our current theme.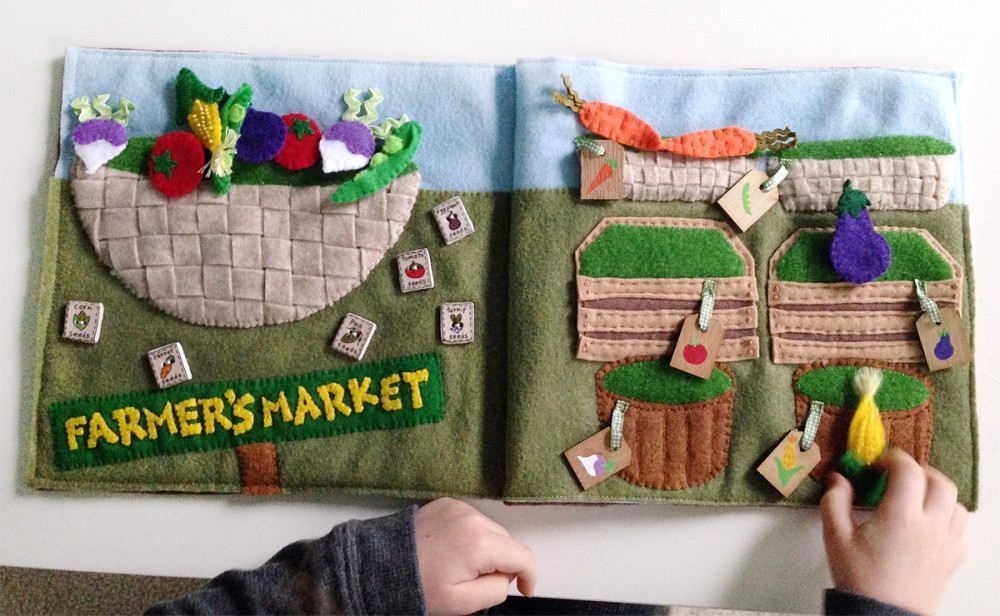 This page features a big basket of veggies (and fruit, if you want to get technical!) that need to be sorted into their proper bins and barrels in the farmer's market. There are hand painted tags that Jax looks at to figure out which goes where. I made sure to include word puzzles in our printable that match the veggies in this activity, so they tie together.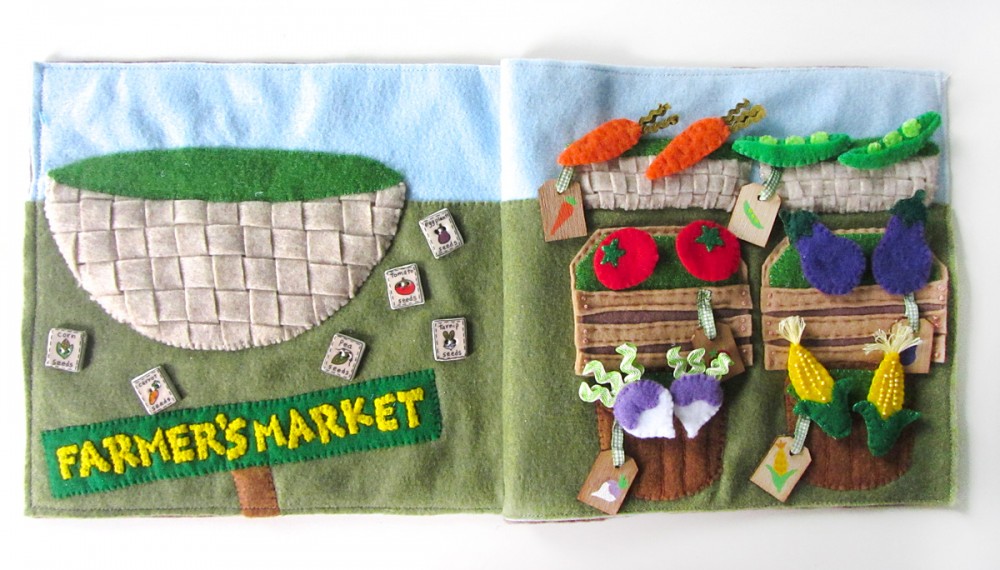 If you'd like the free pattern to make your own farmer's market quiet book page, you can find everything you need here.

Fruit & Veggie Chopping
I've started letting Jax help chop his apples and cucumbers at lunchtime. This is a big part of Montessori for 3-year-olds. They really focus on Practical Life activities. Activities like chopping help with fine motor skills needed to grip a pencil and write. In addition to chopping real food at meal times, Jax has some fruit and veggie chopping toy sets.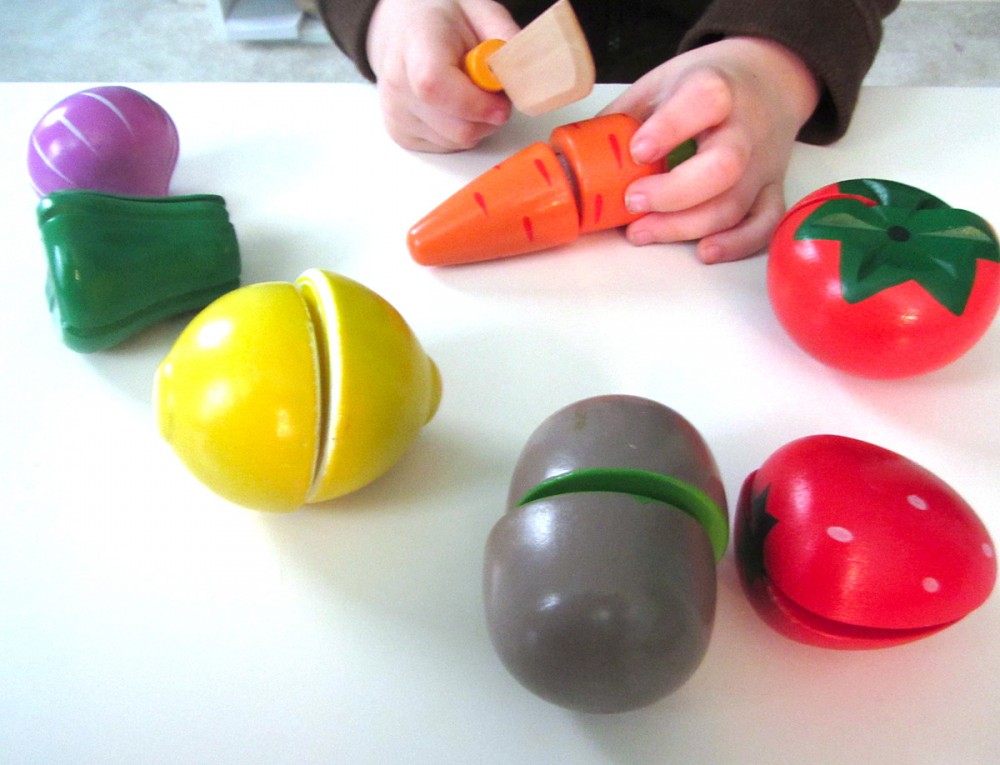 We have the Melissa & Doug Deluxe Wooden Cutting Fruit Crate
and the Hape Playfully Delicious Garden Vegetables Play Set
. I really love the look of the Hape set. Can you believe I found that at the grocery store for $3.50?! I also used food from some of our other play sets to match our puzzles. Out broccoli came from this Deluxe Cookware Set
. The peas are from the Melissa & Doug Stir Fry Slicing Set
. That one is another chopping set.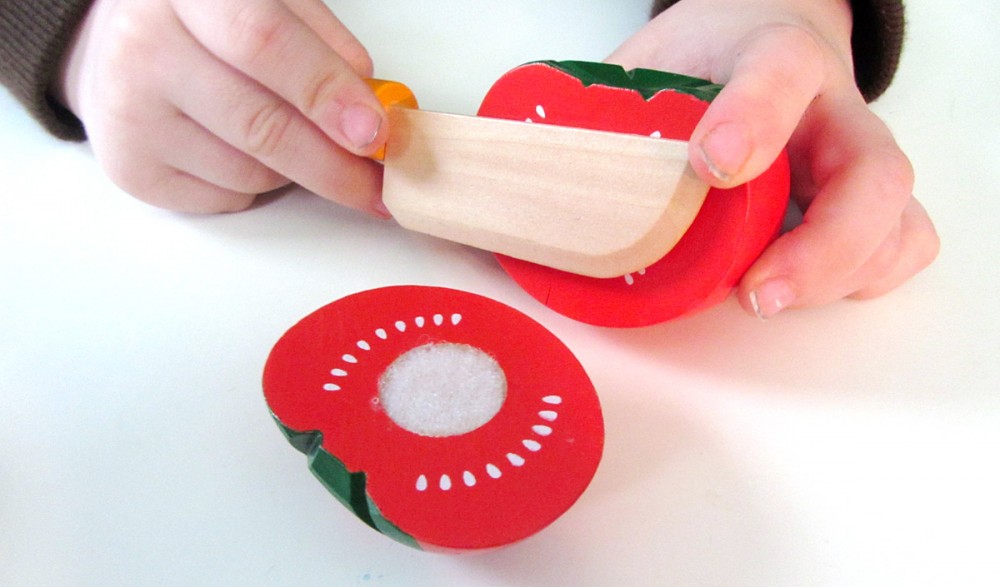 Other Activities
We'll be bringing out our fruit patterns and sorting pie. That pie is always a huge hit!
I really love a lot of the activities from this Farm unit by Stay At Home Educator, including the fruit sorting math and seed collage. Fantastic Fun and Learning has a lot of vegetable unit links. And check out the ideas and beautiful photos at Katherine Marie's.
We have this really cute book that we read in preparation for a trip to an apple orchard. We've been making (and planning!) a lot of apple recipes, including apple pie and this apple cake.
Here is a Pinterest-ready photo for you!
It's Montessori Monday! Be sure to check out all the other great homeschool ideas linked up throughout the week!