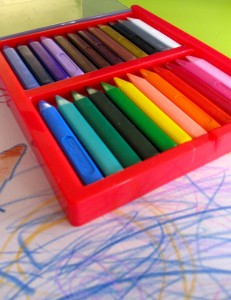 Jax just got his first set of crayons. He always loves when restaurants give him crayons, even though he mostly wants to hold as many as he can at one time in his little chubby fists. I'm starting to teach him how to color with them, so I needed to find a really great set for him.
I was happy to find out Melissa & Doug make craft supplies. I really like how that brand makes cute, wooden toys more accessible. Most quality, wooden toys are out of my price range. Melissa & Doug can be expensive, but you can find deals on Amazon and use 50% coupons at craft stores that have toy aisles.
I decided to get a set of 24 triangular crayons for Jax. They make a jumbo sized version with less colors, but he hasn't had any trouble holding regular crayons before. I just wanted something that wouldn't roll off the table, had no paper wrappers to deal with and wouldn't break from getting pressed into the paper too hard.
The crayons come in a plastic case with a clear flip-closed lid. This was Jax's favorite part! He is all about taking out/putting in right now. He had great fun making piles of crayons then putting them back in the case. He was a little rough at times and the crayons didn't break. They feel very strong!
Oh, we *did* color with them too! They seemed to fit nicely in his grip, though he insisted on holding a couple in each hand most of the time. They felt smooth when I tried them out and the colors were bold. I drew him a cat since his current obsession is meowing at cats (and dogs, heh!) We made a pretty picture together.
And of course we hung his artwork up in his new gallery!