I love Starbucks! Their soy no-water chai lattes are always delicious! But I get a little something extra out of my visits…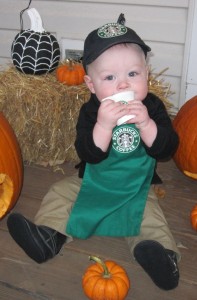 When I had Jax, I switched to working from home full-time. Perfect for taking care of a little one, but suddenly my only adult contact was my husband in the evening. So I started taking Jax out to Starbucks. Our trips have become a beloved routine and we've become friends with all the baristas. We both like to people-watch and he adores flirting with the ladies. I get adult conversations and a worn-out baby when we get home.
For Halloween, I created a Starbucks barista costume for Jax that was a huge hit. You can recycle Starbucks cups to create it. I bought some green fabric and sewed a simple apron in a tiny baby size. I cut the logo out of a vente (large) cup and used strong glue to attach it to the chest. For his hat, I painted an old ball cap of his black, then attached another cut-out logo. Because he was so tiny, we used little sample cups as his drink prop. So simple!
Later on, I made a scrapbook page featuring his costume. I re-used some coffee stickers that had decorated the envelope of the birthday card Jax received from all the baristas at our Starbucks. I love how it came out!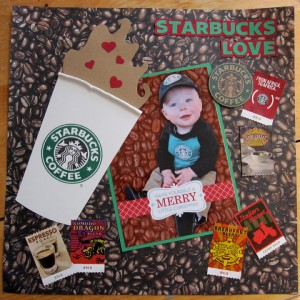 More crafts from around the internet:
Starbucks Felt Playset
Make It Lovely has an adorable tutorial for making a felt Starbucks play set with two drinks and two mini donuts. Recycle your Starbucks sleeves and a pastry bag to add the branding. You could use one of their paper shopping bags to store it all!
No-Spill Paint Cups
Muffin Tin Mom came up with a great idea for reusing dome-top cold cups from Starbucks – no-spill paint cups! The straw hole up top is perfect for your paint brush. Jax isn't quite coordinated enough for this, but it is a great idea for the future. I tested it out with some leftover green paint from our last project. This would also work great with clean water in the cup to clean your brushes between colors.
Starbucks Card Notepads
Onegroovyday on Crafster came up with the cutest way to reuse your old Starbucks cards. She made mini notepads! If you aren't feeling crafty, you can snag one pre-made off Etsy.
Starbucks Card Jewlery
Okay, there are so many cute things to made with empty Starbucks cards. Maybe some of my favorite baristas can snag some for me that are destined for the trash bin. Knitphomaniac has made some really pretty jewelry by cutting old cards and stringing them with jump rings and other findings. Gift ideas for barista friends!
Bottle Cap Flower Mosaics
I love these mosaics by Shawn DuBois available on Esty! A fun way to reuse any bottle cap.