What's better on a hot summer day than playing in the sprinkler? I recently started taking 17-month-old Jax to the pool where they have a splash pad at the shallow end. He loves it! So I knew I should try to find the best toddler-safe sprinkler for him to play in.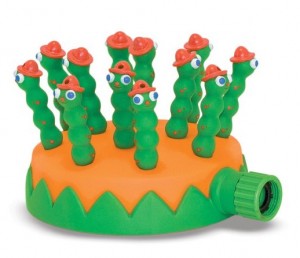 After reading what felt like a million disappointed reviews for all kinds of play sprinklers, I settled on Melissa & Doug Sunny Patch Grub Scouts Sprinkler. The little worms are described as "an entire troop of Grub Scouts who have popped up to work on their Entertainment Merit Badge." The girly-girl in me was all about the pink flowers on the Melissa & Doug Sunny Patch Blossom Bright Sprinkler, but I decided grubs were more gender-neutral.
The sprinkler is small and colorful with squishy rubber grubs that can't hurt little feet if stepped on. Attaching it to the hose was easy as the attachment ring spun around on it's own (instead of having to spin the whole sprinkler.) Jax was drawn to the bright colors before we even got the water going!
The height of the spray will depend on our water pressure and the length/diameter of your hose. We have a very long 100′ 5/8″ hose. With the water turned up all the way, we got 2′ for spray height. I'm thinking with a shorter and wider hose, the spray will be even higher. We decided against getting another hose, as the height was perfect for our little man right now.
The real test came last weekend at my little birthday get-together. Babies ranging from 10-months to 17-months all had the best time playing in it! I think it got more action than the baby pool!
I'd definitely recommend Melissa & Doug's sprinklers if you have a toddler who loves splashing in water!