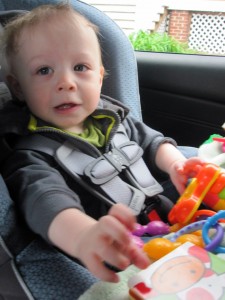 Six hours in a car with a 17-month-old? Clearly, we're crazy! We've actually made 3 round-trips to the Outer Banks so far in Jackson's short life. And, it hasn't been all bad. While we will be heading north instead of south this weekend, the drive will be the same length.
He tends to fuss at first, as we leave right before nap time and he wants to fight falling asleep. I sit beside him (he is still rear-facing) and he naps for the first 2 hours. Our usual routine is a stop at a rest stop for nursing and a diaper change once his nap is over, then snacks until we arrive. The final stretch is often when the tears start.
Since we won't have our two large dogs with us on this drive, we have the opportunity to stop somewhere for lunch. This could help break up the boredom of the drive a lot. I plan to make a travel restaurant bag for the trip with crayons, paper and some small toys.
For the car ride, I will be loading the iPad with kids games (see my recommendations here) and shows (Blue's Clues and Yo Gabba Gabba are Jax's current favorites) and we've ordered a little Magna Doodle to try out. He'll also get a new car book to play with – Munchkin's Traveling Flash Cards.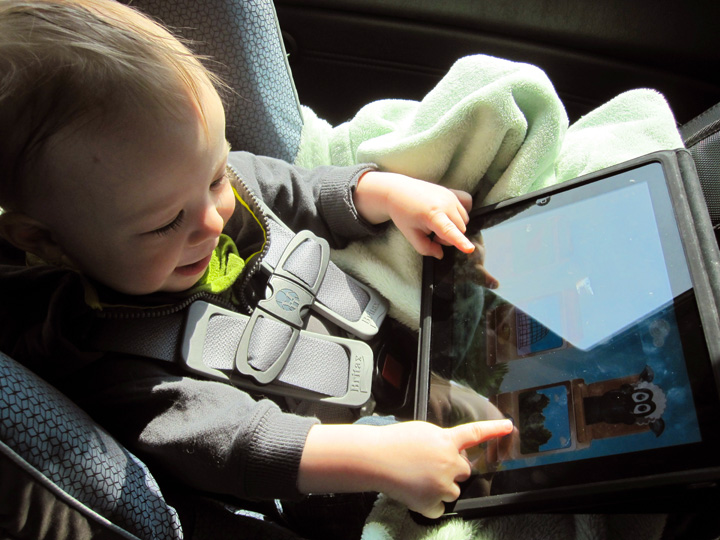 For our time in the hotel room, we'll be bringing his most-prized toy, I-Play's Nest & Stack Buckets. I also found a cute block-stacker train (similar to this one) on clearance that I have stashed away to give him at our final destination.
Do you have any tips for traveling with babies and toddlers? Please share!