We hit the motherload at the kids' thrift store today!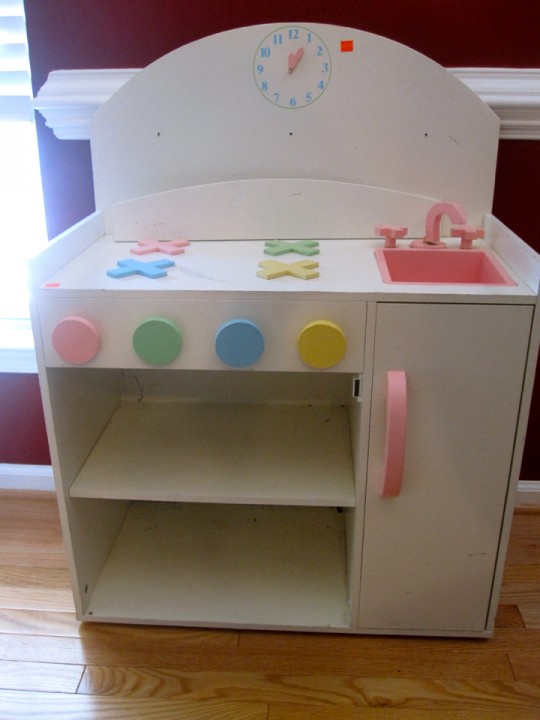 Jax has been having trouble sleeping due to teething, so we were up and ready for our day a little late. The local kid's thrift store opens at 10 am, so we had breakfast to waste a little time before heading over. I was hoping for some board books and was keeping my eyes out for a wooden kitchen to refurbish. I didn't expect to find one (they always had small, ugly plastic ones) so I planned to drive over to the adult thrift store after to check for small hutches I could convert.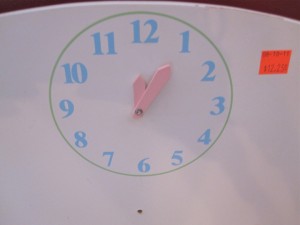 But, what did I see when I walked in the door? A 100% wooden (be it mostly MDF) kitchen for $12.25! It is missing the large door (the shopkeeper offered to hold it for me if it turns up), but I think I'll leave it open and put wire baskets on the shelves. The backsplash shelf is broken off but intact. The faucet needs to be reattached and some of the knobs are glued together a little wonky. All-in-all it just needs a good scrub (there is dirt and mulch inside it), a sanding, several coats of paint and some nails and screws.
I'll have to get some number decals for the clock as it will get painted over. I'm thinking bright red for the whole thing, with all the door and accents in silver. Maybe a magnetic primer under the "fridge" door for magnets. Should I do something special to the backsplash? It will have its shelf halfway down. I love that the sink is wood so I can paint that too! If any of you hardware-inclined friends have suggestions on reattaching the shelf and faucet, let me know – L brackets under the shelf? This is going to be a fun, quick project now that I only have to paint!
We got lucky in other ways at the store too. I found 4 great board books for Jax. He is BIG into being read to now, and I have to read him at least a dozen books every night (or the same one 10 times!) The thrift store is great for books because they sell them for 10% of the cover price – meaning they were all 59 – 79 cents each! We found: Where Is Baby's Belly Button? A Lift-the-Flap Book
, Peek-A Who?
(which has a mirror in the back), Polar Bear, Polar Bear, What Do You Hear?
and Brown Bear, Brown Bear, What Do You See?
.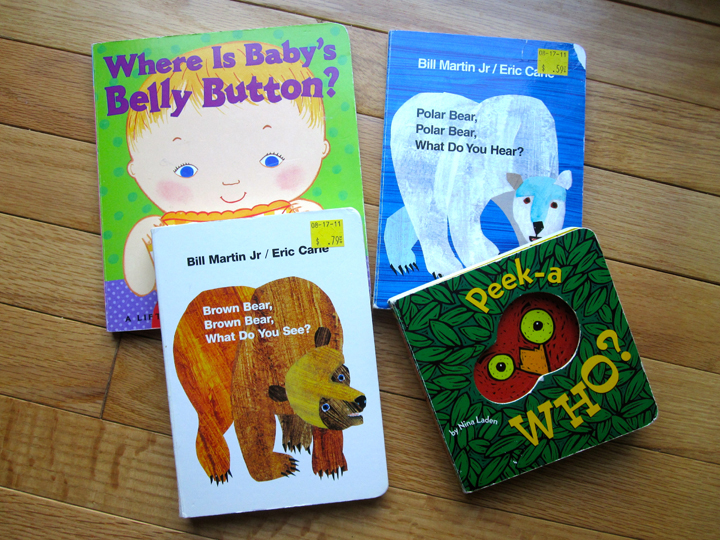 I also got a Melissa & Doug Rainbow Stacker
for $1.75. He has stackers, but those are his favorite toys and I like that this one is more advanced with smaller holes. He has to concentrate to put it together. We found Stride Right boots 1.5 sizes up from where Jax is now for $2.50. They are in perfect condition.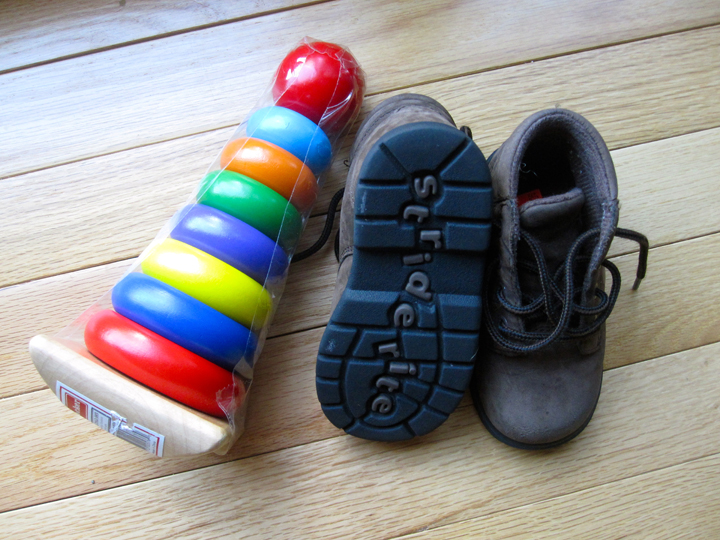 Do you thrift shop? I used to in college and only recently started up again. Reusing is great for the environment AND your wallet!