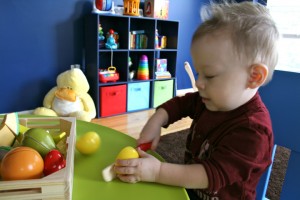 So Jax adores his play kitchen… He asks to go "cook" by saying "Num! Num! Num!" – which is also the sound he makes when he "taste-tests" his culinary creations. I only want to fill his kitchen with sturdy, wooden food (I'm not a fan of plastic and felt would just be covered in dog hair) that will last. Two great brands for wooden food are Melissa & Doug
and Plan Toys
(The breakfast set is so cute!) Both are a little pricy (Plan more so than M & D). The craft stores around here carry a limited (but changing) selection of Melissa & Doug and when combined with a 50% off coupon, I can get a crazy deal!
Our second set of wooden food is the Melissa & Doug Deluxe Wooden Cutting Fruit Crate
. This set helps with manual dexterity as you are able to chop up the fruit with a play knife. It is pre-cut and held together with Velcro. Jax will learn to match the fruit pieces together and recognize the insides and outsides of fruits. Later, it will help introduce the basic concept of fractions.
It was love at first sight with this set for Jax. It comes in a large, shallow crate which he brought over to his table, sat in his chair and started examining all the fruit. I showed him how to "chop", which he loved. The velcro makes a nice "Crunch!" sound when you cut through it. More often than not he tried to cut with the handle of the knife, so he'll have to practice that a bit.
The melon and banana are in multiple pieces that don't stick together quite as well (because there are more parts), but Jax likes those because they are easy to pull apart with his hands.
He has already made me several fruit salads, so I think this set is a hit!
Disclaimer: I was not compensated for this review and purchased the item myself. I just wanted to share what we thought of it!