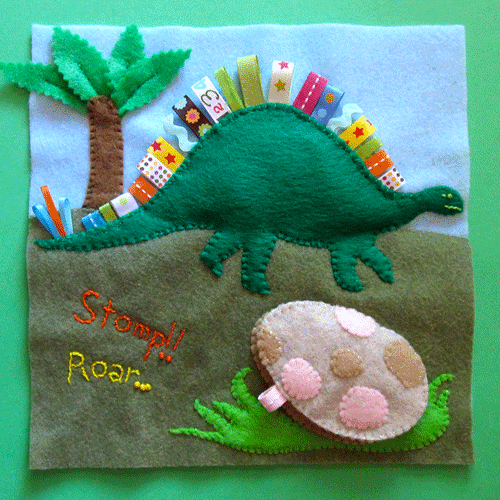 Dinosaurs! Roar! Here's the next page in Jax's quiet book. His book is seriously going to be 10″ thick… And there are more pages I want to add. I still haven't decided how I'm going to do the cover/case.
This is a fairly simple page. It has ribbons for texture and a peekaboo flap with a baby dinosaur inside an egg. Here's what I used: sky blue background felt, olive green ground felt, lots of ribbon scraps, felt (in 3 shades of green, brown, natural (the egg), camel (inside the egg and some spots) and pink (spots on egg)), batting/stuffing, pinking shears
and embroidery floss to match.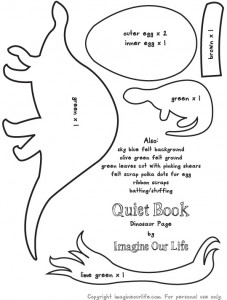 Start with your sky blue background piece. Cut a piece of felt for the ground. I used olive green and cut a slight hill into the top. Pin the tree trunk in place and sew the ground down. Cut some leafy fern shapes out of green felt with pinking shears. I made 4. Sew them in a fan shape at the top of the tree. I sewed up the middle about 3/4 of the length. Sew the tree trunk down.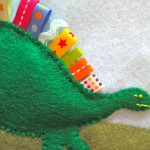 Dinosaurs: To make the faces, I made a stitch for an eyelash then a French knot eye. I stitched the smile in stem stitch. Stitch loops of ribbon along the spine – shorter at the tail and neck. Stitch long, thin "spikes" to the end of the tail. I used all kinds of ribbons and rickrack from my stash (many were scrapbooking ribbons) but you could use all one color.
Egg: Start out by sewing the grassy nest down where you want the egg to be. I cut 2 pieces for my egg out of a natural colored felt and one out of a camel color for the inside of the egg. Sew the inner egg to the grass and sew the dinosaur baby onto it. I took scraps of pink and camel to make splotches to sew onto one piece of the egg shell. Be creative and decorate your dinosaur egg however you'd like! Layer a loop of ribbon between the two outer egg pieces as a handle, then sew them together. Sew an inch long section of the outer egg down to make the flap.
To finish up, I sewed the big dinosaur down, then embroidered freehand "Stomp!! Roar…" into the lower left corner. You could do the same, or have a big "D" for dinosaur.
If you use this pattern, please add a comment or link to me. I really would love to see your version! I think I'm in love with the little baby dino.
Do you like the page?