Happy Halloween!
I'm so glad I was able to finish sewing Jax's Halloween costume in time for trick-or-treating! This will be his first year for it, but I don't think we'll go to too many houses. I think he'll enjoy handing out candy.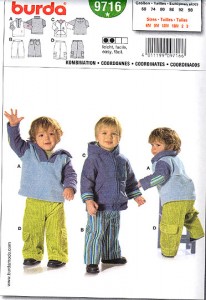 This is probably the last year I get to choose his costume. I've wanted to sew him a Brobee costume since last year, but it was just too much effort for a baby that wasn't going trick-or-treating. I know Yo Gabba Gabba is a little obscure, but everyone recognizes that he is dressed as a "little green monster" just fine!
When I started planning the costume, I knew I needed to have a base pattern to work with. I originally was looking at long pajama patterns, but when I figured out how much work the costume would be, I wanted to make something he could wear beyond Halloween. So I ended up going with a coat and pants. I went to Joann's at naptime with Jax in the Gemini and found this great Burda pattern. I made the center look, in size 2T, but left off the embelishments.
The outside is made with fleece that I sewed darker green stripes on before sewing it together. I lined the coat in green flannel. I added the horns in red fleece and sewed the eyes and mouth out of felt. The unibrow is marabou sewn to a strip of hook & loop tape so I can remove it to put the coat in the washer. I modified the hood by adding a casing with elastic around Jax's face to keep it up. The sleeves have to be cuffed, pants are hemmed up 3″ and I cinched in the elastic waist for now as he is not a 2T yet, but he has room to grow into it!
Yesterday we joined the neighborhood costume contest and parade in the local park. Jax won 3rd prize and was thrilled that his prize involved a new pack of crayons!