These are so good and so easy! I wanted something fun to round out this year's cookie tins that would use up some extra candy-making supplies I had laying around. I still had candy sticks and bags from making chocolates for my baby shower two years ago!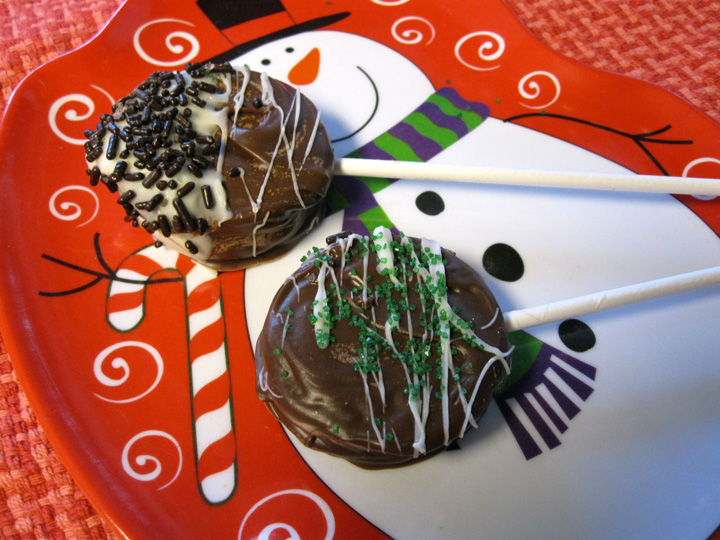 Oreos are already delicious, but put them on a stick and cover them in chocolate? Yes, please! You could make so many varieties of Oreo pops using different cookie flavors and different coatings. Dark chocolate mint! Peanut butter chocolate! White chocolate peppermint!
Here's what you need:
Double Stuf Oreos (you can't fit the sticks into plain Oreos!)
Candy/cookie sticks
Candy Melts (I used milk & white chocolate I had leftover)
Sprinkles (I just used some leftovers again)
Wax Paper
Candy bags and ties
Line a couple cookie trays with wax paper. I used old ones that had a lip to catch the extra sprinkles. Hold the two sides of the Oreo together firmly but gently, and push a candy stick into the filling. Lay them out on your trays so they are ready for chocolate.
Melt your chocolate according to directions. I usually put some in a mug and microwave it on 50% power in 20 second intervals until it is fully melted. I didn't have success dipping the Oreos in the hot, melted chocolate – they fell apart! So I spread chocolate onto one side of the cookie, spread it all around the sides, then set it on the wax paper chocolate-down to coat the final side. While they are still wet you can add sprinkles or crushed candy. I melted some white chocolate and flung it over half of them for a fun look. I had extra white chocolate so some even got dipped.
Stick the cookie sheets in the refrigerator for 15 minutes or until fully hardened. Then place them in candy bags and tie them off below the pop. Store them in the fridge until you are ready to put them in your cookie tins (or eat them all yourself – I won't tell!)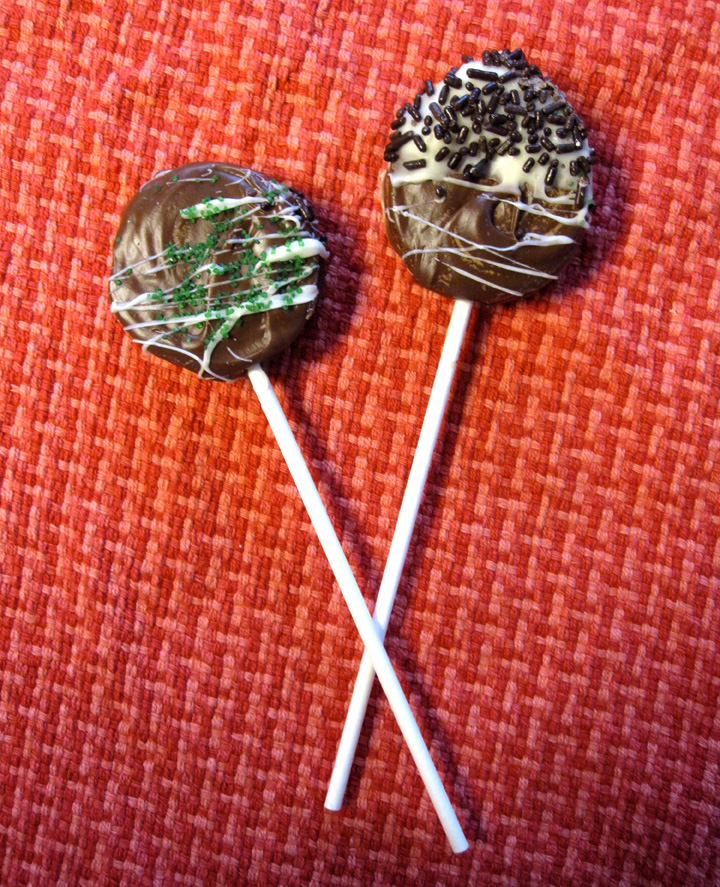 Enjoy!