We will be reviewing the many iPad apps Jax has been trying out recently. The iPad is great for car rides and waiting in restaurants. I stick mostly to educational and pretend-play when choosing apps for him.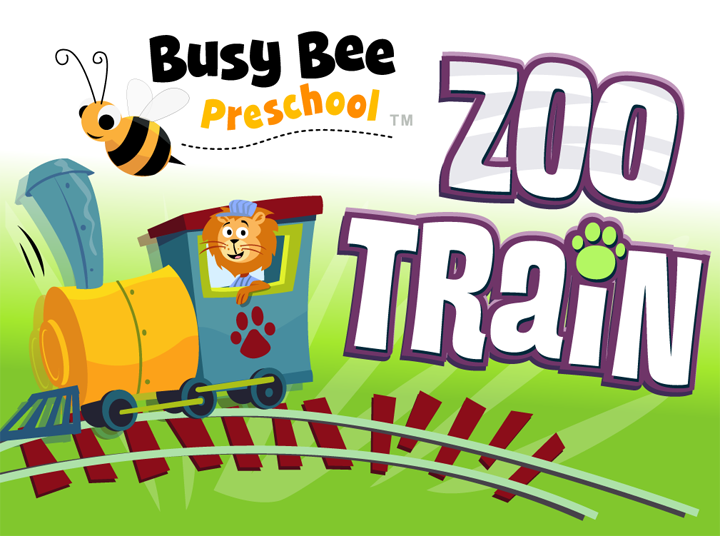 Zoo Train
Zoo Train is an app by Busy Bee Studios. It has 5 little games in one that are great for preschoolers. It includes: Picture Puzzles, Whistle Music, Train Builder, Word Builder and Track Tycoon.
This was Jax's first "favorite" app on the iPad. He has impressed so many people, both relatives and strangers, while solving the word puzzles. At first he'd just drag any letter to any spot, but he quickly realized that he needed to match them and started looking for similar shapes. He still gets confused with some letters like "m" and "n" but really does great. He LOVES that the game gives him stickers after he solves three words (you also get stickers every 3 picture and train track puzzles.) He gets so excited and exclaims "Oh! Stickers!!"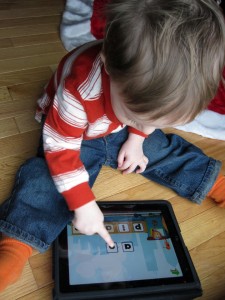 The picture puzzles were the first of that style of game he'd done. He was having a hard time with a wooden puzzle he had in real life, but after playing the puzzle game a bit he started to be able to solve it. He didn't understand the track puzzles for quite a while and would ask me to do it for him so he could see the train go around the completed track. Then one day I looked over and he was solving it like it was no big deal.
Jax enjoys the train building game. You don't get any rewards for this one, but it is cute. You get to choose a train engine and then 4 cars. All of them have really cute zoo animals. Once your train is built you choose a scene from 4 choices and watch your train drive by. We like to point out things in the scenery that we've spelled in the Word Builder, like "cloud" and "ship".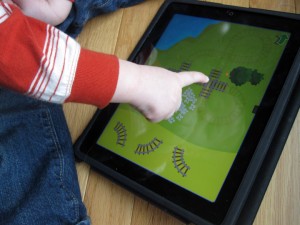 The section of the app that gets the least use is the musical train whistles. He occasionally goes into it but he isn't patient enough to let a song play out.
I would definitely recommend this app to other parents of young toddlers. Jax has learned a lot of early literacy skills just from playing these simple, fun games. They have given him a good foundation for learning to recognize  letters and put them into words. The app has also helped with his fine motor skills.
We got this app quite a while ago and I'm pretty sure it was either free or 99 cents at the time. It goes for $1.99 and I think it is a fair price. It includes an iPhone version. I do wish they would add more words to the Word Builder and more Picture Puzzles. Jax can do the puzzles in about 15 seconds each now! I think we'd even pay an extra dollar for an upgrade pack if it were to double our content.
If you have a toddler or preschool app you'd like Jax and I to review, please contact me with details. We have an iPad 1 and an iPhone 4.