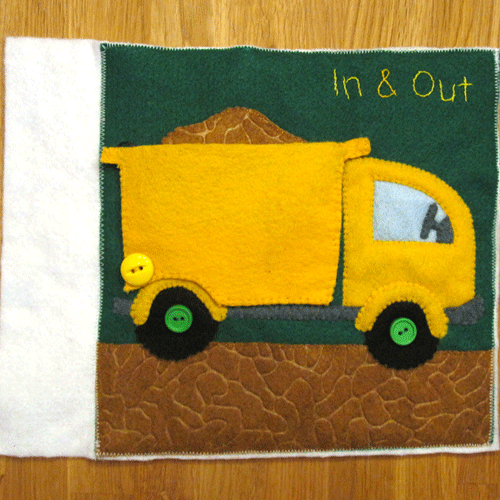 This dump truck was designed to go along with the forklift page I created by request. Since I wrote "Up & Down" on the forklift, I wanted to do another set of opposites on the matching page. A dump truck with "In & Out" sounded perfect!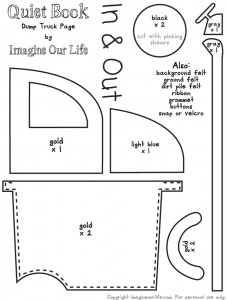 To make this page I used: green background felt, felt (in brown textured, light blue, gray, gold and black), 3 buttons, 1 grommet, 1 snap, ribbons and embroidery floss.
I started by free-hand cutting out the ground. I set the page beside the forklift while I cut so the ground matched up. I sewed it down when it was done. I then pinned down all the truck parts except the dumpster. That way I knew everything was centered correctly on the page before I began to sew.
I sewed the steering wheel down with it layered on top of the light blue window. Then I layered the gold truck cab over top and sewed it down. I never had to sew the light blue at all. Next I sewed the gray truck bed/bumper down.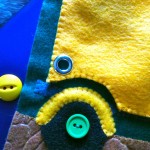 The wheels on this page don't turn because I wanted to have that curving part on them (sorry, I don't know car parts!) I pinned the wheels down then attached then with a button in the center. I then sewed the gold curves down over the top. The bottom of the wheel is loose, but doesn't turn.
My next step was to cut out two sides of a dirt pile shape. I free-handed it and just made sure it was narrower than the dumpster. With one end of an ~8″ ribbon sticking out of one side, I sewed the halves together. I then sewed the dumpster into a pocket with the other end of the ribbon caught it the upper left corner. I marked on the pattern where I sewed the dumpster with a dashed line.
To attach the dumpster, I added a grommet in the lower left corner, a snap in the upper right (put the other half where it lines up on the page) and sewed a button through the grommet hole. To keep the dumpster from spinning all the way around, I sewed a scrap of ribbon to the back and attached it to the page. You can see it peaking out in the photos.
The final step was sewing the lettering. I actually just sewed right through the pattern paper then cut it away. Nice and quick! I used stem stitch.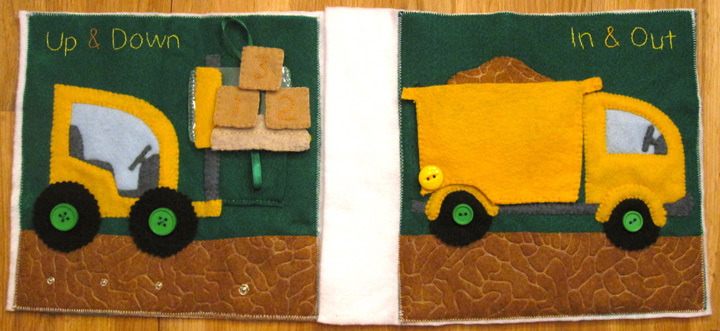 This page goes with the forklift page I made by special request. Stop by the Facebook page if you'd like to make a suggestion. For more quiet book pages click here.