We hadn't gone to the kids' thrift store in a while. The last time we went was right after the holidays and Jax had a bit of a tantrum when I wouldn't let him carry a mirror around. I wanted to go once before his birthday, though, so we risked it today. Luckily, Jax was super well behaved!
My main goal was warm clothes. Jax has had a big growth spurt and has grown out of his 18m gear. For about $8, here is what I got in size 2t: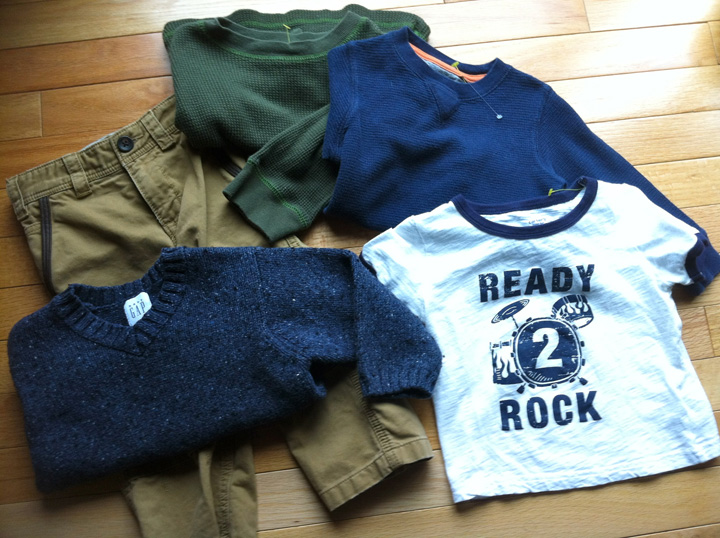 A cute Carter's rock t-shirt, 2 long sleeve thermal tops (one in dark blue to wear under the tee), a Baby Gap sweater and a pair of Baby Gap cargo pants. The pants have soft faux-suede on the pockets.
They were having a 10 for $1 book sale, but we really don't have room for 10 more books! I'll be getting rid of all his little baby books this spring in a yard sale as it is. I did see two I liked, though. Planes board book
and Who Do You Love? touch and feel book
.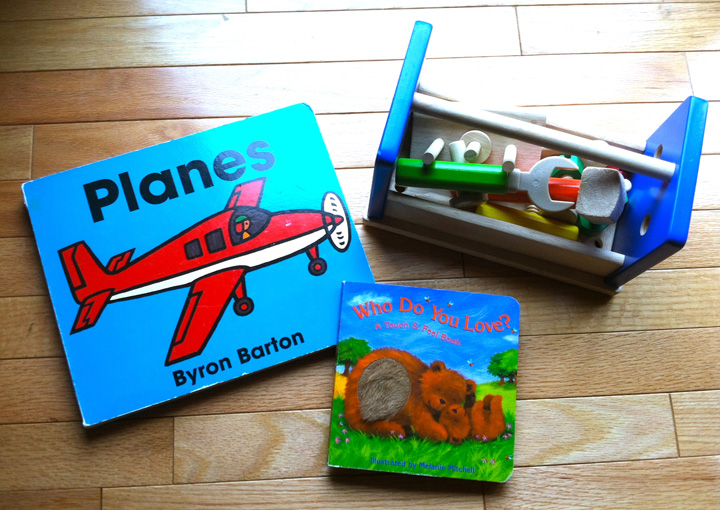 I was excited to see the tool caddy. Jax loves the tool bench he got for Christmas, but I'm not a fan of the nails and bolts not having a proper home. For $2.75 I got a great wooden caddy to store them all, with a few bonus tools and building pieces.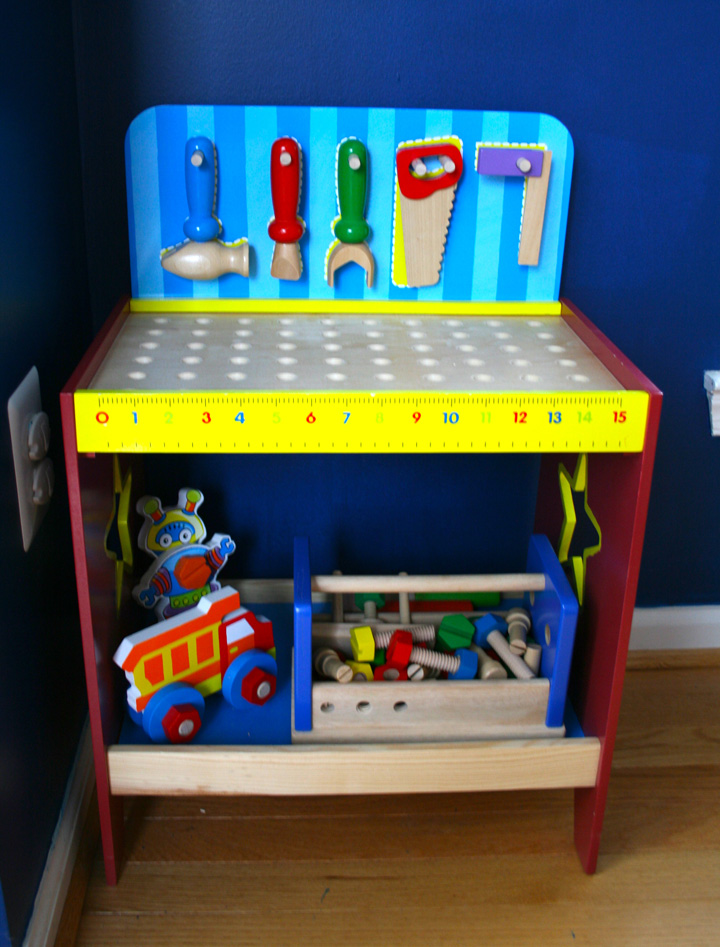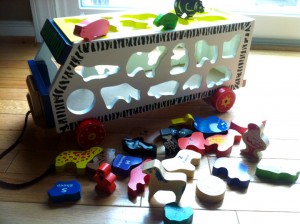 This final item was just one of those steals I couldn't pass up because it was unique, wooden, a great price and all the parts were there! It is the Battat Safari Animal Bus
The bus rolls, has a lid that comes off and comes with wooden animal shapes for each letter of the alphabet. We got it for $5.75.
I can see Jax giving toys a ride in the bus and playing with the animals in his barn. The first thing he did was let several of the animals slide down his playroom slide saying, "wheeee!" Hehe.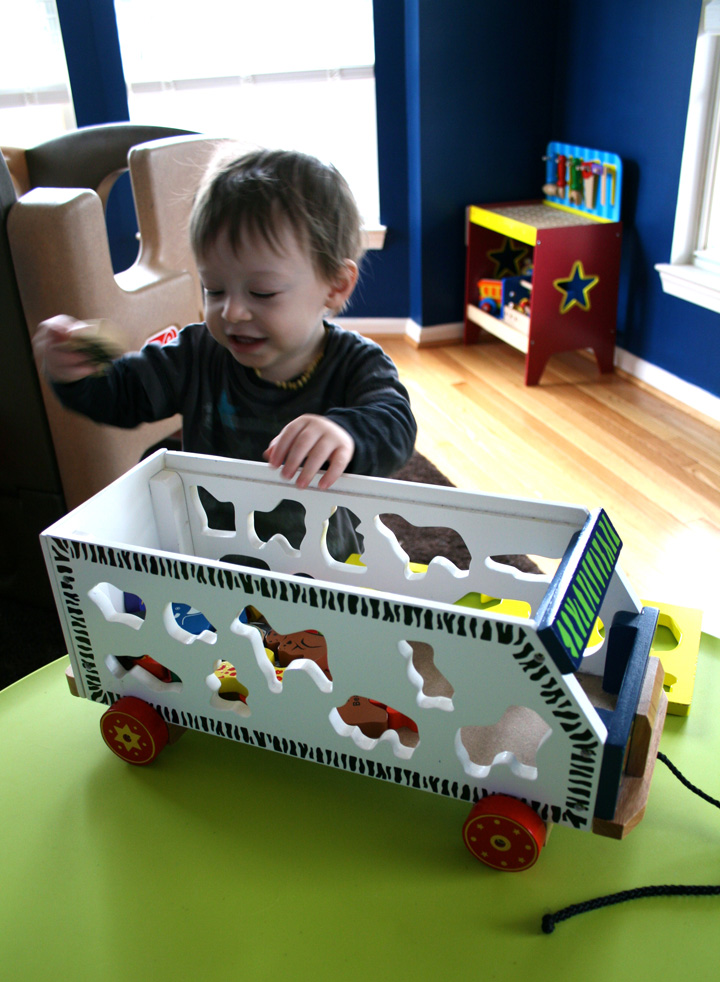 And here is a bonus photo to show a little update we made to the playroom. The dollar store sells teaching supplies, and we came across these great educational posters sold in 2 packs. I love the colors and Jax loves pointing to everything he knows on them.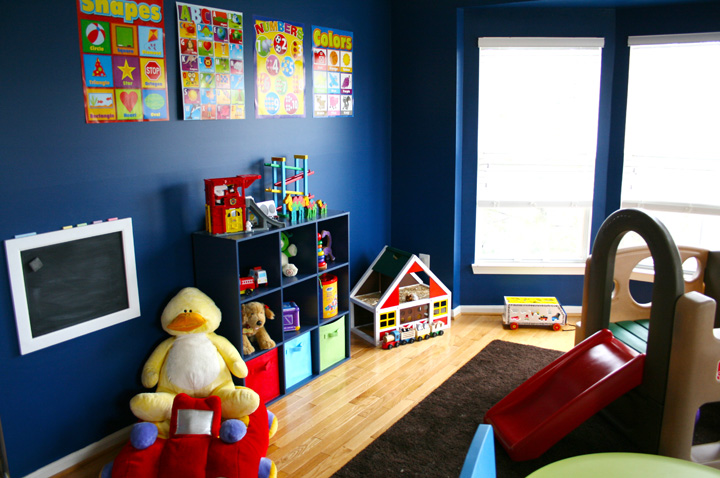 I was hoping to find some alphabet magnets at the thrift store to go on that little magnet chalkboard I just hung. It used to be in the kitchen of our old house and was impossible to write on. I just gave it a good coat of chalkboard spray
and now it works great. I think that will be a good spot for us to practice our letters and numbers.