For a few weeks last month, Jax and I had a secret. We were in rehearsals for a flash mob!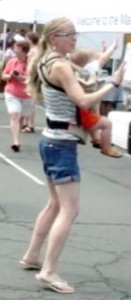 How does one find out about a flash mob? Word of mouth, mostly. I was lucky to have an online friend move into a new house just a few doors down from T, the lady who was organizing the mob. When I jumped at the chance to be a part of something I've loved watching online, C gave me the address and time of the next rehearsal. I was a very shy child, but I've come a long way since then. I was very proud of myself for showing up at T's door and introducing myself and Jax. Of course Jax is so cute that he's always a great ice breaker!
I follow a lot of AP parenting techniques, and babywearing is a big one for me. I have worn Jax since the day he came home from the hospital and we've used a number of different carriers. (I will review my current carrier, the Beco Gemini, in an upcoming post.) I did yoga with Jax in a carrier from 2 months till 11 months when our local studio closed. Jax loves music, moving/dancing and happy crowds, so I thought this would be perfect.
I think everyone was surprised to see a baby (toddler, really) strapped to my chest, but as soon as the music came on and we started moving, Jax was laughing and clapping along. He won everyone's hearts in an instant. The practices we went to were right around naptime, so I often ended up nursing him to sleep in the carrier while dancing. I'm not sure how he could sleep while bouncing, but he was out like a light almost every time once we'd been dancing for a while.
On the day of the mob, Jax was excited when the music started. He knew it well from hearing it so often while I practiced. The mob was a mashup of 8 songs. We came in for the last 3, as the one right before that had to much whipping around for a baby in a carrier. He clapped, smiled and waved his arms as soon as the music started. We both had a great time!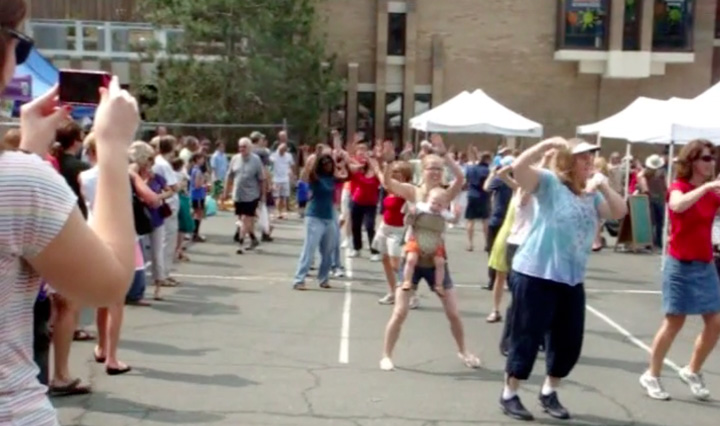 I was really sad when it was all over. I hope another flash mob comes up so we can do it again before Jax is too big for the carrier!
Here is a video clip of us sent to me by an onlooker and another I found: