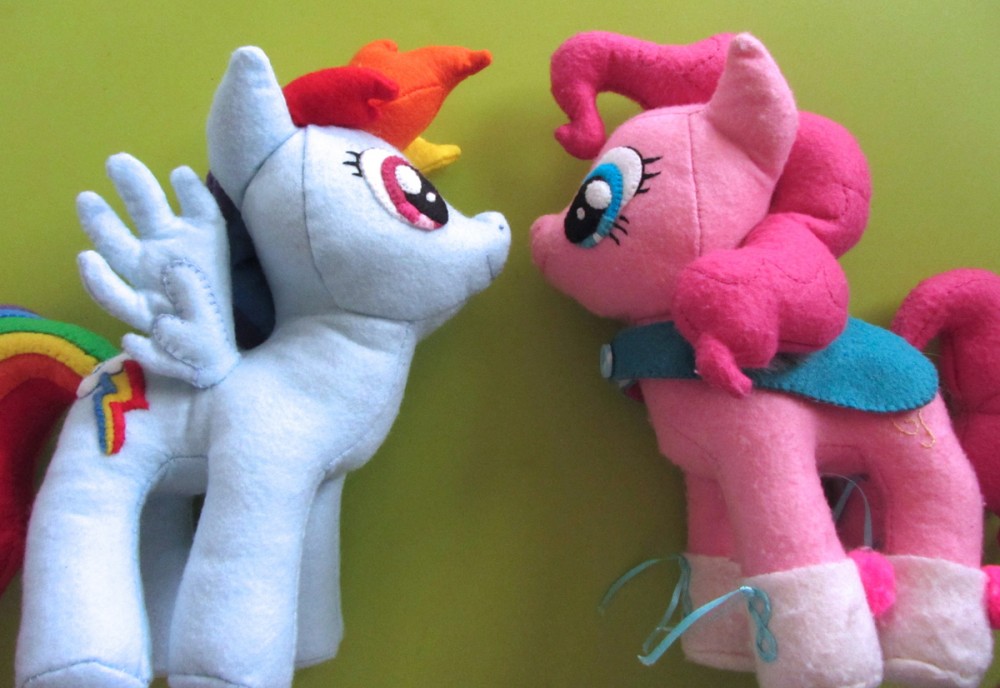 For much of this project, I did things the same as with the Pinkie Pie I made my niece for Christmas. You can read that post for many details I will be leaving out here!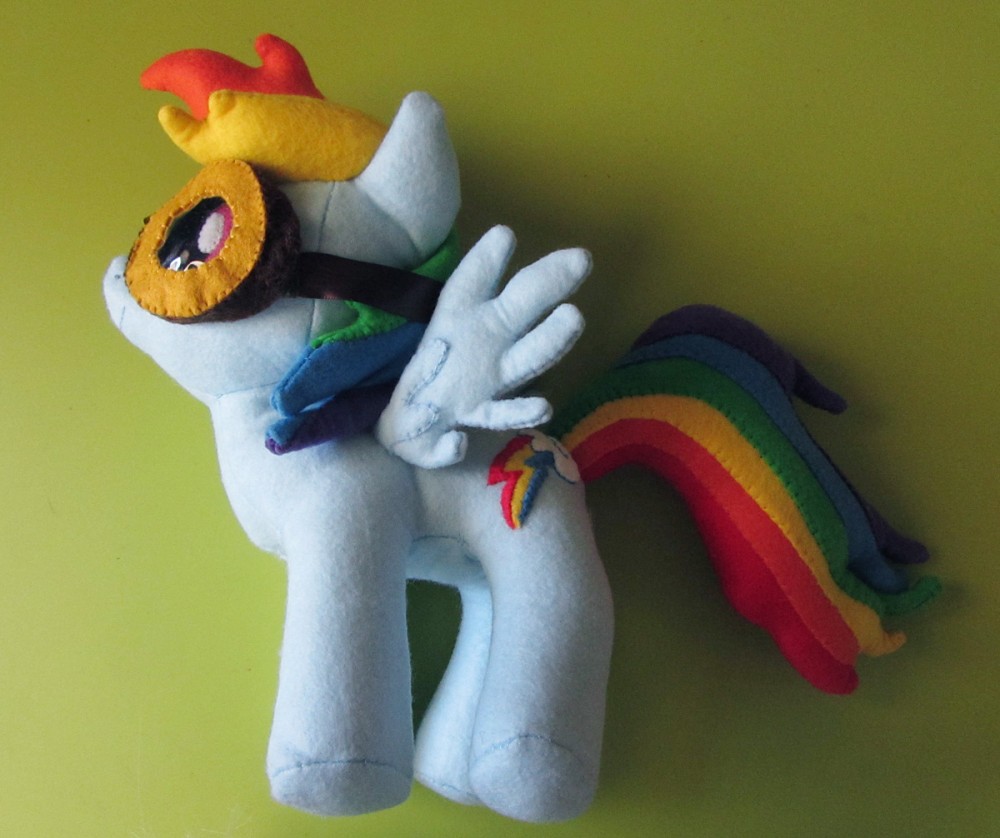 I scaled the pony body pattern up for a larger, huggable plush. This also made it easier to sew with felt. Felt is thick, and sewing inside out with seams can be tough. There were many places (wings, tips of hair) where it was really hard to flip the sewn felt right-side out, even at the larger size! My pattern ended up being 9.4″ wide from foot to foot (E2 to E2) on the "Underbody" piece. I had to break up the "Body Side" piece to print, then tape it together.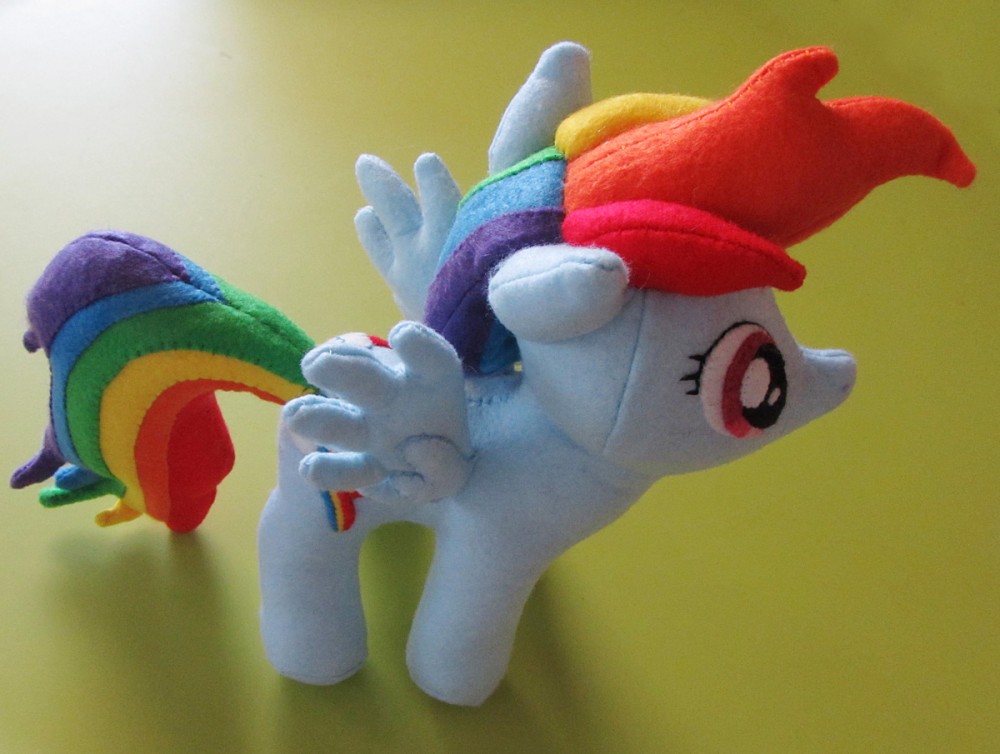 I did all of the details (everything but the body and eyes) freehand – cutting paper, then felt to whatever looked right. I did my best to photograph each piece to scale so I could draw it into a pattern for you later. Please keep that in mind when using the pattern! Things might be a little off since it was created after the fact and not tested. Grab my pattern here. (The pattern for the body is linked into the Pinkie Pie post.
Body: Rainbow Dash's body is sewn the same way as Pinkie Pie's was. I also used the same kind of felt, so that the two ponies will age the same. It is from Felt for Less. I got a rainbow pack as well as some light blue. Her eyes, nostrils and mouth were sewed on the same as well. (Note that she has different eyelashes than Pinkie.)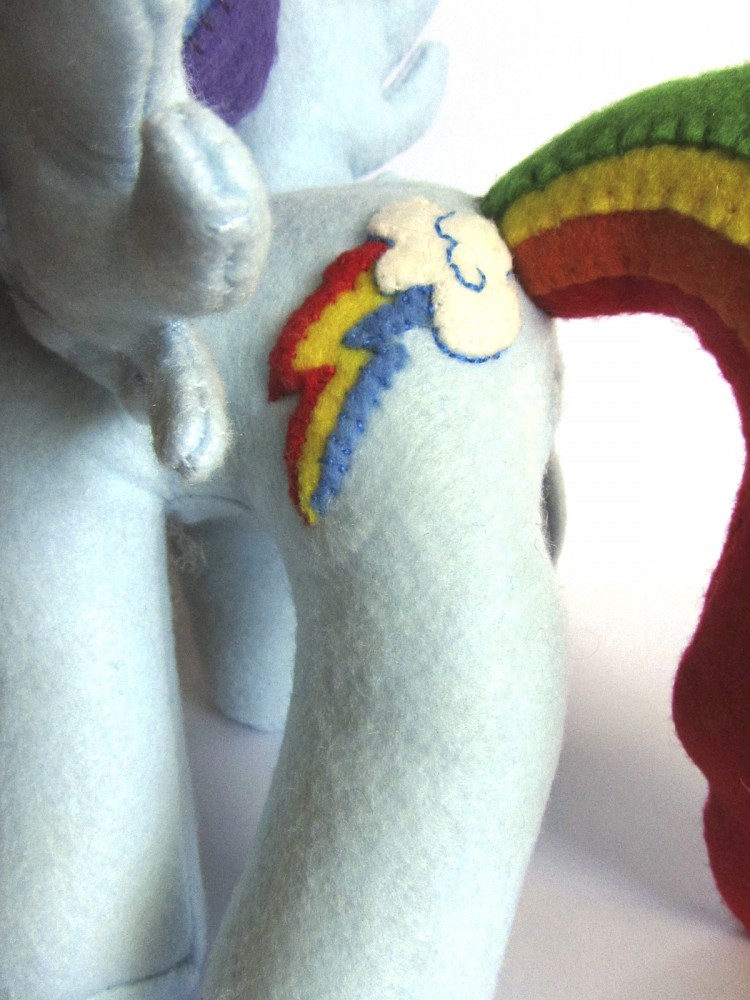 Cutie Marks: I cut the entire shape of the rainbow bolt out of yellow as my base ,extending it under the cloud a bit. I then cut the red and blue stripes to sew on top. They are tiny! Use sharp micro-tip scissors
and be patient. I had to try twice on one of them. Sew the red and blue onto the yellow (my photo shows webbing, but I ended up not using it.) Overlap the white cloud, then sew it to the pony. A curved needle may help if you've already sewn and stuffed her. I used a plain one and jumped around a bit when stitches were too close to maneuver to. I added blue back stitched outlines to the cloud and to make the extra swirls.
Tail: My pattern for the tail already has  1/4″ seam allowance added, because I photographed it at that stage. Cut the base out of scrap felt (I used extra body felt) then layer the stripes on top to match, starting from red and working out to purple. Sew down the overlaps with matching thread.
Put right sides facing and sew around the large, straight areas, leaving any small flippy hair ends open, as well as a couple inches at the base of the tail. urn it right side out and sew the little flippy end bit by hand with a ladder stitch. (I talk about this in the Pinkie Pie post – It was just too hard to turn the tiny hair ends right-side out using felt.) Stuff the tail through the base, then fold in the remaining seam allowance and ladder stitch it closed. Attach the tail the same way mentioned int he other post. I kept going back and reinforcing it. Her tail is heavy!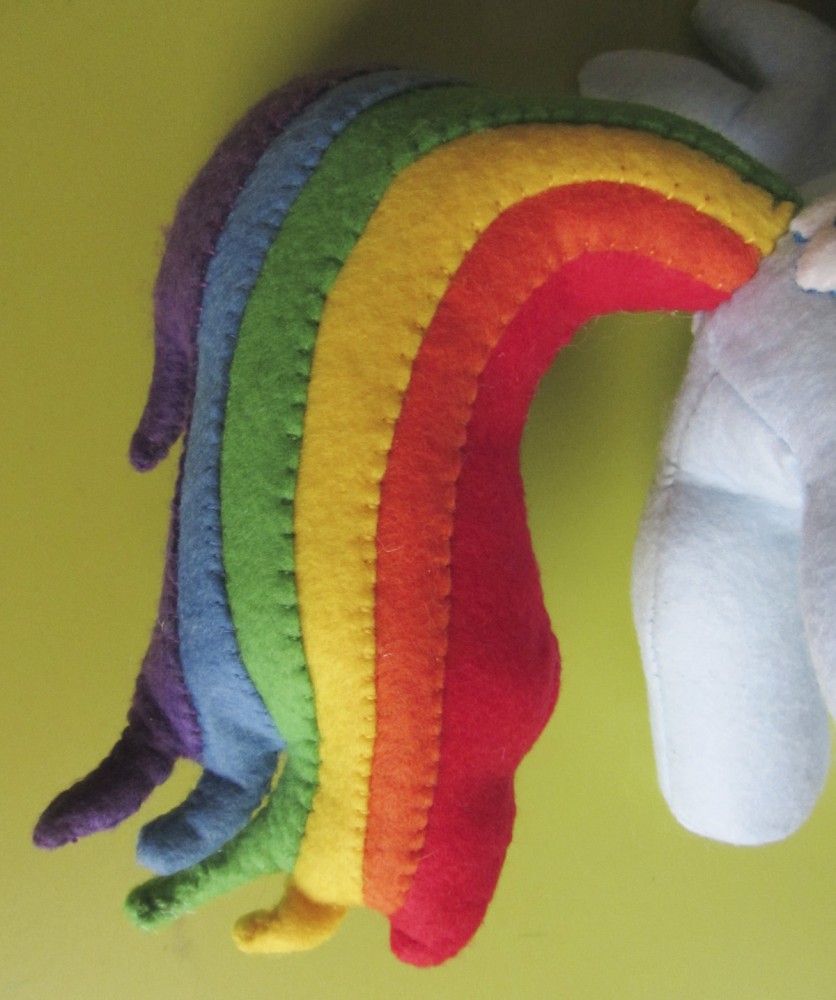 Mane: Used the same technique of overlapping the stripes to make the tail, but start with the blue stripe as the base and layer on the green and purple on the sides. Sew and lightly stuff. Sew closed and attach to her neck so it can curl around to her left side.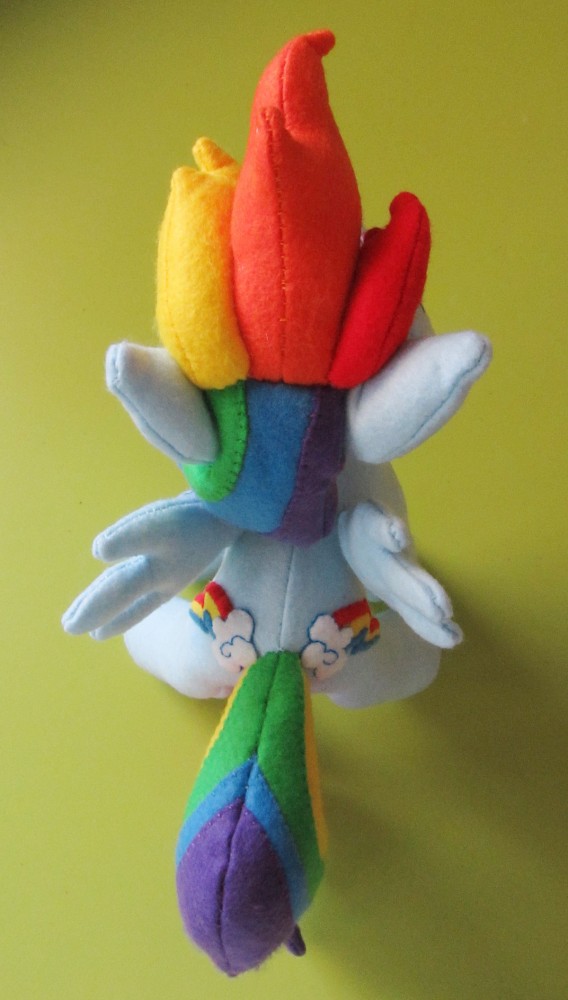 Bangs/Fringe: For each segment, sew the two main pieces together along the top and front, leaving the bottom and end open (see dots). Open like the triangular roof of a tent and sew the base to it, leaving the end open for stuffing. (See the letters on the pattern and the photos for help understanding where things go.)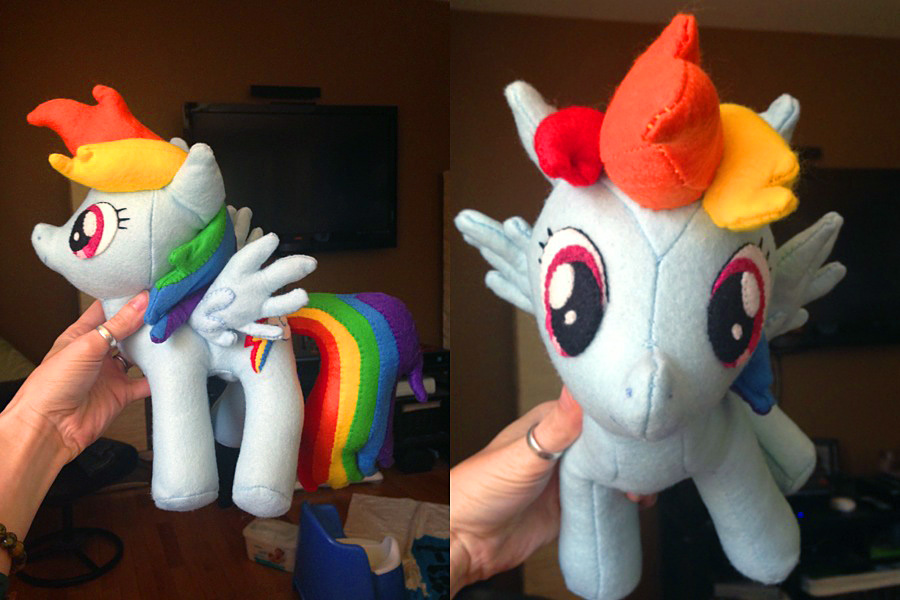 Sew the end shut with a ladder stitch and attach them to her head between the ears. Make sure the are right up against the lower mane, and squish them in a bit to fit. I sewed them to each other and to her head near the base.
Wings: These are similar to the mane, in that they are lightly stuffed, with the feather detail appliqued on. I actually sewed all the way around each wing, minus a couple inches for an opening) and turned each feather right-side out in a very slow process involving pointy objects and long pins used to grab bits of felt and pull it up. It took longer to flip the right way out then it did to sew them, but they came out neat. Something to keep in mind if you want to sew all the way around the tail. I attached them to her body with ladder stitch.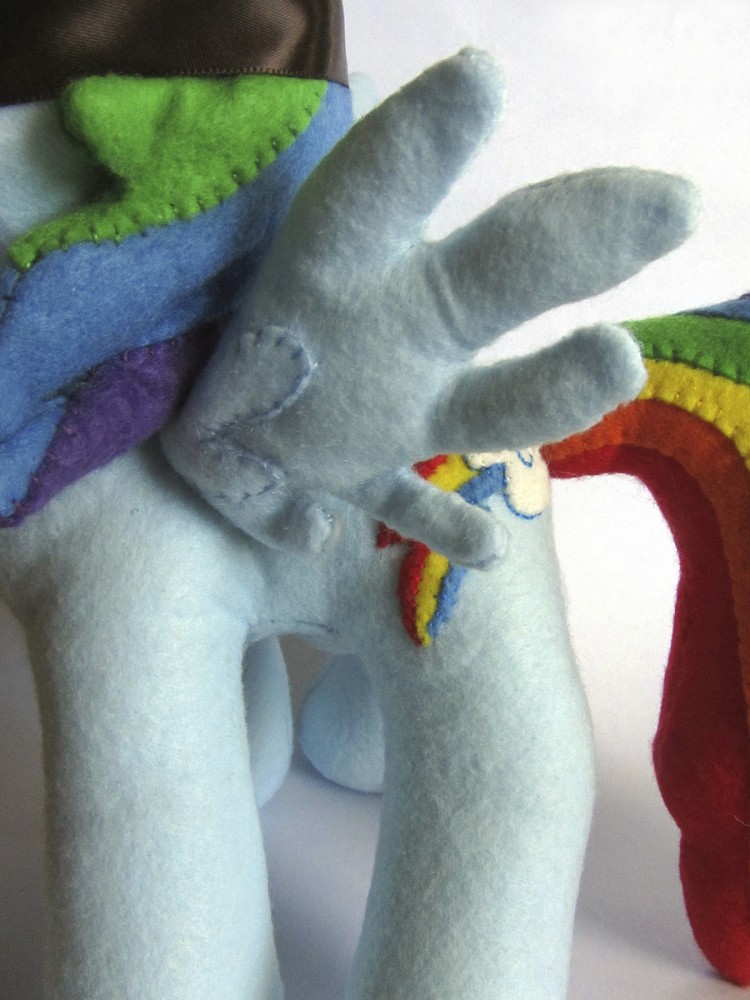 Goggles: I had very little time to make accessories, and apparently Rainbow Dash doesn't wear a lot of easy to sew clothing. I saw an image of her in goggles, and knew I wanted to do those! I freehanded these as well – including the circles. I cut out two rings of gold felt (from American Felt & Craft) for each eyepiece and sewed them together with clear vinyl layered inside. I cut strips of thick 100% wool felt in brown
and sewed it in a ring to each eyepiece, layering in a long ribbon on one outer edge and a short piece for the nose bridge between the two. I cut the long ribbon to fit around her head and added colored Velcro to the end (and the inside of one brown ring.
My niece received her new pony Memorial Day weekend when she came to stay with us. She loved her and carried her and Pinkie Pie around the house her whole stay! Next up will likely be Apple Jack for Christmas. Stay tuned!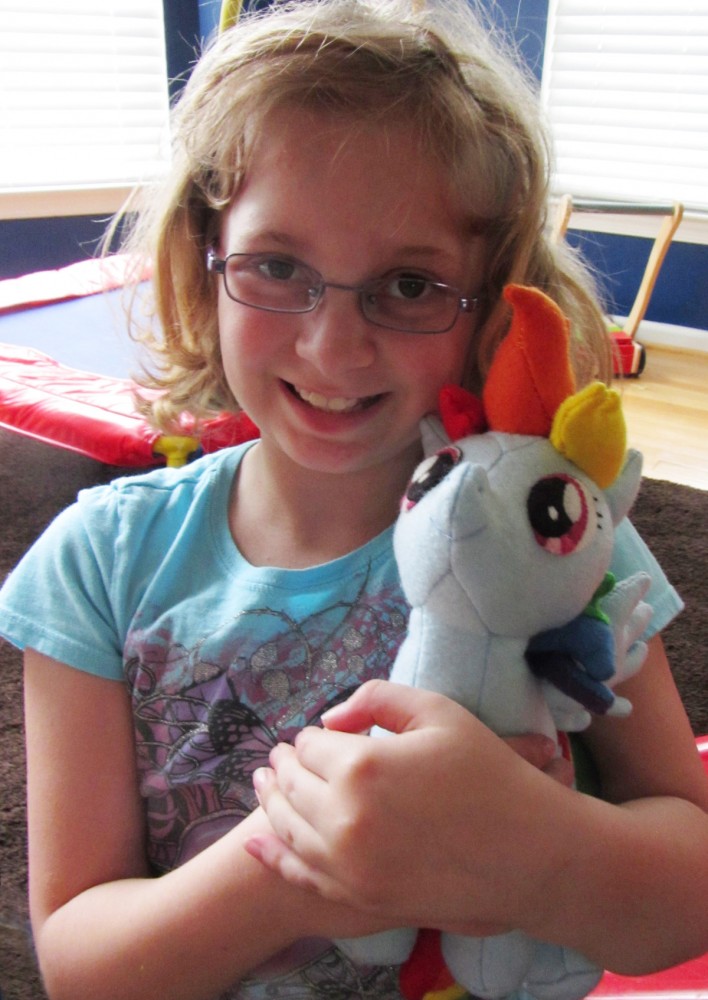 Happy sewing! If you sew your own My Little Pony, I'd love to see it! Email me or stop by our Facebook page.