Happy spring!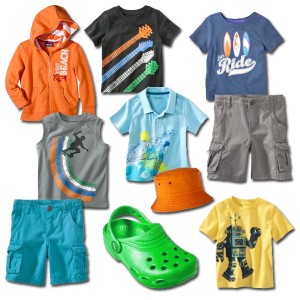 How do you normally deal with clothes shopping for your little ones? Last fall I started doing one main shopping purchase for Jax's wardrobe, then I filled in the holes with any clearance or thrift store finds I come across. We did Old Navy for his autumn clothes while they had a $6 sale on long sleeve shirts. This spring I did a Target.com order to get him some 2T shirts and shorts. The shirts were all $4 – $7, the hoodie $12 and the adjustable-waist cargo shorts were $9 each. At the store, we added the orange hat and green clogs.
I like to choose a basic color pallet for him each season to make the bulk of my purchases go together. This spring I chose bright colors (especially orange, yellow and green) and gray and denim for neutrals. Jax is starting to have opinions on his clothes and he loves the really bright ones. He is in love big time with the yellow robot shirt and green shoes. He really likes the sew turtle polo as well – my love of sea turtles is rubbing off on him!
I still need to find him some comfy sandals in gray, and some thrift store jeans to cut off into more shorts (store bought jean shorts are so pricey!) Don't even get me started on my wardrobe (or lack there of)… I need a money tree before I could hope to fix that situation!
Here are some links we've come across recently:
10 ways to dye Easter eggs. When did you start dying eggs with your toddler? Is 2 too young?
Here are 12 DIY jewelry organizer ideas…
Abacuses in the nursery. I recently bough a large one for $1.75 at the thrift store. I was only going to paint the frame red, but now I might paint the beads after seeing these!
Here's a little trick for staying clean as popsicle season approaches!
I love this DIY suitcase dollhouse. You could also make the rooms into a quiet book.
Here's how you make your own fabric buttons without a kit.
My next quiet book page is all done and waiting for me to get sewing machine time today so I can sew the page together and take pictures. Keep an eye out for a post later today!