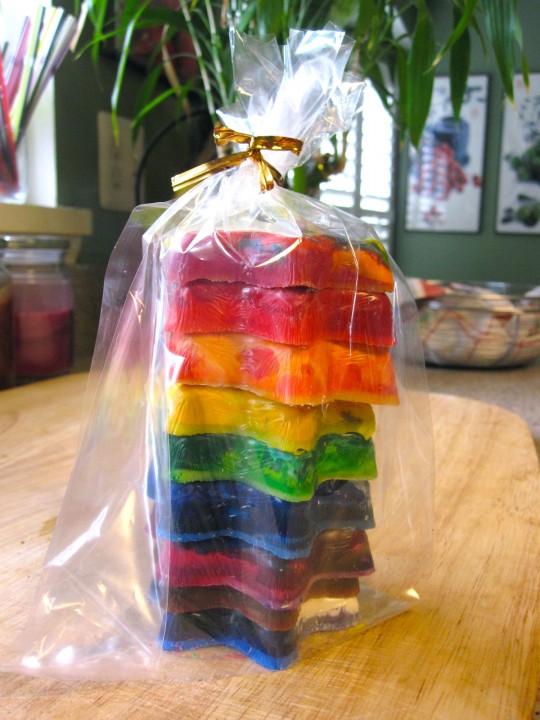 We eat out more than most families – I'm vegetarian and my husband is not. It can be hard to cook meals that satisfy us both. It can be easier (and often cheaper) for us to each pick out what we want in a restaurant instead of us having to cook two dinners at home.
One side effect to eating out with a toddler is I end up with a lot of kids' menu crayons in my purse. I've been collecting them in a baggy for some time (as well as broken ones from home and party leftovers) and was finally ready to create something new with them.
There are plenty of recycled crayon tutorials online, though we just winged it. I heated the oven to 275° F and sat down at lunch time to rip the wrappers off. Ugh! Easier said than done! I ended up dropping the crayons into a glass of warm water. After a little soak, 90% of then peeled right off. Some of them were difficult to peel regardless of what I did. I think the baggy got left in the car at one point.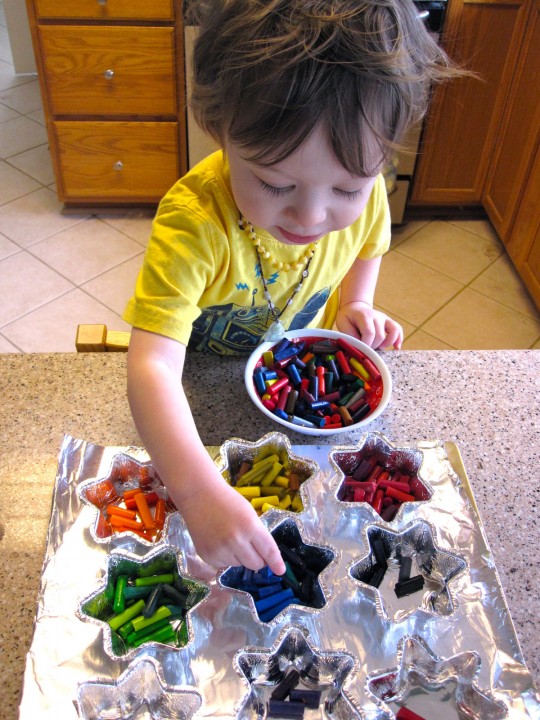 Sorting by color is a great toddler activity!
When the crayons were all peeled, I broke them up into a bowl. Jax loves to sort items by color right now, so he helped me put all the like colors together into cupcake tins. I also did a rainbow one with some extras. My tins are Reynolds Wrap Fun Shapes I've had forever, but you could use a normal tin or a silicone mold.
We stuck them in the oven and I watched until they were all melted. It was maybe 20 minutes. The deeper the crayons, the longer it takes. Quality crayons like Crayolas melt the best and color the best. Cheap, waxy crayons (which we unfortunately had a lot of) don't melt as well or color as dark. I'd recommend Crayolas if you are making these as a gift. I made a trio of crayons (not shown) with just some of the primary color Crayolas we've collected, and they color great.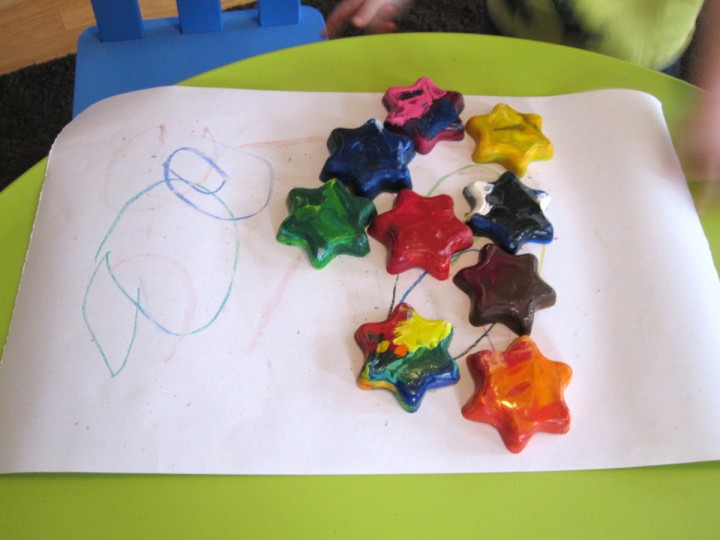 When they were fully melted, I  took them out of the oven to cool. I sped up the cooling by sticking them in the fridge. They popped right out of the tins once solid again. They look so cute all stacked in a treat bag! Jax loves then, even though some of them don't color very dark due to the cheap crayons. I'll definitely be making these again!