"It's a rainy, sunny day. The
r

a

i

n

b

o

w

's

here to play!"

Jax loves color and he really loves rainbows! It was inevitable that a rainbow page had to happen. It took a while for me to decide what exactly to do. My first thought was a rainbow stacker that comes out of a cloudy pocket. But, I'd need to make each ring 2 sheets of felt thick for strength… 6 x 2 = Way too thick for a quiet book page!! So I changed plans and made a rainbow puzzle.

The base of the puzzle is a ring. When you store it in the cloud pocket it looks like a rainbow. Along one section is a row of snaps. There are rainbow color puzzle pieces that snap on. Jax is not good with snaps yet, so this is good practice for him. (If you use Velcro, I recommend this snag-free version
that won't catch on your felt!) The puzzle pieces have pipe cleaners in them so they become playthings themselves.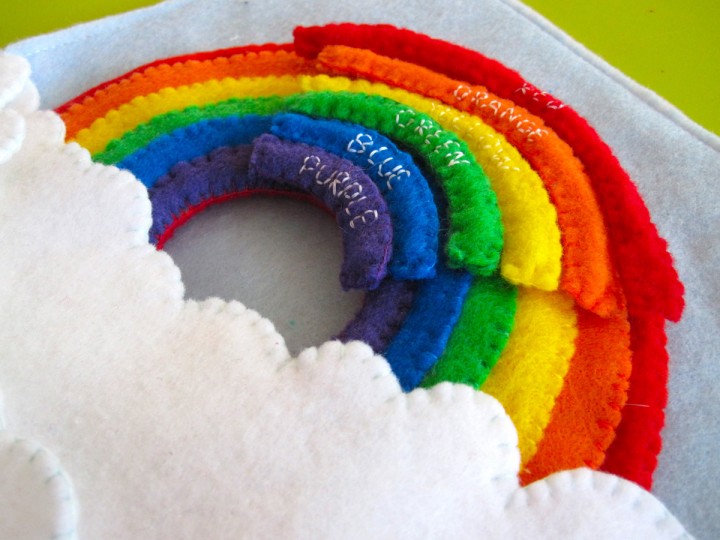 What I used: The pattern, sky blue background felt, felt (in white, red, orange, yellow, green, blue and purple), 6 snaps, several pipe cleaners and thread to match. I also made a little rainbow necklace as a little surprise inside one of the cloud pockets. I used pony beads from the thrift store.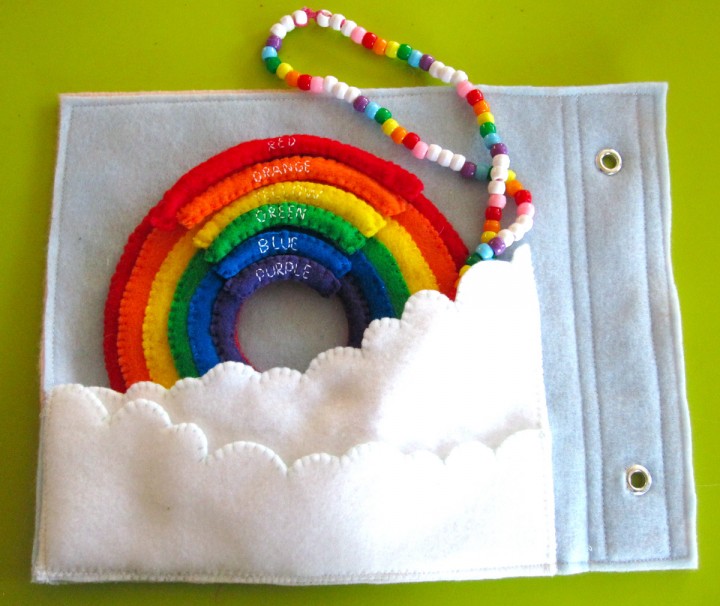 Cloud Pockets: Sew the across the top of the two layers of felt on each cloud. I used sky blue thread. Pin the pockets onto your background felt and sew the sides and bottom down. I used a machine to go through all the layers quickly and neatly.
Puzzle Base: First sew half of a snap to each ring. (To find your snap placement, stack all the rings and mark a dot where you want it.) Pin the orange ring to one of the red rings and sew them together along the outside of the orange. Pin the yellow on top and sew it down the same way. Continue through the all the colors. Pin the red backing on to the back side and sew it together around the outside. Carefully trim the inner circle if needed to even it up. Using purple thread, sew through all the layers around the inner hole.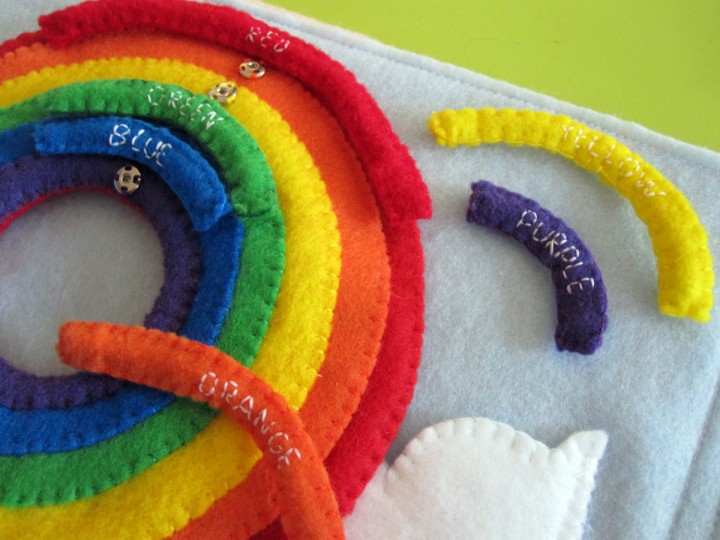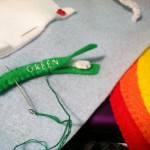 Puzzle Pieces: For each puzzle piece I prepared a length of pipe cleaner with the ends folded in twice to hide the pointy wire end. (You could also duct tape around the folder end to be extra careful.) I sewed the other half of the snaps to one side of each backing and free-hand stitched the color names to the fronts. Sew the fronts and backs together, inserting the pipe cleaners when they are halfway sewn.
I hope you enjoy this page! Please stop by the Facebook page and share your creation if you make it. You could change it up to be a ROY G BIV rainbow if you prefer.
Jax adores it! And, maybe it will save me from having to draw him eleventy billion rainbows a day… But, probably not!