Yesterday we made the 6 hour drive home from our week in the Outer Banks of North Carolina. It's good to be home, but I miss the ocean and pool already!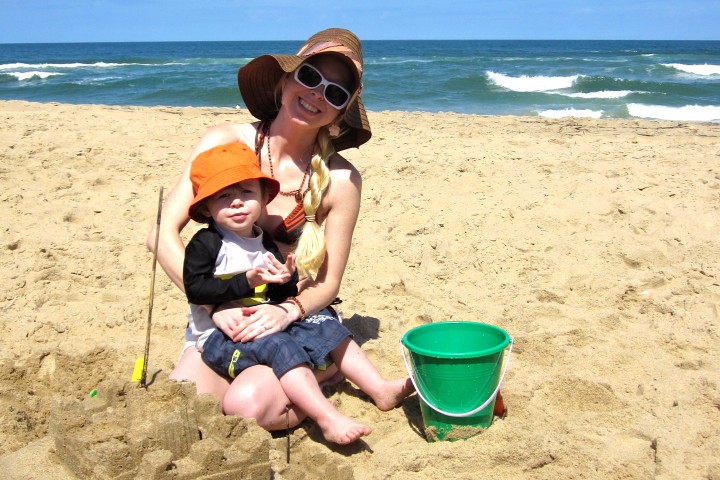 We go to the beach in the beginning of May every year. This year, I was expecting a whole lot of fun with my little 2 year old. Last year he enjoyed the pool, but we were just carrying him around int he water. He had enjoyed the beach, but fell asleep in our tent after very little sand play. I had big visions of all the fun beach and pool time we'd have this year… And I couldn't have been more wrong!
Turns out, Jax is old enough now to be afraid. He was scared of the pool and wouldn't go in. We eventually convinced him to play beside the pool with water squirters and a bucket. He thought that was great and started asking to go back to the "pool beach" constantly. I was a little sad he wouldn't go in, though. We specifically chose a heated pool and it was heavenly.
As for the beach… If Jax could sum up his opinion of it in one word, it would be "dirty!" As soon as we arrived, we all headed down to the beach for a walk. He freaked out immediately and demanded to "Go home! Go inside!" I had to take him in to calm down while everyone else walked. It was quite windy that day, so I assumed that was the problem. On a warm, calm day, we took him out again. We had set up a beach tent and blanket. He spent the majority of his short time out there standing in the tent crying about going home and the dirty sand. We tried very hard to show him how fun building sand castles was. He did make one trip to pick out sticks to put on top of our castle, but then wanted to be held and cleaned off. I took him back in before he got too stressed out. I made sure to have beach time throughout the rest of the trip, but not nearly the amount I'm used to. I stuck to carrying him in our Beco
.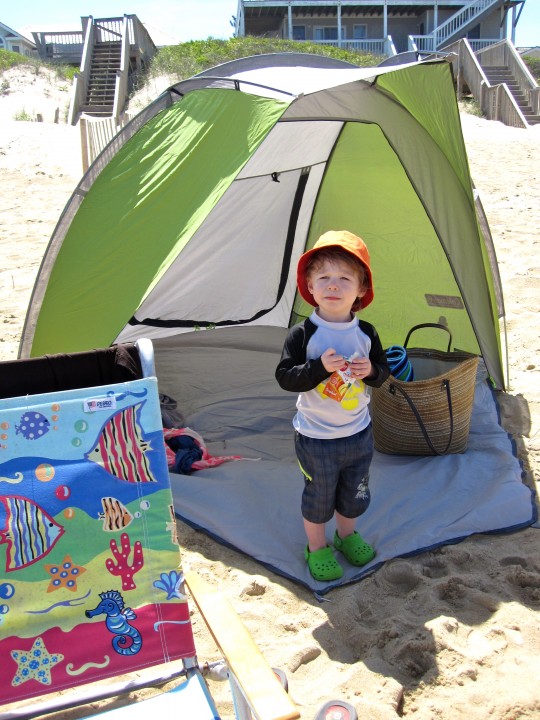 Towards the end of the trip, Jax woke up around 10pm beside me with a horrible choking cough and made it hard to breathe. By the next day he had a cold, which is now full blown. It made the drive home pretty uncomfortable for him, but we made it through!
We didn't bring many toys to the beach house. I brought him for soft blocks
that were lightweight to pack and all of my recent quiet book pages. What were his favorite pages? The Cooking Breakfast page (with the food from the Starbucks page as well) and Ice Cream Parlor were his absolute favorites. He loved "cooking" and egg sandwich and bringing it to us saying, "Mama, it's a nice sandwich!" He names all the ice cream flavors and told me the rainbow flavor was mango.
Also big hits were the Sandcastle and Beach Bag & Flip Flop pages. He really liked his little iPhone and the watermelon.
I've been working on my next page – a farmer's market with vegetables! The background is 98% done and I'm working on the cute felt veggies. You can follow my progress on the Facebook page. When I'm done, I'll be starting a cupcake oven.