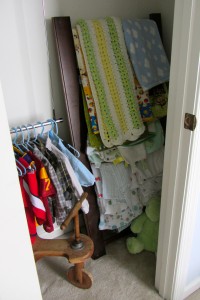 This week is going slooooow! We recently got back from my birthday weekend at the beach and I already feel like I need another vacation! Jax has been a handful, but at the same time, having another language explosion. It's really crazy how much he talks now! I constantly have people asking how old he is because his speech and loads of hair make him seem older.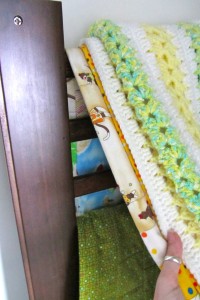 I am starting a big room switch-a-roo upstairs. We co-slept with Jax much of his life. A couple months ago I moved his converted crib/toddler bed into our bedroom to start transitioning him to sleeping alone. He sleeps the first half of the night in his bed before joining us. The next step will be creating a big boy room for him. I'm thinking of just going with a mattress on the floor because he constantly rolls out of his toddler bed. The coolest room besides our bedroom is our second guest room. So I cleared out the spare room full of old furniture and junk and moved the guest room to there. Next I'll be painting a mural and designing some fabric for bedding. He wants a train theme, but I'll expand it to "transportation". His old nursery, a small room adjoining our master bedroom, will become my craft and laundry folding room.
I've already moved the contents of Jax's closet to his future room since it was only winter clothes hanging up. I had the side piece of his crib in there too. What to do with that giant thing?? I ended up standing it on its side and making it into a blanket rack! Perfect!
Here are some links for you!
Happy Tuesday! I hope your week is going a little more smoothly than mine… But, at least it isn't Monday anymore!