Our little blog is 1 year old this month! While I've been making websites since 1997 and blogging since 1998, it wasn't until I had my little Jax that I decided to create a separate blog for all things crafty, creative and kid-friendly in our lives. It actually took a few months before I started to work on making the site because I needed a name.
When inspiration struck, it was due to two of my favorite songs: Imagine
, by John Lennon and Across the Universe by The Beatles.
Images of broken light which dance before me like a million eyes,
they call me on and on across the universe.
To celebrate our 1 year "blog-iversary", I am giving away a kit to make our farmer's market quiet book page. This is not a completed page, but the supplies to create your own.
Included:
felt (winner decides if the pieces are pre-cut and ready to sew or not)
wooden tags (winner decides if the vegetables are painted on or not)
Velcro (the green Velcro will be cut into the needed shapes if the felt is cut)
ribbon & ric-rac
yellow seed beads
embroidery thread
needles (hand-sewing and beading)
(I do not have any more of the seed packet beads I added to my page, and they are no longer sold. These will not be included in the kit.)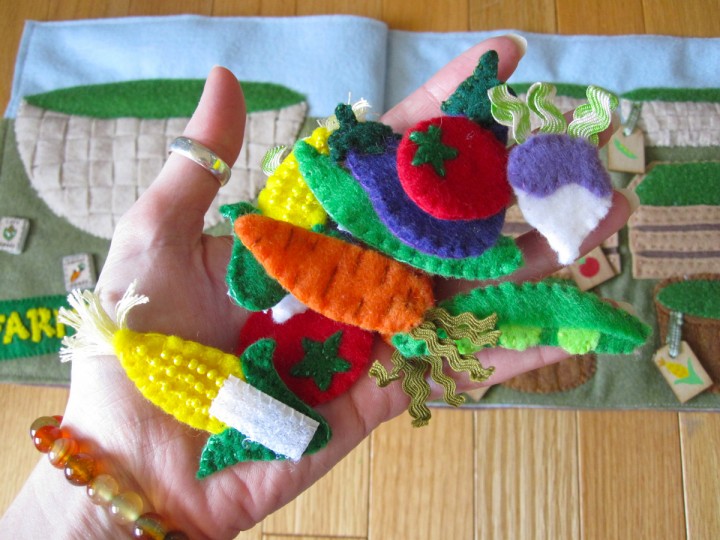 How to enter:
To enter, leave a comment in the blog comment form below. Make sure you fill in your email address where it asks so I can contact you if you win.
For a bonus second entry, retweet the following tweet first, then tell me you did (include your twitter name) in your blog comment.
Quiet book kit giveaway for Imagine Our Life's 1 year anniversary: imagineourlife.com/2012/06/06/ann… via @iolstephanie

— Stephanie (@iolstephanie) June 6, 2012
The winner will be chosen randomly in a week on Wednesday June 13th.
Good Luck!