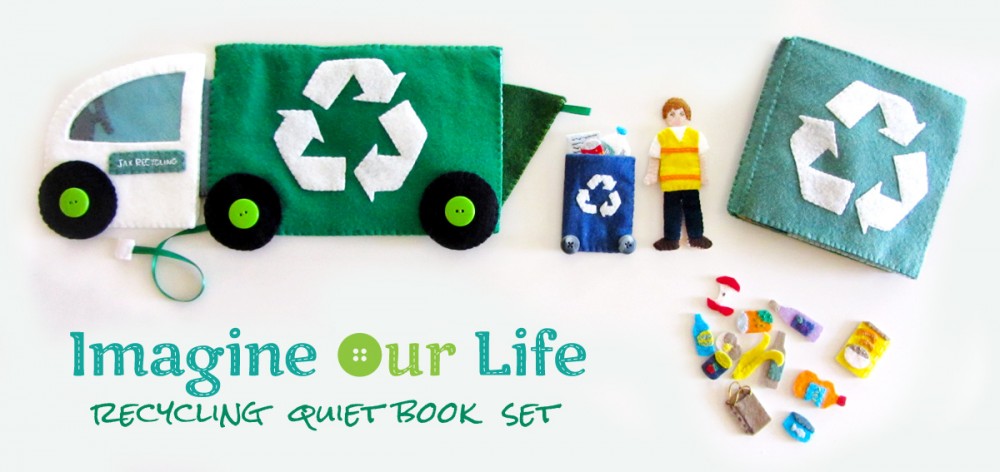 I'm always looking for ways to teach Jax about what we can do to help our planet. I knew a "Reduce, Reuse, Recycle" theme would make a wonderful quiet book theme. Trash and recycle trucks are so much fun for kids to watch, so I had to add one in to expand the project into a fun recycling set.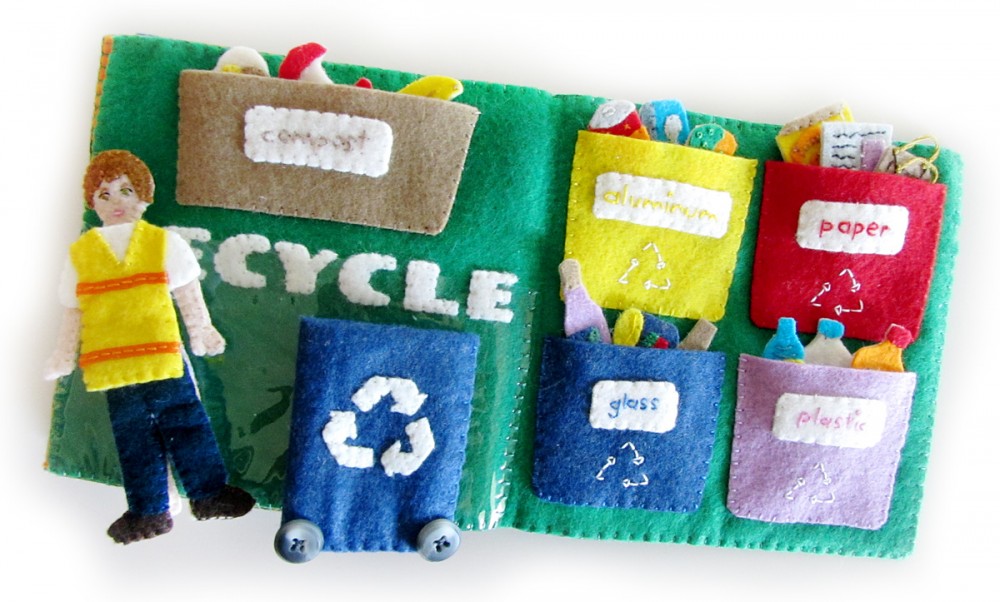 This is a pay pattern available in my Etsy shop. Purchasing my pay patterns will let me move towards making a living at crafting and give me more time to devote to both pay and free projects.

The 6″ square quiet book features 3  double pages: Reduce teaches turning off lights and faucets to save resources. Reuse promotes using reusable cups and bags whenever possible. Recycle introduces sorting recyclables (and compost items!) into their bins. The cover has a recycle symbol and an earth with a heart.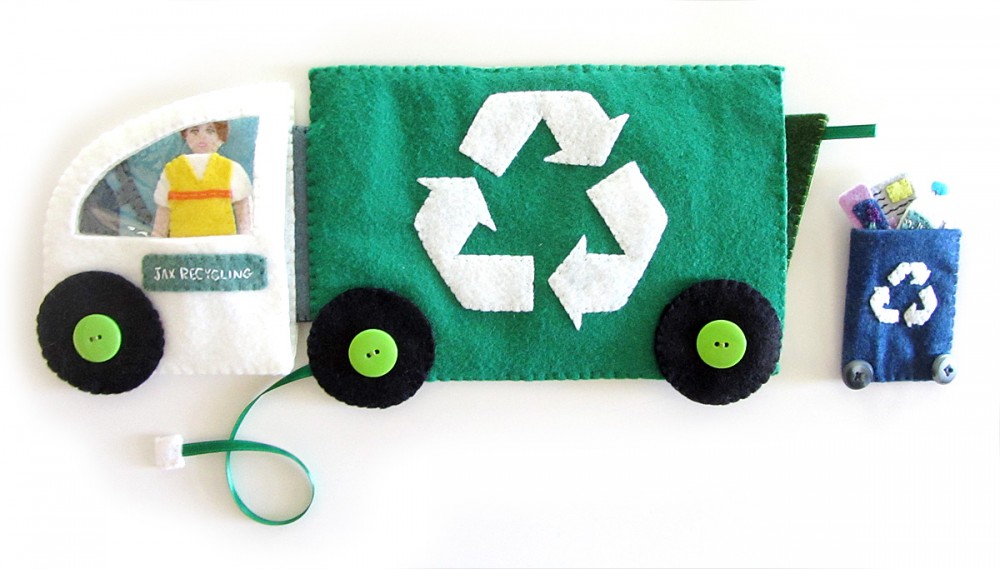 All of the sorting items can be used with the recycle truck that features a working back hatch. Pull the loop to open the hatch, then pull the ribbon to close it up again. There is also a recycle bin and a felt doll that is compatible with my other dress up felt dolls (fire station and dollhouse.)
I hope you'll find the pattern files to be beautiful and helpful. A lot of time went into them! The pattern includes a stitch guide and full tutorial with photos and illustrations. You will also receive a coupon for $5 off at American Felt and Craft to help you get started on your felt stash.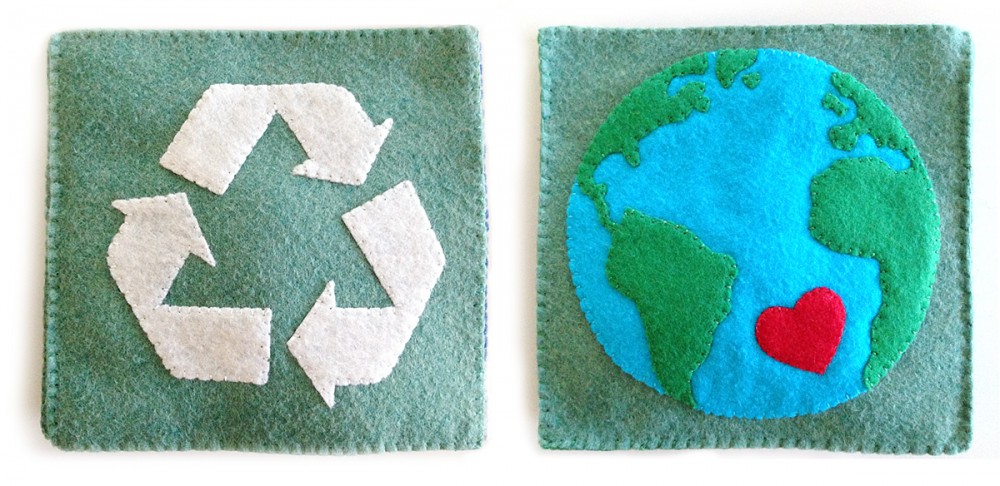 You can purchase this pattern for $8 in my Etsy shop, Imagine Our Life. If you would like to sell the finished product, you can purchase commercial licensed version for $20. This is a one time fee, and you'd be able to sell as many recycle quiet books as you'd like after purchasing it.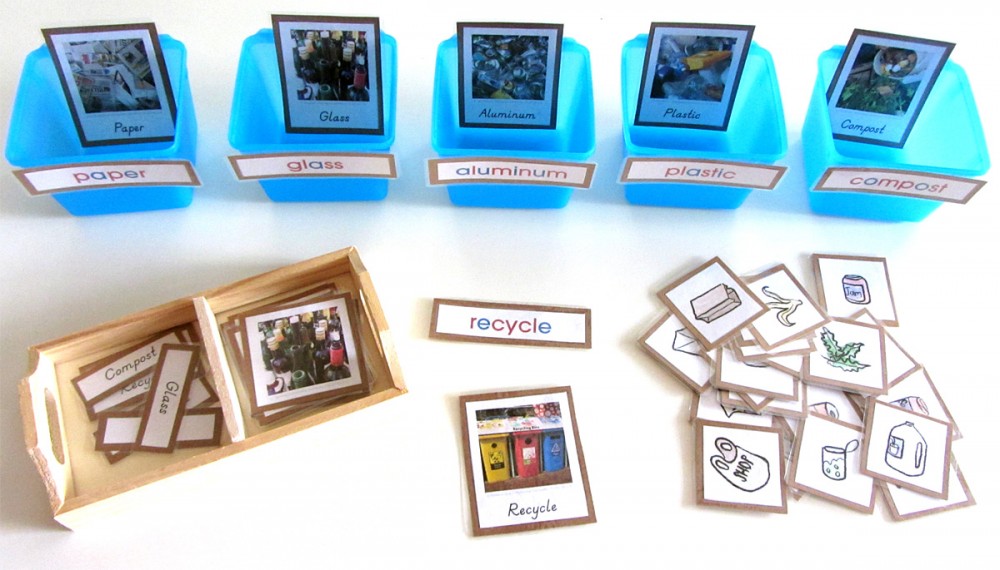 As a free add-on to this felt set, I am providing my matching 3-part cards and recycle sorting game free for educational use! Click here to download the pdf.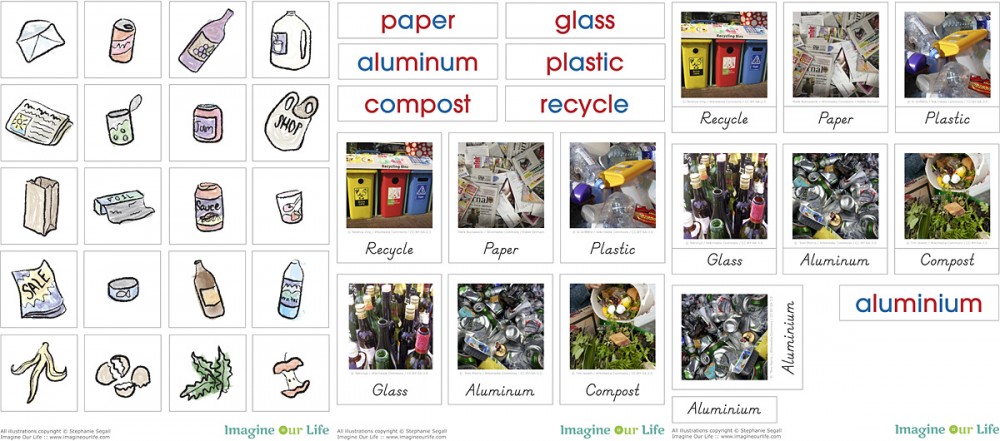 The cards and game include the same sorting categories as the felt set, giving you an additional way to teach the new vocabulary. (I include both the North American spelling on "aluminum" and the world spelling of "aluminium".) The game features illustrations that were hand drawn by me.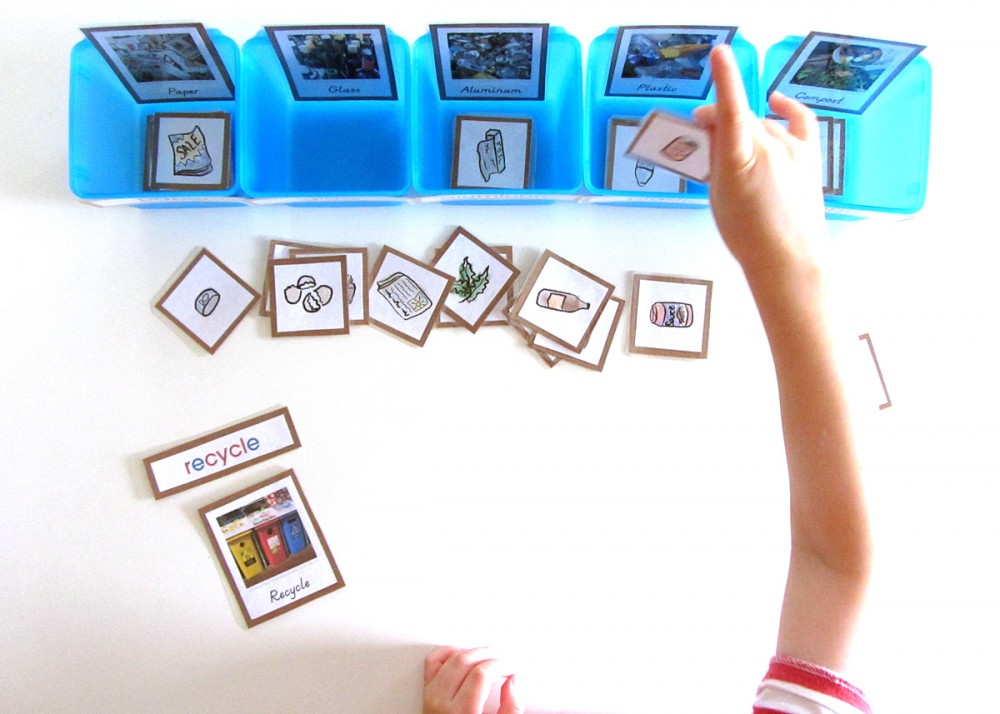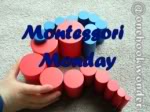 To assemble, print out the cards and cut them out. Glue them to card stock backs, then laminate and trim. I use this laminator
. To make laminating a bit easier, you can try adding a dab of glue stick to the cards when you position then in the lamination sleeves. It keeps them from wiggling and overlapping.
I purchased two 3-packs of blue drawer organizers from Dollar Tree to use as my sorting bins.
If you liked this free homeschool printable and want more homeschool ideas, visit Montessori Monday at Living Montessori Now.
I hope you enjoy this pattern! I can't tell how much your support means to me. Big thank yous to all of you who are a part of our Facebook page. You have given me so much inspiration! Please feel free to comment here or on Facebook if you have suggestions for new projects. I am sketching patterns and ordering felt for all my fall projects this week. I'll post some sneak peeks on Instagram. Come follow along!