Surprise! I've been busy since September on a very important project… Baby boy number two! If you follow me on Facebook or Instagram, you're already in the know. He could arrive any day now and we couldn't be more excited!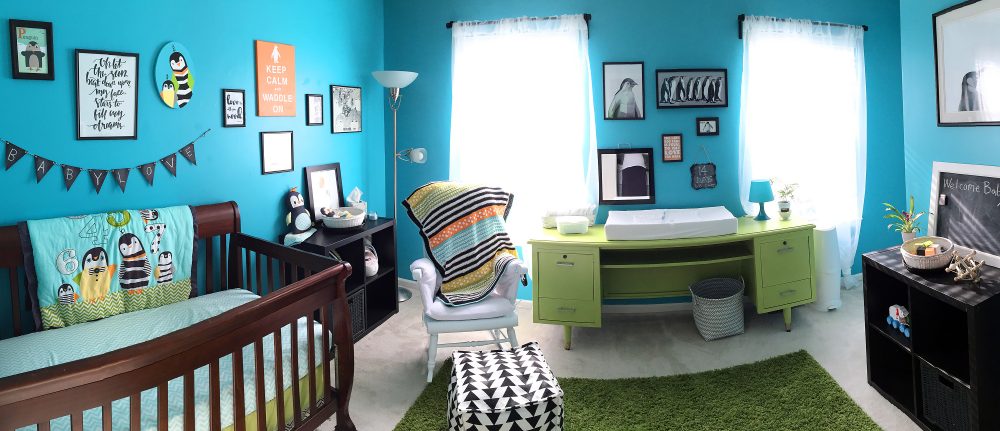 We are finally feeling somewhat ready to meet our newest little man. We have a car seat and a pack of diapers, a bit of clothes (mainly from the great thrift stores around here) and our DIY'ed nursery. Allow me to show you around!
The nursery is a small bedroom with both its own door and a door into the master bedroom. It was once Jax's nursery, then it evolved to a school room and finally a craft room. We're back full circle with a brand new nursery!
The room was already Mermaid's Treasure turquoise with a green rug that Jax no longer needed in his big boy room, so I was excited to find a penguin-themed nursery set with those colors! Jax adores penguins and wanted them to be the nursery theme. I bought the bedding set for under $50 on Zulily, but you can find them on Amazon for more. (I think it is being discontinued, so the prices are going up.)
The wall art is a combination of DIY projects, Etsy downloads that I had printed through VistaPrint and thrifted or Dollar Tree frames. I crocheted a blanket and round cushion with fun, bold patterns to compliment the bedding set. Stay tuned for my instructions on how to make your own!
The room already had a large vintage desk that was in the house when we purchased it. It had been painted white before we inherited it, which was pretty, but I really wanted it to be apple green! After a few sample pots, I went with English Apple by Glidden.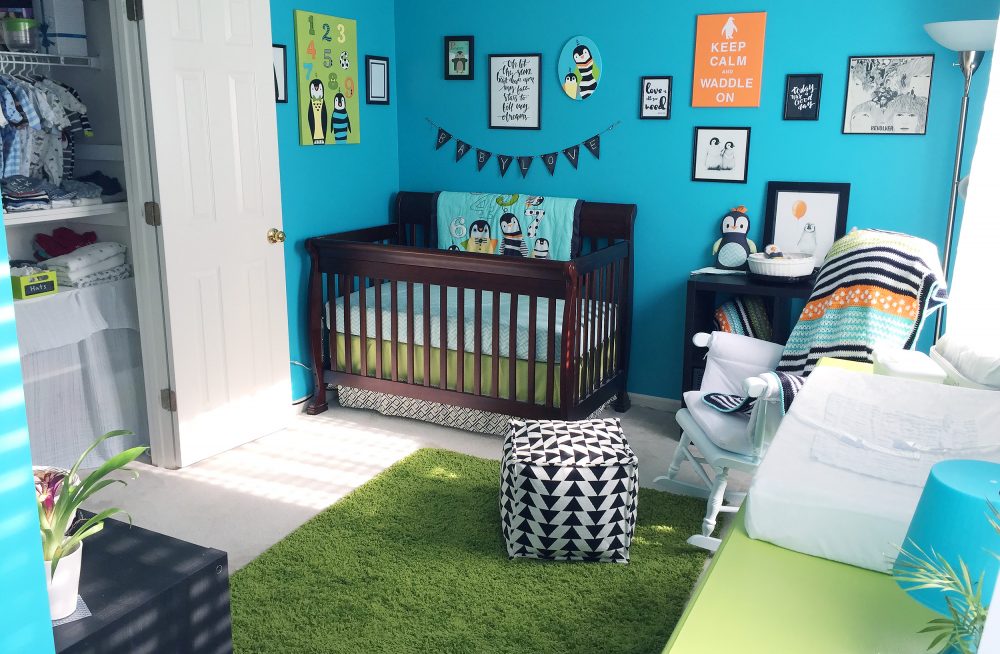 The closet was on of my biggest projects. A couple years back, my husband built shelves for craft and homeschool supplies that were very much in use still. After a month of sorting, I got all the school stuff organized in bins and hidden behind an old, ripped muslin swaddle (attached with dollar store stick on Velcro.) I removed one of the shelves so baby's sleepers could have room to hang. He doesn't have much clothes yet – a few gifts and what I have thrifted so far – so they are just sorted by size on the shelf for now.
The room feels fresh and soft, while still having the bright, bold colors I love and plenty of black and white. Hanging sheer, white curtains from Ikea helped with that. How perfect is that Target Threshold ottoman?! And it was 25% off after I'd been eyeing it for 6 months.
Here are a few more details from around the nursery.
What are your newborn must-haves? It's been 6 years (and I donated everything!) so I feel like I have a lot of catching up to do!!
You can find links to our registries in the sidebar for a little while longer.