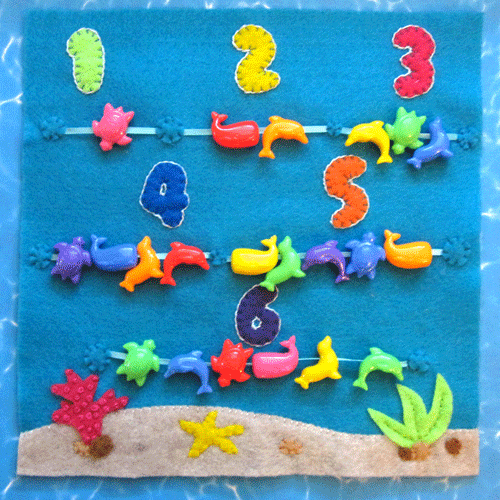 I've been so super busy between work and starting Jax's Halloween costume, plus starting to get ready for our California trip in two weeks. I've also sewn a bunch of his quiet book  pages into their final double-sided pages with grommets. So much to do! But today I got another page done at last!
I love the beads-on-a-string style counting pages that are common in quiet books, and when I came across these ocean life beads
in the kids' craft aisle of Joanns, I knew I had my theme.
It's a pretty simple page in terms of cutting and sewing because the beads are so crazy.
Here's what I used: aqua felt background, felt (in natural, lime, yellow, hot pink, blue, orange, purple and browns), blue ribbon, ocean beads and embroidery thread to match.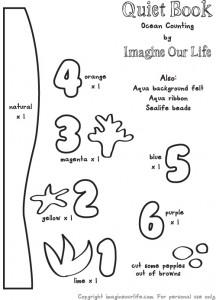 I started by sewing down the sand. My page is 9″ wide. If yours is different, you'll need to adjust the sand pattern accordingly. You can totally just freehand it!
I sewed down all the numbers then went back with pale blue floss and did a stem stitch border around them to make them pop.
On the coral, I made large French knots randomly all over instead of sewing it down normally. For the plant, I stitch down the center of each leaf. I sewed down the starfish, then cut out some pebble shapes in tan and brown and sewed them on.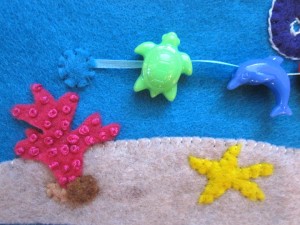 For the counting beads, I used 3 lengths of ribbon. I would sew down one end, add the beads and sew down the other end. I also sewed the ribbons into separate sections so they didn't droop. I then cut out some bubble shapes and sewed them down over all the ribbon stitching.
All done! I think Jax is going to love this page because he gets so excited when he sees these beads.
What do you think? If you use this pattern, leave me a comment with a link so I can check your version out!