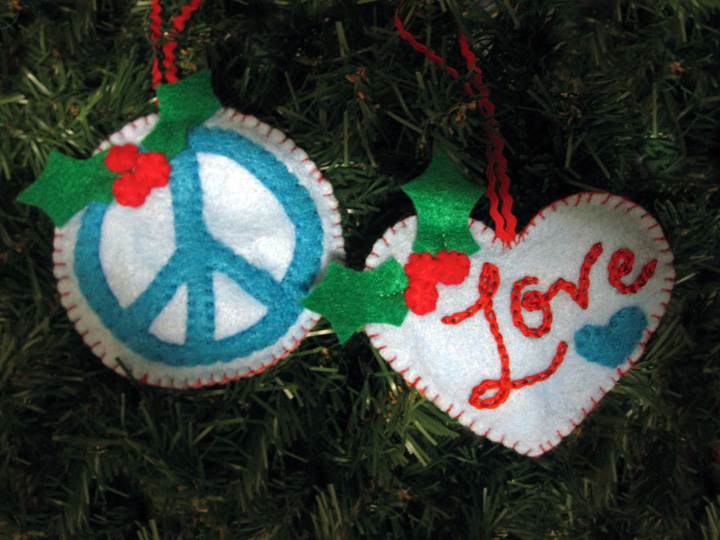 I plan to design and sew a couple felt ornaments every week until Christmas. I'll be sharing the patterns here for anyone who is interested!
Peace &

Love
Here are my first two ornaments: Peace and Love. Some of the photos came out with the colors off, but the photo at the top is accurate.
The supplies you'll need are:
Felt (in red, sky blue, aqua blue and green), embroidery floss (in red, aqua blue and green), red ribbon or ric-rac, batting/stuffing, needle, scissors, pins, water-soluble marker
or thin Sharpie and the pattern print out.
Start by cutting out your pattern pieces, pinning them to the felt and cutting all the elements out.
Decorate the fronts of each ornament. For the Peace sign, I did the stitch I usually use when sewing a felt applique: short, perpendicular stitches across the edge of the applique all the way around. I did the same for the berries, but sewed the leaves down first. For the leaves, I did a simple back stitch ⅓ of the way up the centers and left the rest loose. On the Love ornament I did the little heart and the holly with the same techniques. To transfer the text, I pinned the pattern behind the felt and held it up to a light. I was then able to trace over the word with a marker. I sewed the word using a chain stitch with 4 strands of floss (I normally use 2 strands for everything else.)
Cut two 6″ length of ribbon or ric-rac. Fold them into loops and pin them in place between the two sides of each ornament. Sew halfway around each ornament with a blanket stitch (I used red floss as an accent.) Add batting or stuffing (I used batting and cut them ¼" smaller than the main shape) then continue all the way around to finish them.
Simple and sweet!
If you make your own, I'd love to see them! Send me a photo or link and I can add yours to this post.