Sometimes I think I have some sort of thrift store "spidey sense" because I get the sudden urge to go look for something and I find it. Like the kitchen or dollhouse I found for Jax.
Today I woke up with the urge to go to the regular thrift store (I usually visit the kid one) to look for trays and plates for Jax's birthday party. I am doing a Japanese theme because he LOVES sushi. But I didn't have any trays or square/rectangular plates to use to serve the sushi cupcakes I plan to make, and my budget is super small.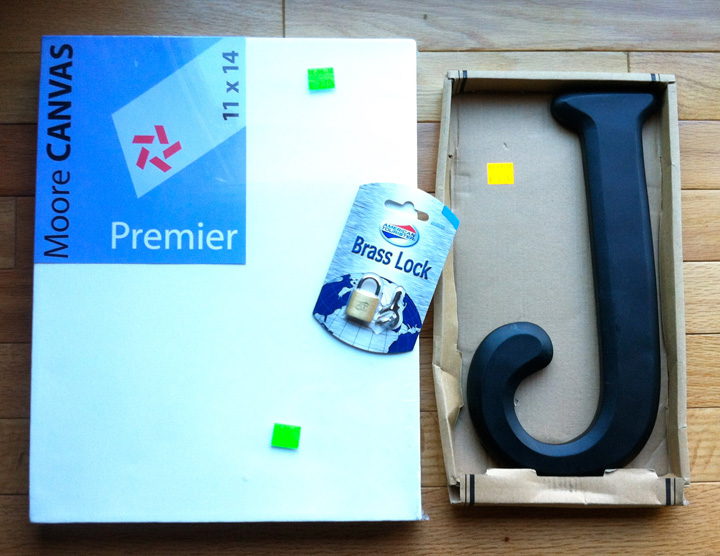 So, starting with the non-party finds… We found a blank canvas for a couple dollars that Jax can paint for his grandpa's new condo. We had to stop doing his monthly paintings while the weather is too cold to be stripped down outside. I got a brass lock for the treasure chest quiet book page and a solid wood "J" that is normally $13.
This green bamboo placement was all alone but only 25 cents. It could be good for the party set up. The gorgeous green plate was only $1.75 and could be used for sushi or snacks.
The little Japanese box was one of the first things I saw when I walked in the door. I opened it up and wasn't sure if it was wax or ink/paint, but at the very least, I loved the box. Everything was perfect and unused, and it was $2.75. I figured I could look up what it was for.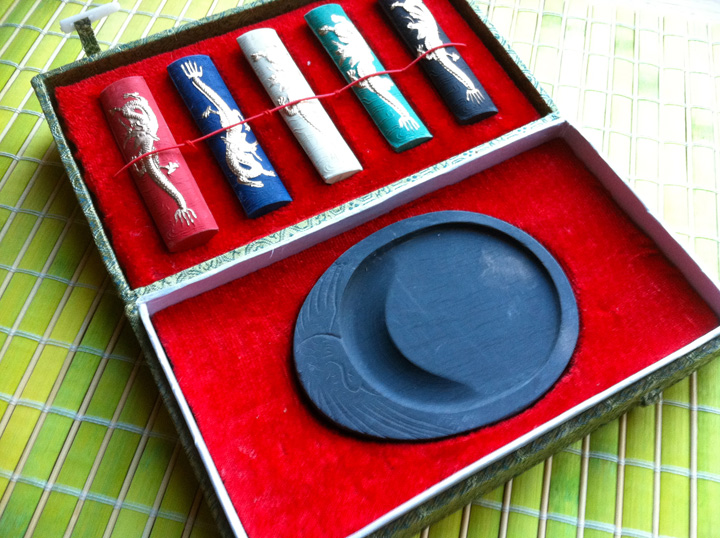 When I checked out, the cashier was excited I chose it. It had just arrived the day before and he told me that the sticks were rubbed on the stone and mixed with water to make ink "like in Japanese movies." So it looks like I'm the proud owner of some sumi ink sticks
and an inkstone!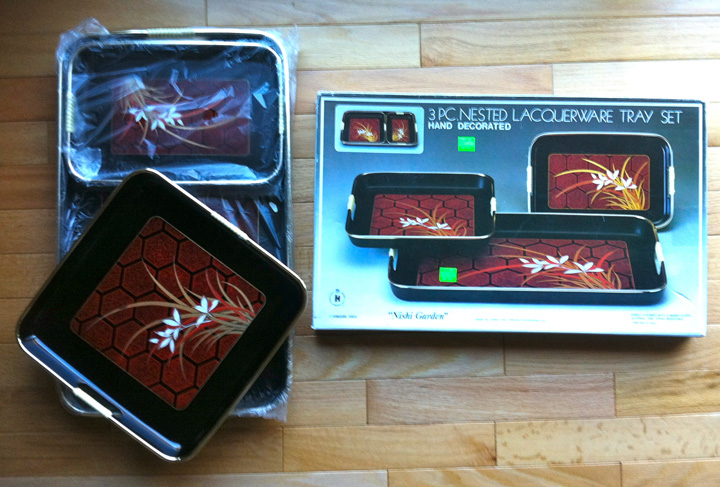 This final find was just meant to be. I went to the thrift store hoping to find trays I could spray paint black or cover somehow, and they had a Japanese lacquer tray set waving to me from the top shelf. They were $6.75 for all three. Perfect!
Now I just need to fold a zillion origami cranes before his birthday weekend when I'll string them and paint a bunch of paper lanterns to hang!