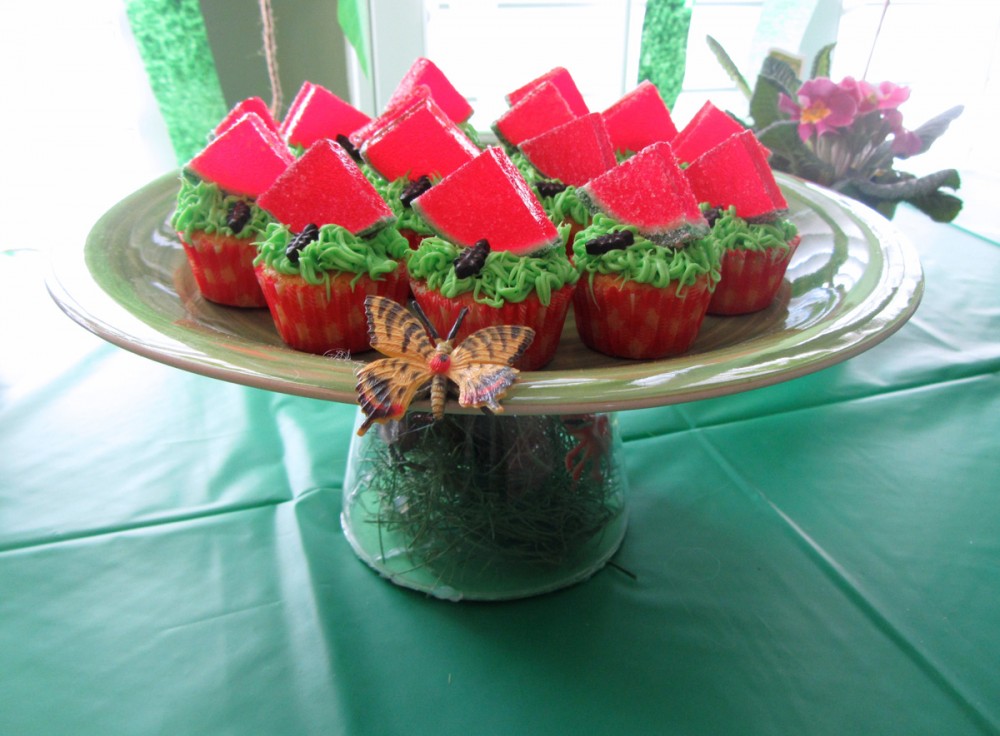 My sweet little man is 3! Yesterday we celebrated with friends and family at his bug-themed third birthday party. It was so much fun. Seeing your child SO happy just makes your heart want to burst!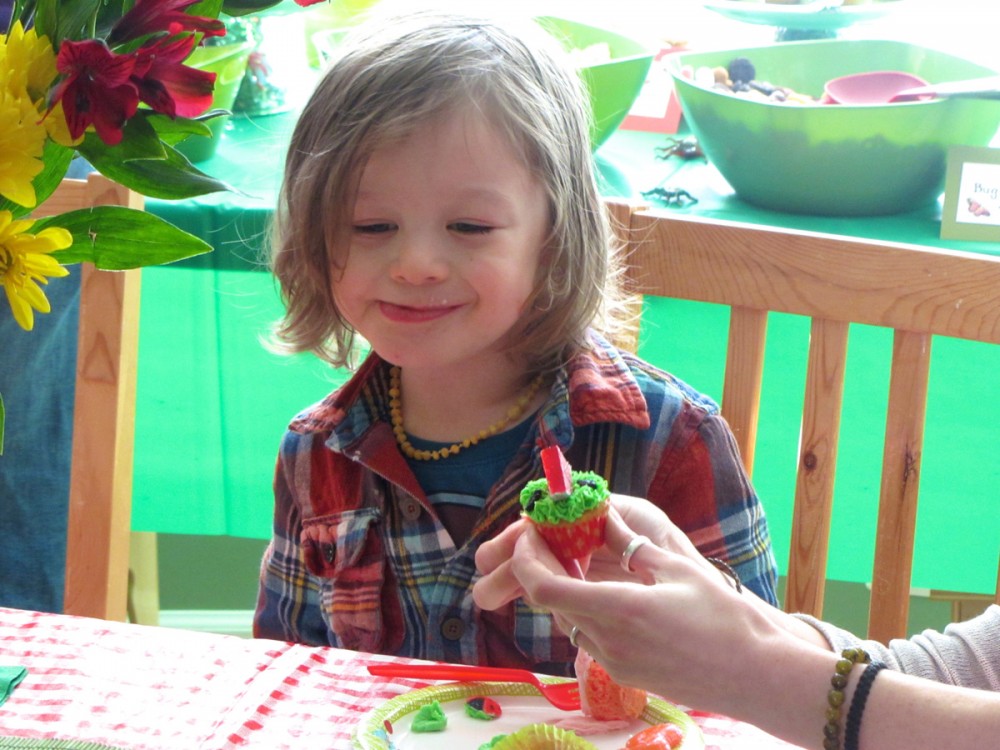 My budget for the party was very small. I don't have a lot of serveware for parties, so I hit up the dollar store for inspiration. They had some great bowls in spring colors – I grabbed some in green. I didn't find anything to feature the stars of my food table – the mini cupcakes!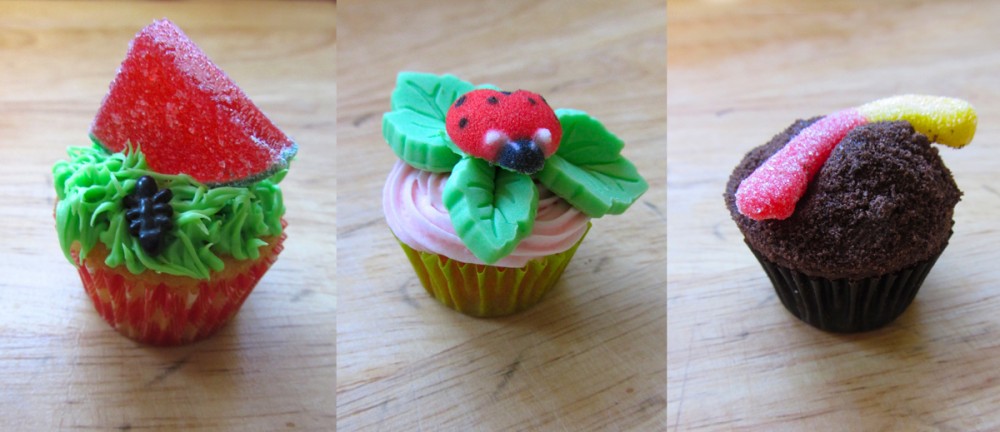 Bug Mini Cupcakes
Picnic Ants: This was a lemon cupcake with lemon frosting (tinted green and piped with a grass tip), little black ant sprinkles
, and watermelon slice candies. I baked them in red gingham cupcake liners. (I had a custom listing set up on Etsy will my three liner choices.)
Ladybugs & Leaves: These cupcakes were strawberry, strawberry swirl icing and fondant leaves I cut out with a cutting and embossing set
. I added little pressed sugar ladybugs
. I baked them in lime green cupcake liners.
Worms & Dirt: Our chocolate cupcakes were chocolate with fudge frosting, crushed Dark Chocolate Fudge Stripe cookies and sour worms
. They were baked in simple brown cupcake liners.
I'd seen plenty of Pinterest pins with candlesticks and plates turned into cake stands. I decided to put my own spin of the idea! I got three green plates, three glass votives and some Super Glue Bond-All, all from the dollar store. I had already ordered plastic bugs and found a bag of decorative grass at the thrift store for $1, but saw both of those things at the dollar store as well.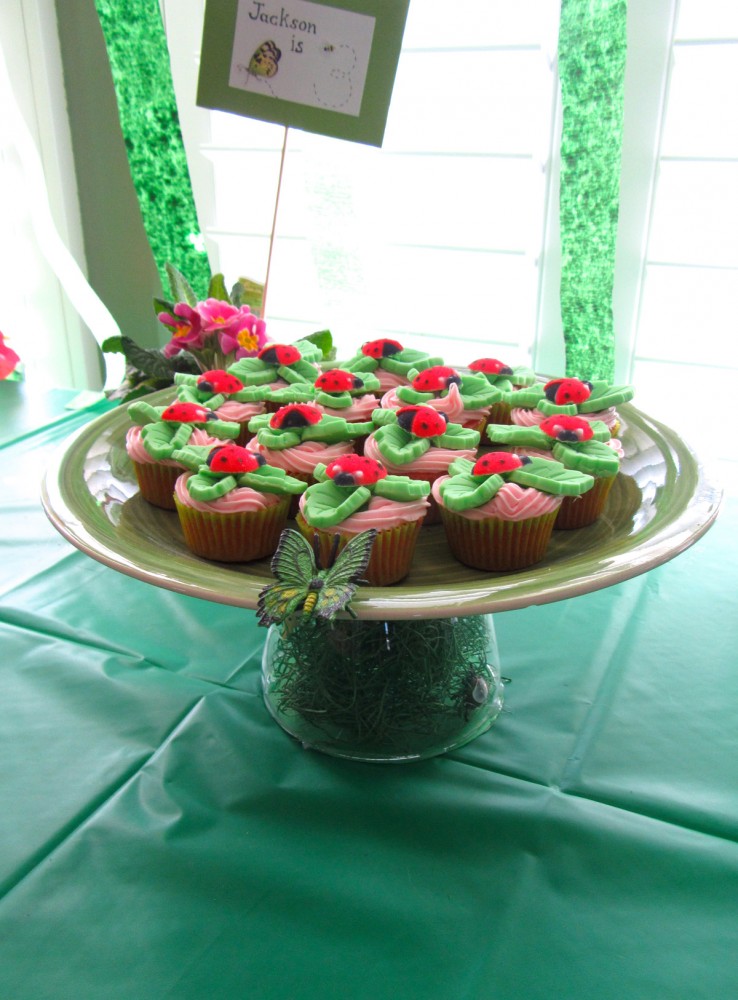 My supplies:
dinner plates
glass votives
super glue
plastic bugs
decorator grass
cardstock
hot glue & hot glue gun
I started by applying super glue to the bottoms of both the plates and the votives and letting it sit for a few minutes. Then I placed the votives on the plates and weighed them down with soup cans. They slide a little while the glue was still a little wet, so I made sure to recenter them after a few minutes. After drying for an hour, I flipped the stands right-side-up and weighed them down overnight.
The finishing touch was a butterfly hot glued to the edge of each cake stand!
This slideshow requires JavaScript.
To customize them for the party (something that can be undone, as hot glue peels off of glass), I hot glued some cute bugs to the insides of the votives, placing them so their backs showed well. I then stuffed the grass inside. I had traced and cut some circles of green card stock to fit the openings. I hot glued the those on as bases.
I'm so happy with how the cake stands turned out! they worked perfectly for the mini cupcakes and the rest of the party decor!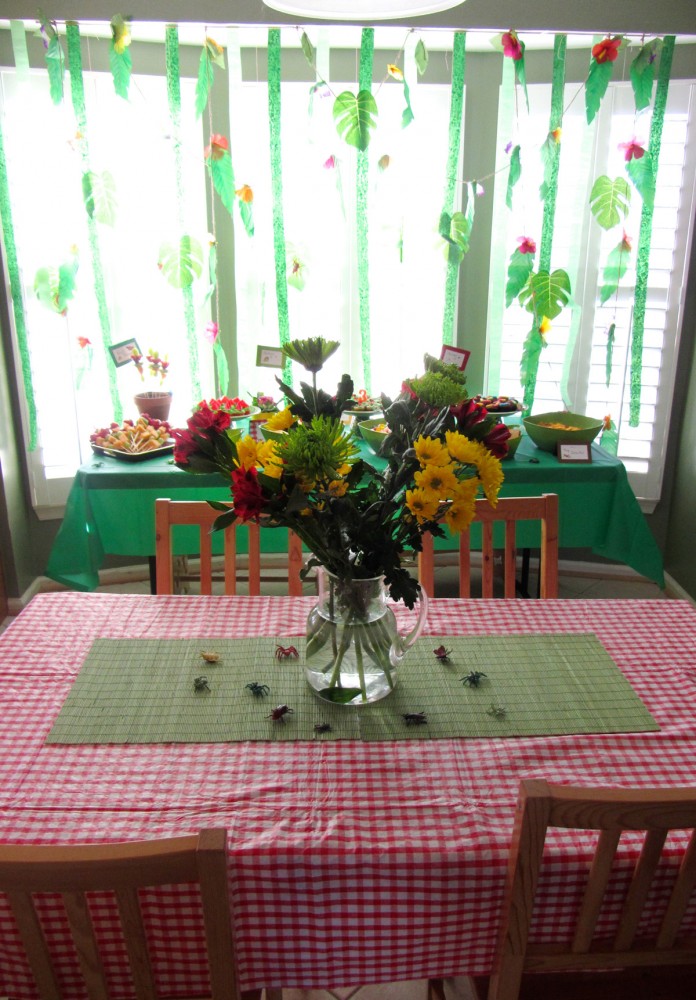 For more details about Jax's party, visit my personal blog, Stvlive.com.