Would you like to sew along with me?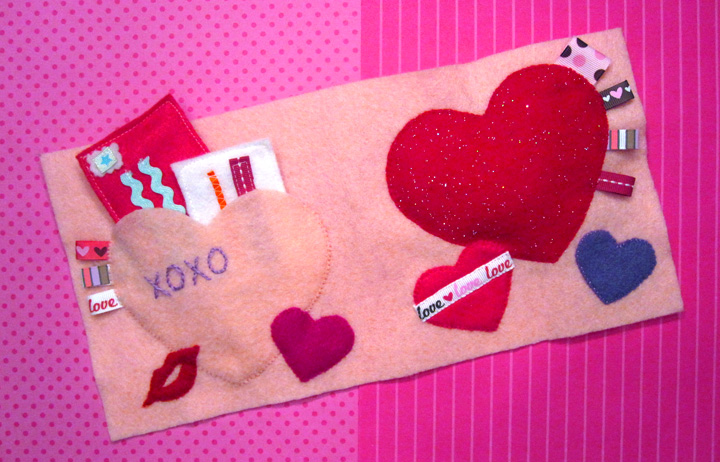 I created a pattern for a sweet and simple mini (6″ square) quiet book to share with you all. I will be posting instructions in sections as I complete my sewing. Do you have a little one you'd like to give a Valentine to?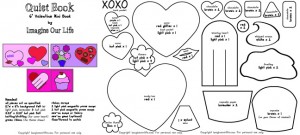 The sections will be: the front/back cover, page 1 (flowers) & 2 (chocolates), page 3 (weaving) & 4 (cupcake) and book assembly & giveaway. Yes, I said giveaway! I'll be sending off my finished book to one lucky reader in time for Valentine's gift giving.
I am posting the entire pattern now so you know what you'll need. I cut all my felt and ribbons and sorted my notions for all the pages at once. I'm keeping each page's goodies in a ziplock bag till I'm ready for them. If you want to take a look at all the layouts, there is a photo on the Facebook page showing everything pinned (and unpinned) in place. Most of my ribbons were from the $1 bin at Joann's Fabrics. I also got my purse snaps and gems there with a coupon.
The cover uses: 12″ w x 6″ h light pink felt background, felt (in light pink, glitter red, red, hot pink (I had two shades) and purple), ribbon scraps, batting or stuffing and embroidery floss. You can add a paper valentine to the pocket on the back, or make a felt one like I did from my mailbox tutorial.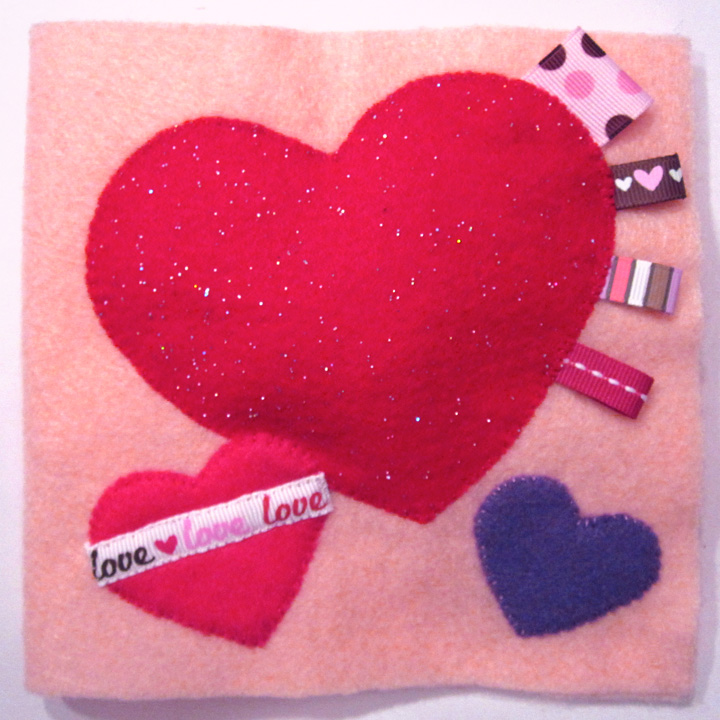 To make the front cover, pin everything in place on the right half of your background felt. You'll want to put some batting or stuffing under the big heart to make it puffy. Fold the ribbon behind the hot pink heart before you pin it down. The rest is simple – sew it all down!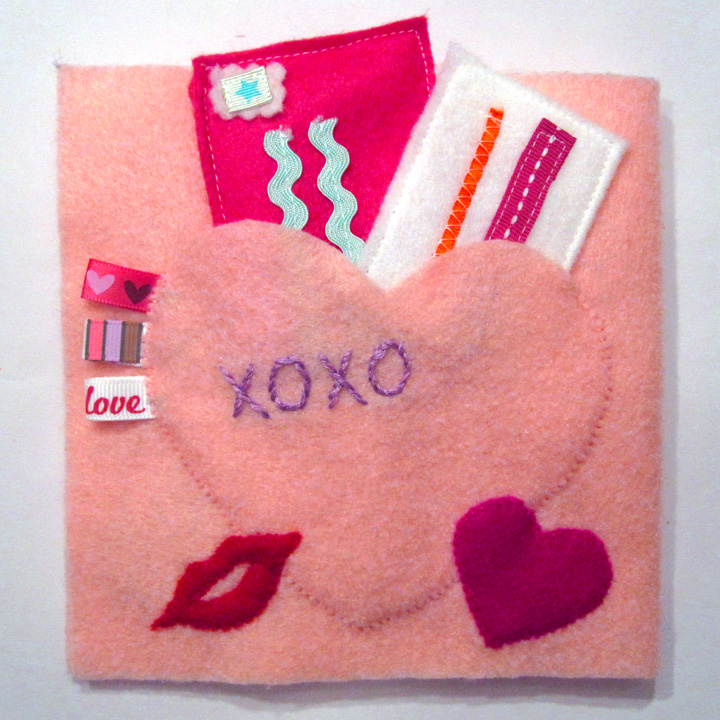 The back cover is on the left half of the background felt. It has a pocket to put valentines or a note from you to the book's recipient. Start by pinning your "xoxo" pattern to the pocket piece. I sewed right through the paper using stem stitch. Once it is all stitched, you can gently rip the paper away.

Lay your pocket and other felt pieces on the page and pin the kiss and little heart to the pocket where they overlap it. Sew them to the pocket. You can leave your thread tails in place (just pull off the needle) so that when you pin it all down to the page, you can re-thread the needle and sew the rest down. Sew the pocket down with ribbon scrap loops on one side. Simple!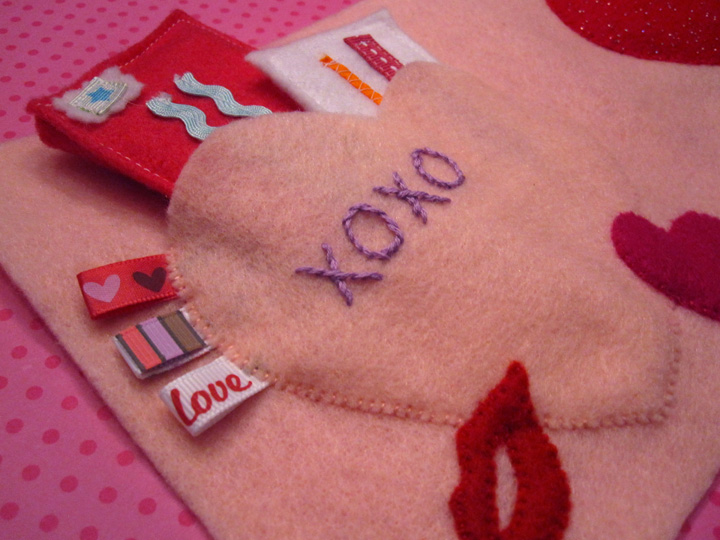 I think it looks adorable with a little play letter in the pocket!
Next installment will be the flower page and chocolate page. Those have a lot more little parts, but will be so cute!