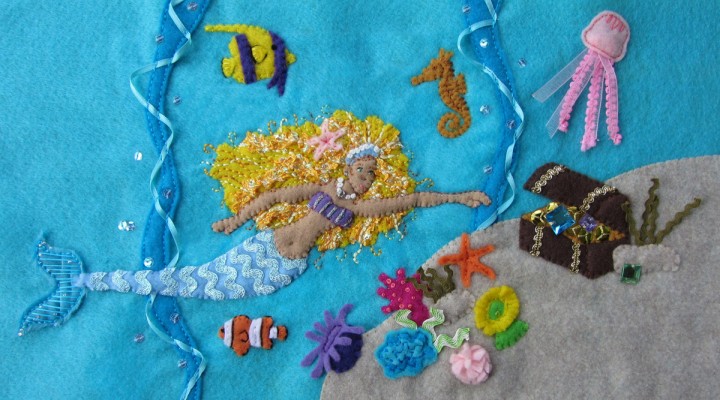 I took a little break from making quiet book pages and patterns to do some sewing purely as a creative outlet. I wanted something that could be used as the newest masthead at the top of the blog (Not reading this on the site? Come see!) and also be framed and hung up on the wall of my craft room that doesn't exist yet. I am placing this in with the quiet book pages as I am including the pattern and suggestions for a page.
I've always loved mermaids. My major in college was studio art, with a focus on graphic design and printmaking. I especially loved doing lithography. Most of my printmaking work features fairies, angels and mermaids. Here are a few photos of my college mermaid art. The colored pencil drawing is probably from my senior year in high school. My dad shocked me the summer before that school year by buying me a $70 color pencil set. I found these photos on my computer last night. They were taken in 1998!! Thus the tiny file sizes. One day I'll need to get the portfolio out and take better ones.
I also always wanted to be a mermaid for Halloween, and I didn't want to do it halfway. Without a pattern, I sewed together my vision of a mermaid costume. I used a stretchy sparkle fabric so the skirt could be long and narrow, but I could still walk. There was some interfacing built into the fin to give it shape. I hand sewed a zillion and a half scale-shaped sequins all over it. I bought cheap party favor shell necklaces and cut them apart to hand sew to a nude bra. I added a lot of accessories made from shells and fake pearls. I loved it and ended up winning a Halloween costume contest!
Back to the felt! I've been working on this for the past 2 weeks while waited for supplies for the camping page to arrive. Because I had sewing time to fill, I kept adding and adding to it!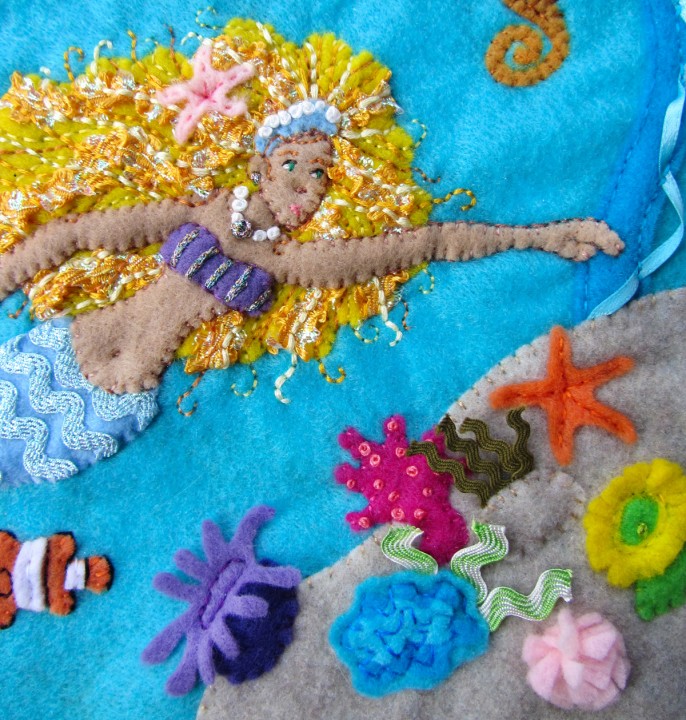 I drew out a quick pattern for the mermaid and treasure chest, but cut the rest by hand. The two fish and the yellow and green anemone were based on this pattern, but cut by hand. I spent a lot of time on the hair, using 4 colors of thread and a ruffly trim for texture. I kept sticking more and more color into the coral reef. I really could have gone on forever, hehe. I love how it came out!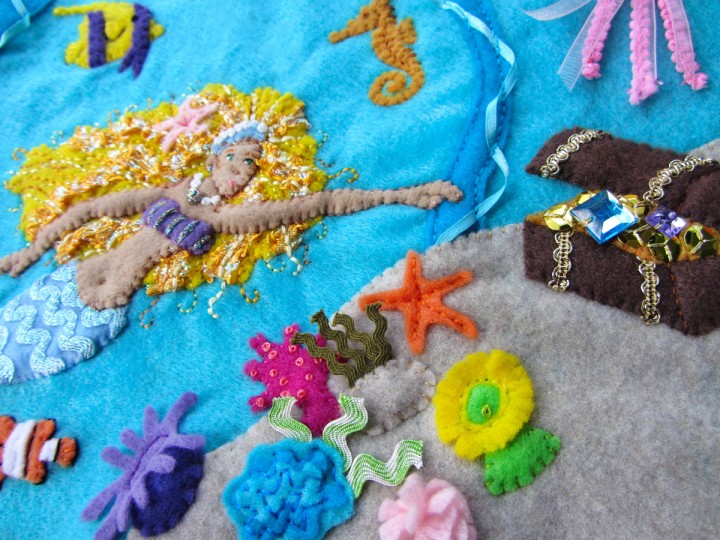 I am including my mermaid pattern by request. Click here to download it. You could easily make her into a little doll to go on a quiet book page. Just cut two of everything except her face and top so she has a front and back. You could make both her and the chest snap off the page, and perhaps those free fish as well!
If you use the mermaid pattern, I'd love to see what you make with it! Email me or stop by the Facebook page.