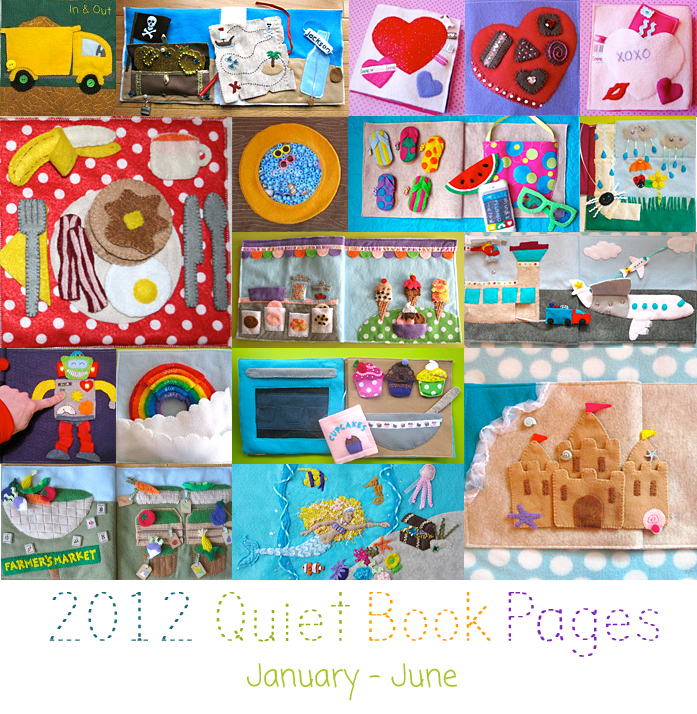 Back in January, I wrote up a review of all the quiet book pages I had designed and sewn since beginning in September of 2011. Six months have passed and I've gotten so much done. Time for another look back!
Click a thumbnail below to visit a post:
Top 5 Most Popular Patterns from January – June
Top 10 Most Popular Patterns
I am so very happy to introduce you to Imagine Our Life's newest sponsor. My addiction to sewing with felt has often lead me to browse online, drooling over the beautiful colors available in wool and wool blend felt. I am putting my heart and soul (and countless hours!) into sewing interactive quiet book pages that Jax will be playing with for years. I want them to last so that he can pass them on to his children. I knew I needed to try wool felt, which is thicker and more durable, and that is where American Felt and Craft really shines!
American Felt and Craft was founded on the idea that creativity means coloring with the whole box of crayons.  This philosophy inspired us to carry the largest selection of felt available anywhere on the internet. Because we know every stitch matters, we only sell heirloom quality felt and sundries.  We carry over 150 colors, shades, and tones to complete your personal work of art. From basic black to bubble gum, whatever you're looking for, American Felt and Craft has the perfect color!
They had me at "heirloom quality" – because isn't that exactly what we want to create when we are sewing for our children or grandchildren? You can find American Felt and Craft's online store here and their Facebook page here. They ship worldwide and carry more that just felt. I'll be trying out some of their crinkle material to make my campfire nice and crackly! Just look at those amazing felt colors!
Good news for you: American Felt and Craft will be offering a giveaway on an upcoming quiet book page. Can't wait? You can save 15% off your first order with the code "imagine".