Now that Jax is being homeschooled, I tend to make his quietbooks more educational. (My current project is a huge world map and continent book!) I am so happy that I made a solar system quietbook page a while back, as Jax suddenly showed interest in the planets. We've been studying the solar system for a couple weeks now and my little smarty pants just loves reciting the planet names and answering questions about them!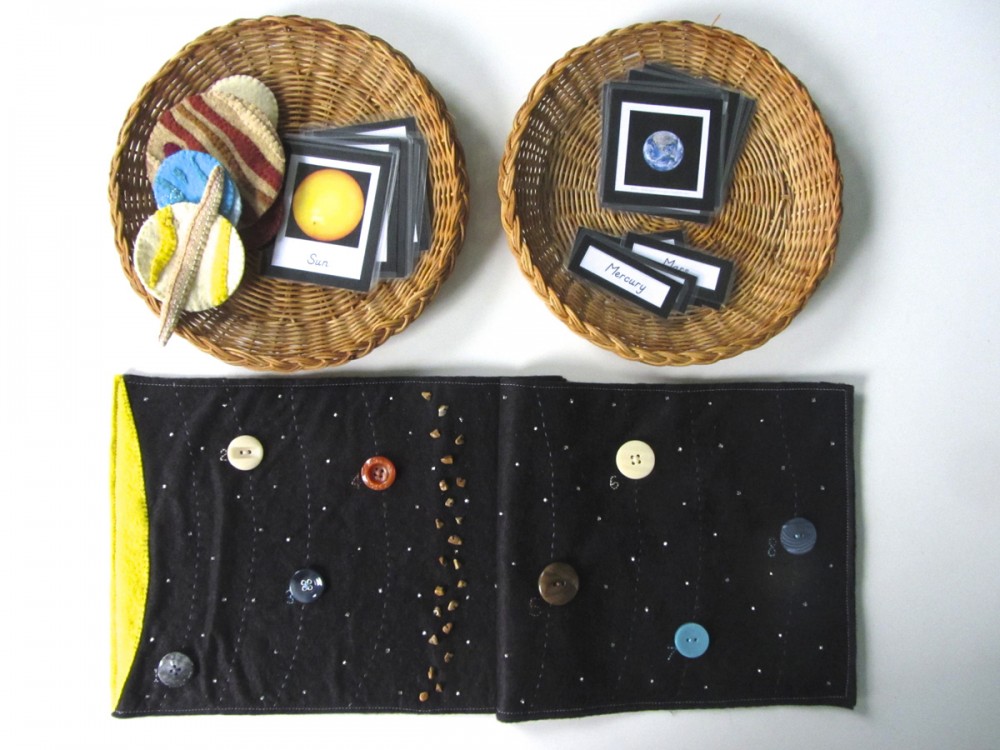 Our Solar System Unit (age 3)
Felt Planets & 3-Part Cards
We have been working with the quietbook page, plus using the felt planets on their own to match with some 3-part word and photo cards. You can use my free pattern and instructions to sew your own planet set.
You could even use the template with colored card stock instead of felt to make a no-sew set of the planets: Cut out the pattern pieces, then cut around them on colored card stock. Embellish with pens or colored pencils. Use a glue stick to piece each planet together, then laminate them to keep them safe and sturdy.
I am providing my 3-part cards free for educational use! Click here to download the pdf. To assemble, print out the cards ad cut them out. Glue them to card stock backs, then laminate and trim. I just got this laminator
.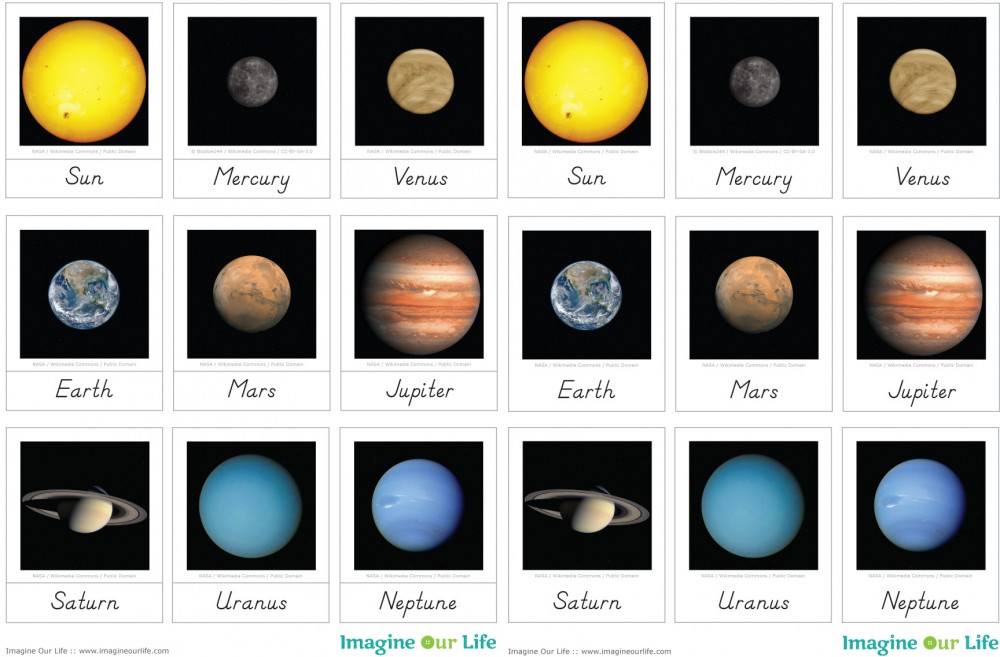 Planet Art
We did a simple art project one day. I asked Jax to choose a favorite planet photo card from the basket and had him bring his jar of colored pencils to the table. I asked him to pick out all the colors he saw in the photo, then gave him a sheet of white paper with a circle drawn on it to color in.

I cut out the circle, then he glued it to some black paper. He used a white pencil to make stars. I wrote the planet name down as he read the letter we needed off the card.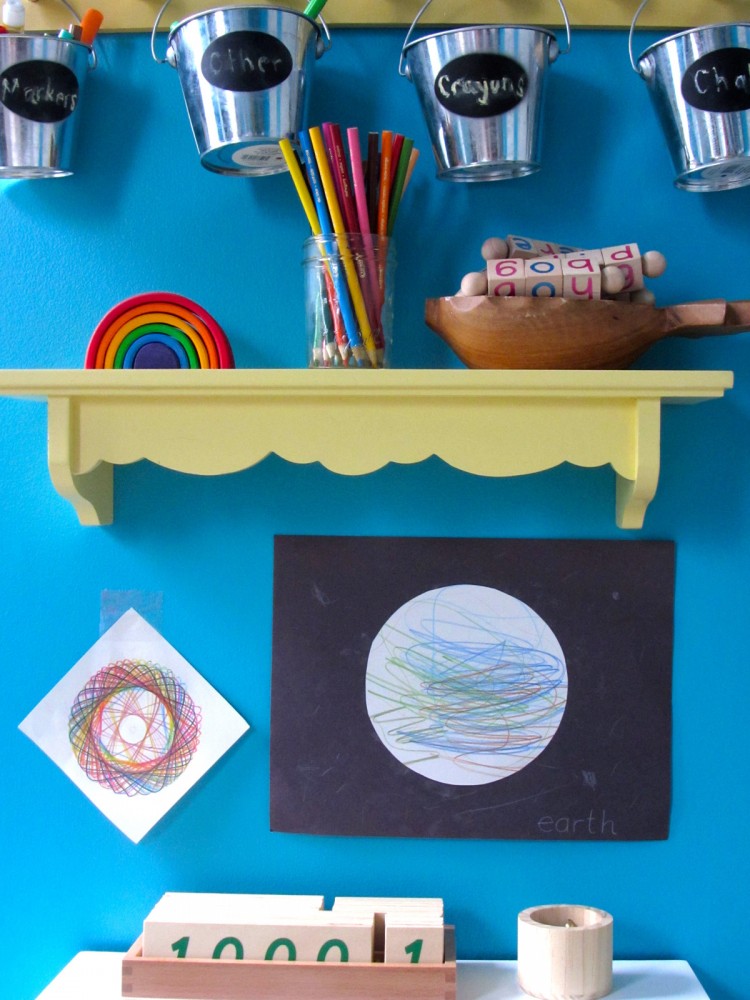 Solar System Fetch
Today is a rainy day, so I used our big chalkboard for this game, but your sidewalk or driveway would work great! Draw the solar system and ask your little one to "Go fetch!" a certain planet. Ask for them by name or number ("Go fetch the planet that is the 3rd from the sun!") or even by a fun fact ("Go fetch the biggest planet!") Kids love to get up and move while they learn!
The Planet Song
I stumbled upon a cute, simple planet song on YouTube that Jax adores. We usually close out a solar system activity by singing this song together. This song helped him learn and remember the names of the planets.
There is also a longer song with facts about each one.
Mobile Montessori's Planets of the Solar System App
We bought this app ourselves and this review is our own honest opinion of it.
We purchased Mobile Montessori's Planets of the Solar System app to reinforce what we were studying. It cost $1.99. It includes a learning center with audio clip facts about the sun and the 8 planets, a planet size game (drag the planets into place), a small demonstration comparing orbit speeds and a 3 part card activity.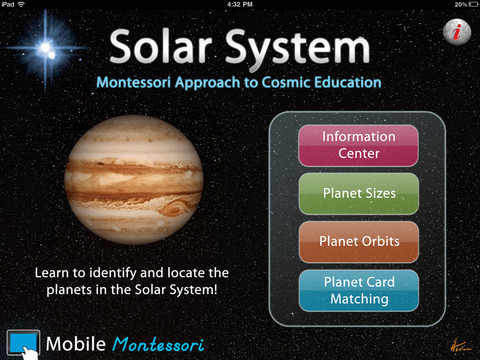 We only have the original iPad – a hand-me-down one at that. We have some trouble with the app crashing, but Mobile Montessori confirmed it is due to our older device. They have great support and offered this tip:
Here's a tip: Double-click the home button on the iPad and all the apps that are "paused" in the background will show up at the bottom. You can "turn them off" by holding one of them down with your finger until they all wiggle. Then touch each one and they will shut down completely. Shut them all down and I bet our Solar System app will run smoother for you!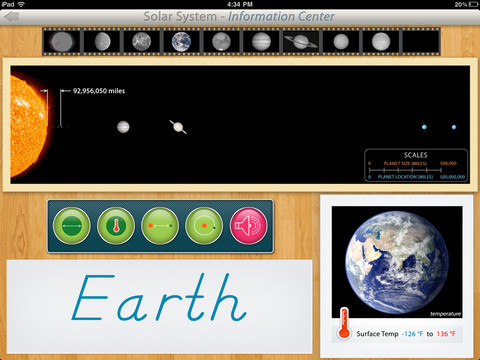 The app itself is pretty, combining the beauty of the planets in our solar system with the simplistic design that Montessori uses. Jax doesn't use the learning center too much on his own, but we have begun to listen to the facts together. He enjoys dragging the planets into place in the scale game. He always comments on how tiny Mercury is – just a little speck next to big Jupiter! We don't get that comparison with our felt planets or photo cards.
The 3-part cards are just like the ones I made, so Jax knew just what to do. They will be good for him to revisit the activity on his own. I really like the idea of watching the planets orbit the sun. It is Jax's first experience with how the solar system is actually laid out. However, it is small on the screen and crashes the most of all the parts of the game.
At just $2, the app has been a good fit for our solar system unit. We are looking forward to getting more into the facts as we circle back through this unit.
Planet Counting
Jax created this activity on his own. After matching our felt planets and 3-part cards, he ran to get our bowl of glass pebble counters. He then counted out the correct number of pebbles for each planet.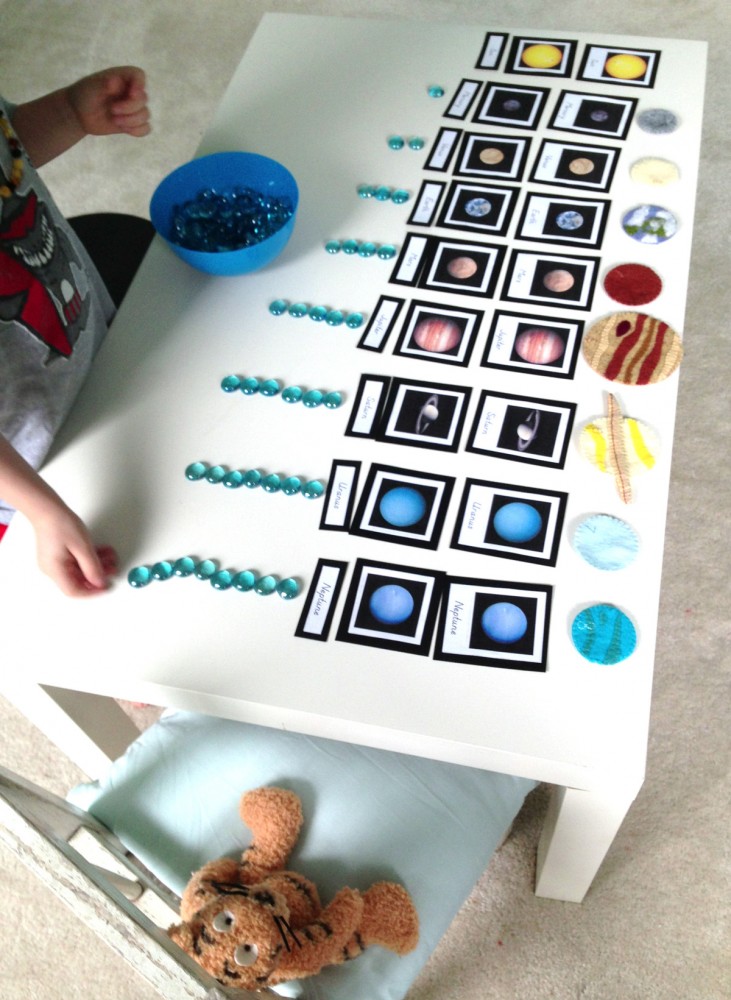 We have a lot more we are planning to do with the solar system, but this has been a great start!